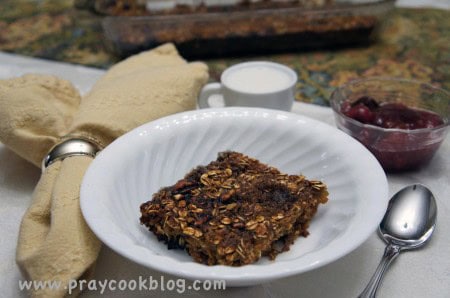 At the beginning of the year I told you I would be bringing you some healthified recipes this year.  A healthified recipe is simply created by either subtracting or substituting ingredients to create healthier versions of the recipes we love!  The first I got ready to make baked oatmeal this year I healthified it by substituting the oil with applesauce and adding a few extra nuts and chopped apples.  Guess what happened?  It is so much better! It turned out tastier and a bit lighter than it's unhealthified version.
I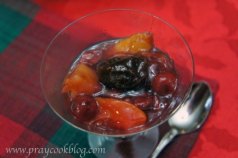 will only use this recipe in the future! I served it with baked fruit compote and the meal was hearty and delicious. Perfect for a cold winter morning.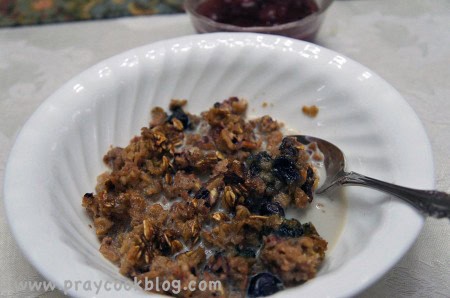 Hot out of the oven we add a splash of milk and breakfast is ready! This is such a good recipe for those who eat on the go or for a snack at work. Bake this up on the weekend and it will feed you all week-long!
Healthy Cooking!
~Catherine
Healthified Baked Oatmeal
The healthy breakfast lasts in the refrigerator to serve you all week long! It is delicious, fast and easy!
Ingredients
3 eggs
½ cup applesauce (sweet or unsweet)
⅓ cup brown sugar
3 cups oats (instant or old fashioned)
2 teaspoons baking powder
½ teaspoon baking soda
1 teaspoon salt
1¾ cup milk
Instructions
Preheat oven to 350 degrees F. Beat together eggs, applesauce, and sugar.
Add dry ingredients and milk. Beat together well.
Pour into a greased 9" x 13" baking dish.
Bake for 30 minutes. Remove from oven and sprinkle ¼ cup Turbinado sugar on the top. Bake for an additional 10 minutes.
Cut in squares and enjoy!
Notes
Turbinado sugar is an "extra" and can easily be left off during the last 10 minutes baking time.
* Add raisins, nuts, chopped apple, chopped dates or any other favorite ingredient to crank this oatmeal up a notch!