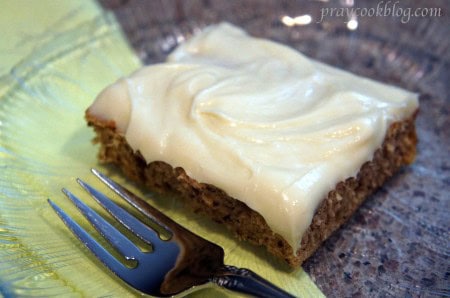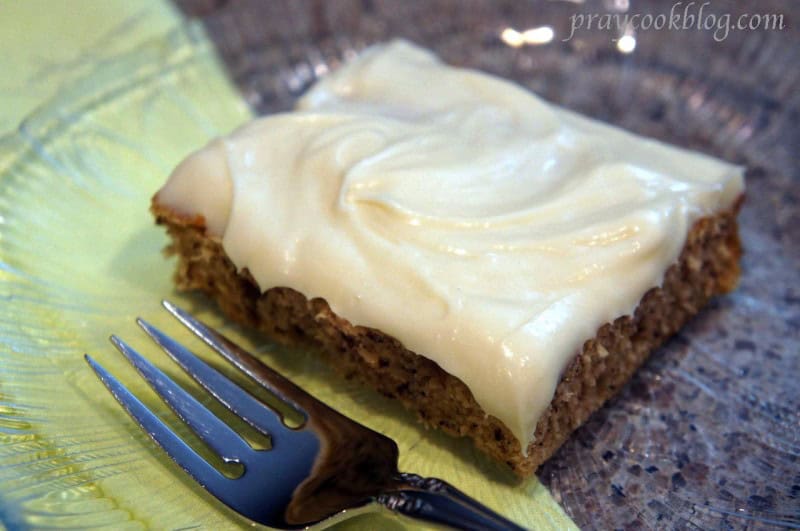 Do you ever have bananas that look like these?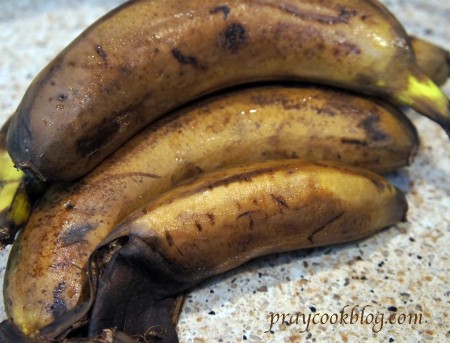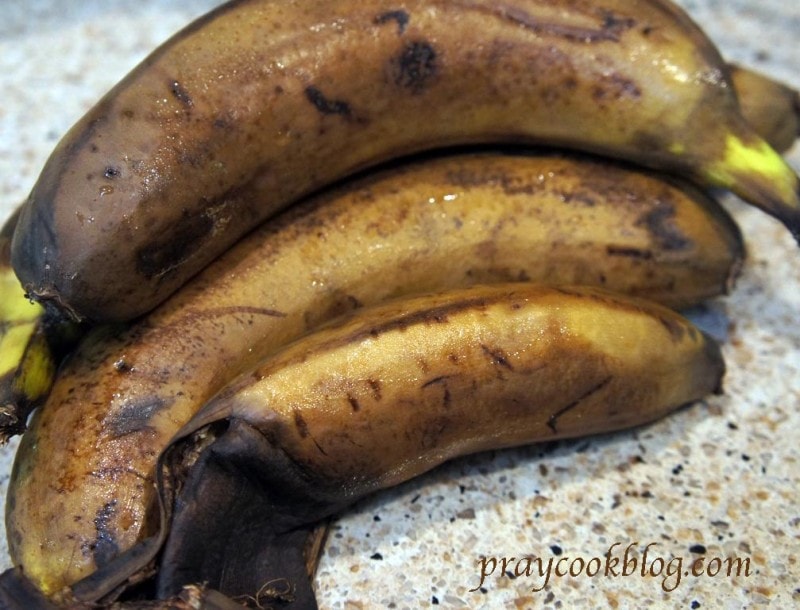 I over-shot bananas on my shopping list and ended up with 3 1/2 rather ripe ones I couldn't get the Chief nor my Sous-Chef Dish-Washing mom interested in eating! 🙂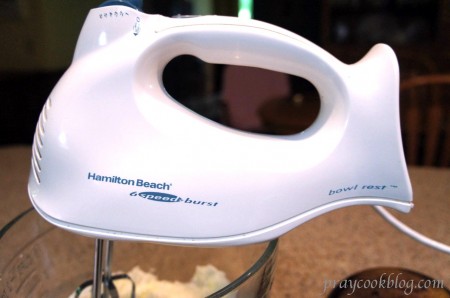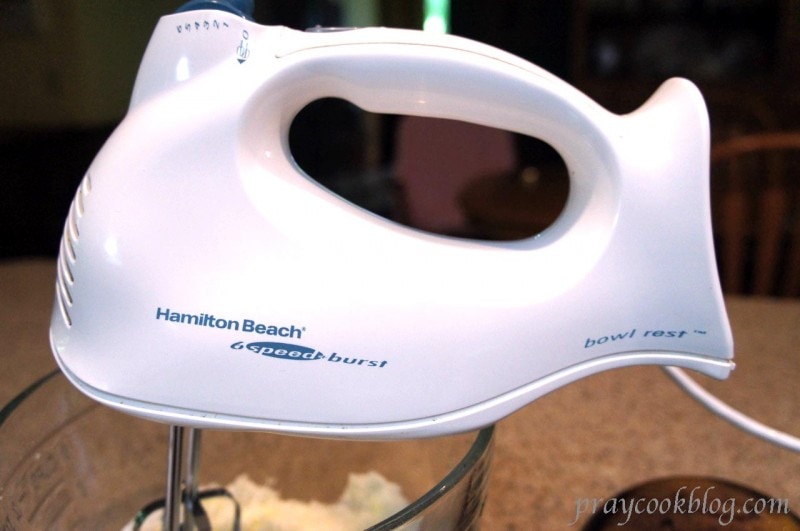 I ran through the gambit of banana nut bread, or crunchy pecan banana muffins,  and then came across a recipe for banana bars — healthified!  That being, a recipe for banana cake-like bars with a cream cheese frosting with a few ingredients changed for a lighter, healthier version of the original Cream Cheese Frosted Banana Bars without sacrificing taste.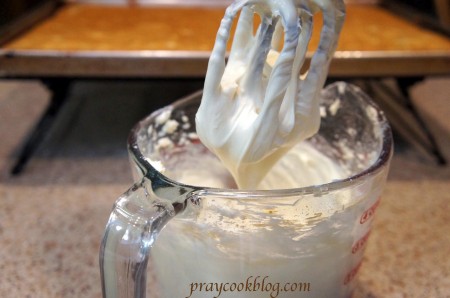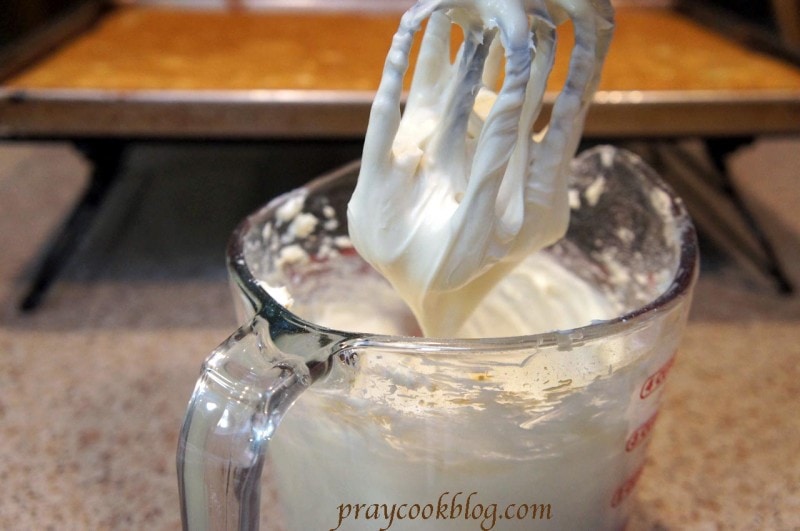 I didn't know if these healthified bars would actually make it to my blog.  After all, I wouldn't bother you with a recipe that doesn't give all the taste, flavor, and deliciousness expected from banana bars with cream cheese frosting unless — they are delicious.  Not-to-mention I would be making them with my hand mixer since the kitchen aid is on the fritz and my Cuisinart was still waiting for new parts!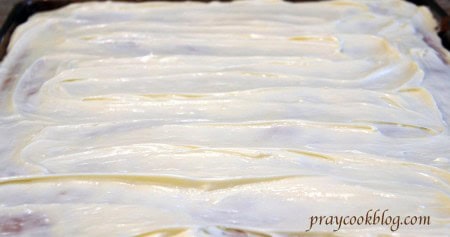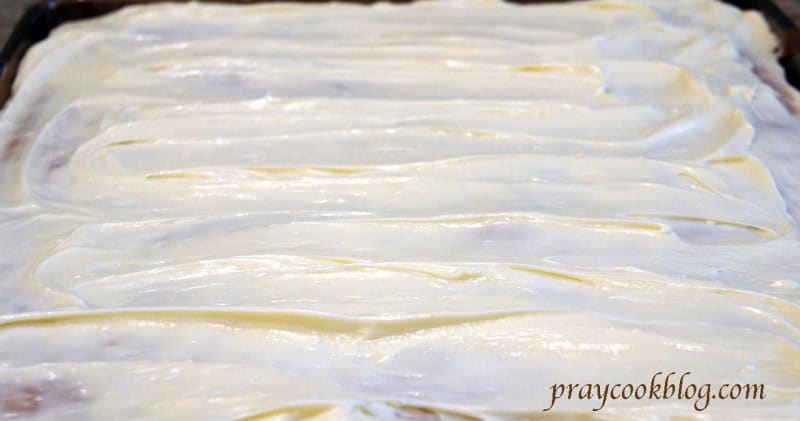 But guess what?  These bars are less fat and calories as their original counterparts and the frosting is just as creamy and rich as you would expect.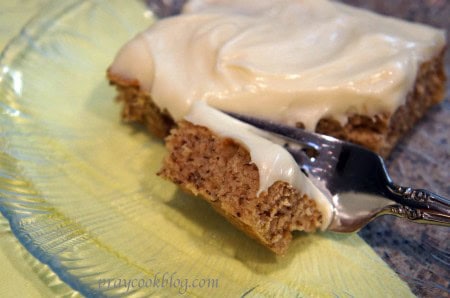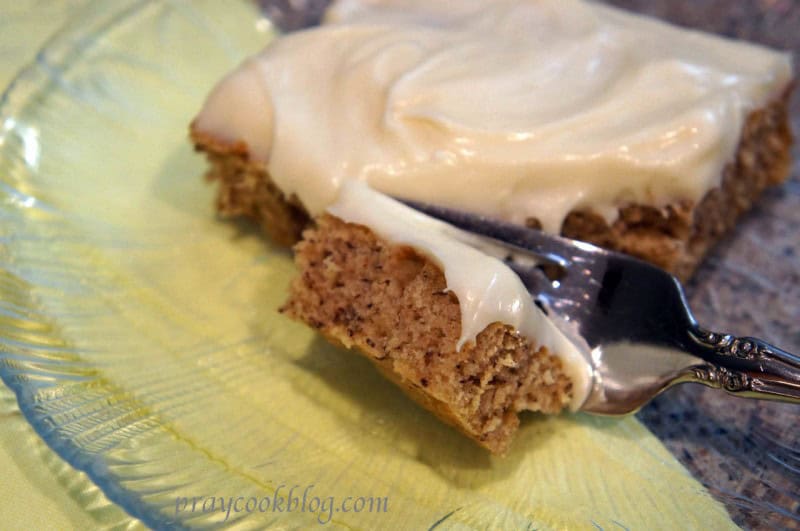 The cake is just a bit dense due to the applesauce and the flavor is fantastic!
Happy Baking,
~Blessings, Catherine
Healthified Frosted Banana Bars
A lighter, healthier version of the original Cream Cheese Frosted Banana Bars without sacrificing taste.
Ingredients
Bars
3 Tablespoons butter, softened
1 cup sugar
2 eggs
1½ cups mashed ripe bananas (about 3 medium)
¼ cup unsweetened applesauce
1 teaspoon vanilla extract
2 cups all-purpose flour
1 teaspoon baking soda
Frosting
1 package (8 ounces) reduced-fat cream cheese
⅓ cup butter, softened
2 cups confectioners' sugar
2 teaspoons vanilla extract
Instructions
In a large bowl, beat butter and sugar until crumbly, about 2 minutes. Add eggs, one at a time, beating well after each addition.
Beat in bananas, applesauce, and vanilla. Combine flour, baking soda, and salt; stir into butter mixture until well blended.
Pour batter onto a 15" x 10" x 1" baking pan coated with cooking spray.
Bake at 350 degrees F. for 20 minutes or until a toothpick inserted near the center comes out clean. Cool pan on a wire rack.
For frosting, in a small bowl, beat cream cheese and butter until fluffy. Add confectioners' sugar and vanilla; beat until smooth.
Frost bars. Refrigerate leftovers.
Notes
Over-ripe bananas are the best used in this recipe. Walnuts or pecans make a good addition.



Recipe adapted from Taste of Home.
Nutrition Information
Calories:
149 calories per bar
Fat:
4 g fat (3 g saturated fat) 23 mg cholesterol,