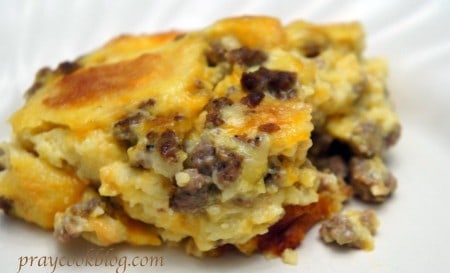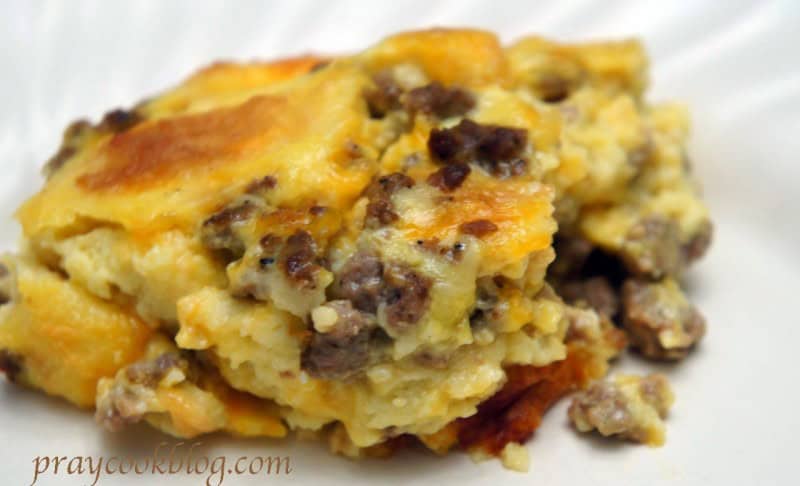 Two years ago today I wrote and posted my first blog post on My Daily Bread Body and Soul. 421 posts later I realize I have never shared my favorite, "go-to" breakfast casserole!  How can that be?  I have made this casserole over a hundred times …. and that isn't even an exaggeration! 🙂  When serving breakfast at Walnut Grove Bed and Breakfast this casserole was a staple. Since then my sous-chef dish-washing mom and I have made it for many visiting family and friends.  Now today I am sharing it with you, knowing you will want to make it.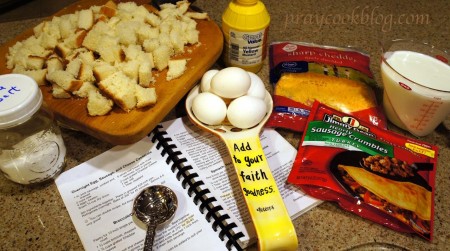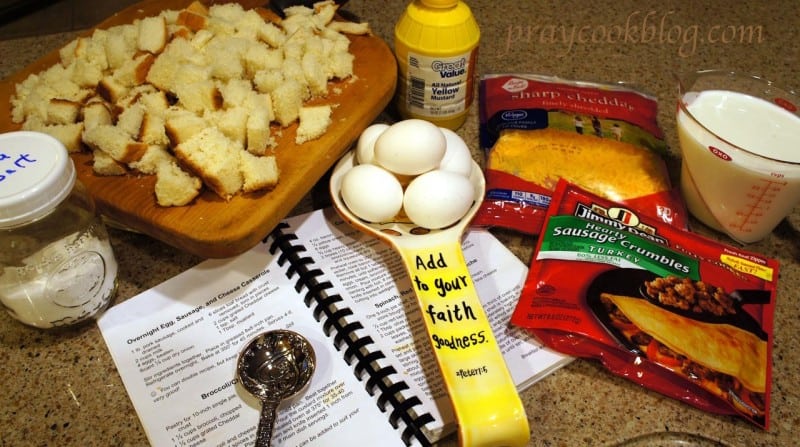 I like the convenience of this recipe because it is mixed together and refrigerated overnight.  In the morning it simply needs baked and breakfast is ready!  I have recently made one change, to healthify the recipe a bit.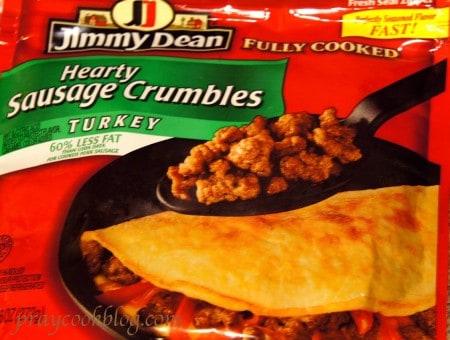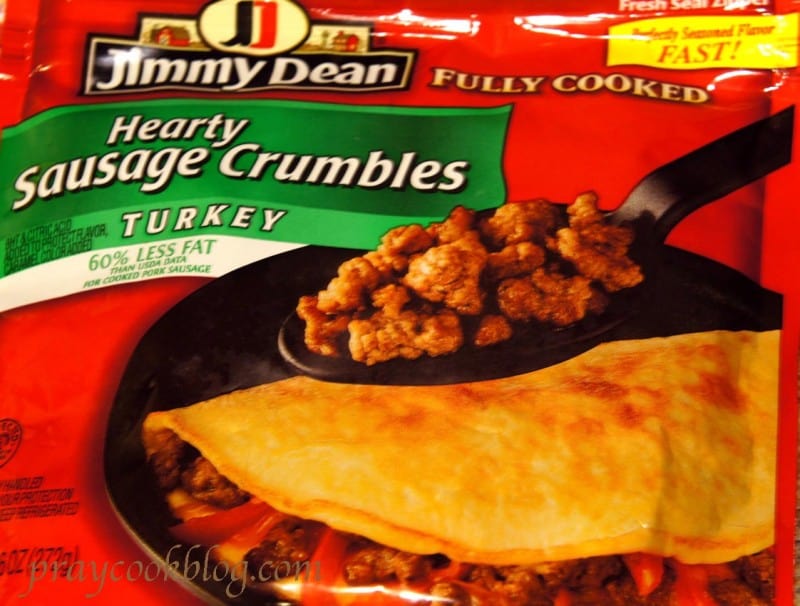 This turkey sausage has only 70 calories in 1/2 cup and 4 grams of fat.  Surprisingly the flavor is outstanding! If this isn't good enough — it is fully cooked and ready to be used in this or any recipe.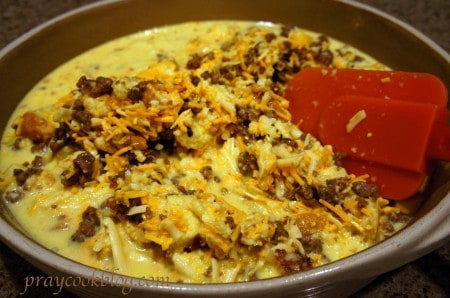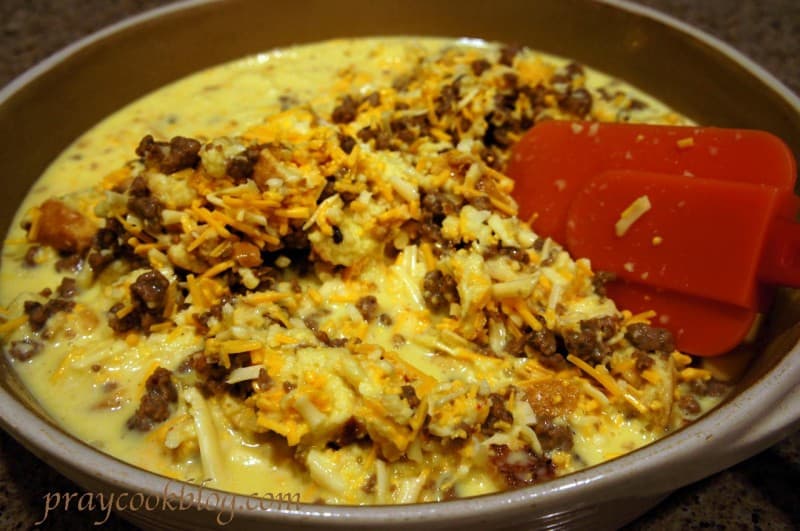 The ingredients are all mixed together in one big bowl and poured into a baking dish. Covered with plastic wrap the mixture is kept refrigerated overnight. This gives the flavors a chance to blend together nicely.  I use a combination of Cheddar and Pepperjack Cheese, but for the faint of taste, a nice Cheddar can be used.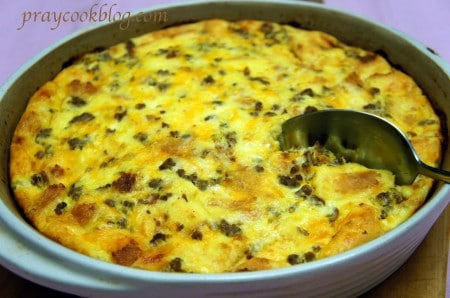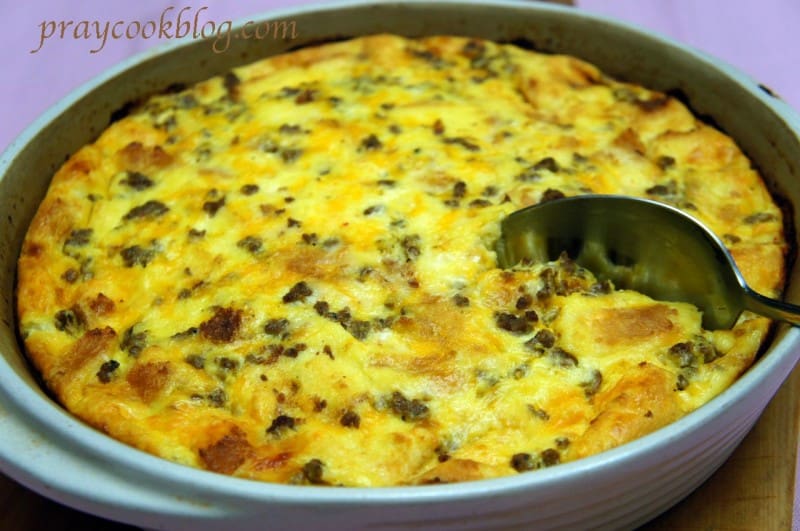 I made this casserole for Sunday brunch this last weekend.  Since my sous-chef dish-washing mom is busy visiting and washing dishes at my brother Mike's house, we had leftovers.  The leftovers made a super supper along with a fresh garden tossed salad.  Very versatile!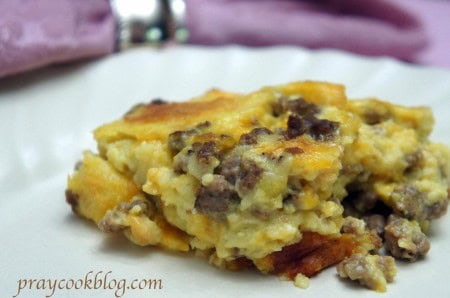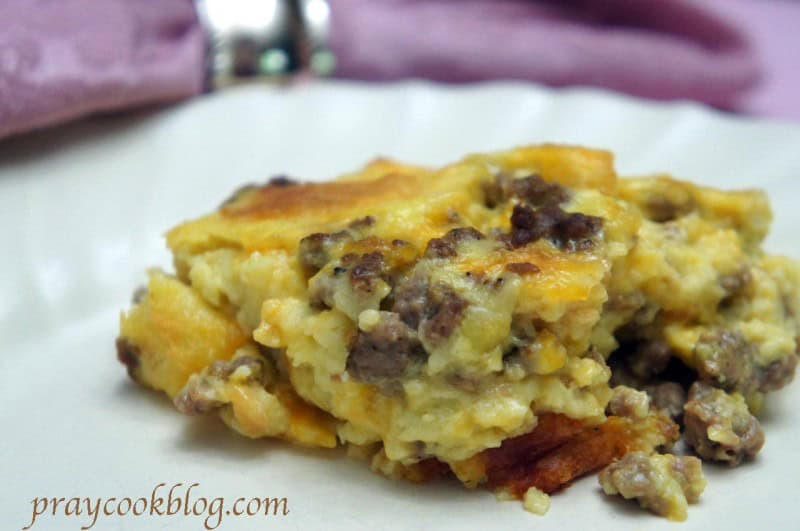 Bookmark this one, save it for your next brunch, or make it tomorrow — you won't be disappointed!
Thank you from the bottom of my heart for joining me in my blogging adventure.  If it weren't for you, it would be no fun at all.
~Blessings,  Catherine
Yours, O Lord, is the greatness and the power and the glory and the victory and the majesty, for all that is in the heavens and in the earth is yours. Yours is the kingdom, O Lord, and you are exalted as head above all. 1 Chronicles 29:11 ESV
Overnight Egg, Sausage and Cheese Casserole
Cheesy, tasty casserole ready to bake first thing in the morning or for Sunday brunch!
Ingredients
½ to 1 lb. Turkey sausage cooked and crumbled*
2 cups milk
4 eggs, beaten
6 slices white bread, torn or cut in pieces
11/2 cup grated Cheddar cheese
½ to 1 cup grated Pepperjack cheese
1 tsp. salt
1 Tablespoon prepared mustard
Instructions
Prepare a greased 8" x 8" x 2" baking dish.
In a large mixing bowl, stir all ingredients together.
Pour into baking dish. Cover with plastic and refrigerate overnight.
Bake at 350 degrees for 45 minutes or until casserole is firm, bubbly, and browned.
Notes
* Jimmy Dean Turkey Crumbles come in a 9.6 oz. bag and is just perfect for this casserole. Lean and very full of flavor.
This recipe doubles easily to a 9" x 13" baking pan. Double all ingredients except the sausage can remain at ½ to 1 lb.