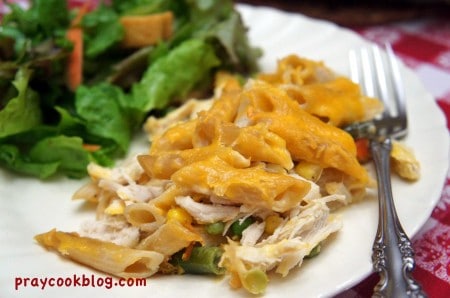 Last spring I had the pleasure of eating a fabulous Seafood Lasagne at my friend Cheryl's home.  Cheryl is a great cook and always sharing a new recipe or two when we go to visit.  Her seafood lasagne was so delicious and I was well on my way to a second helping when we discussed the recipe.  With recipe in hand several months later I headed to the kitchen to set out ingredients for the evening meal.
I had already bought the Alfredo Sauce and mixed vegetables.  But a quick check of my freezer revealed lots of chicken and no shrimp or crab.  So, chicken it will be.  A not-s0-quick check of the pantry found me rearranging pantry shelves and organizing the ingredients with no lasagne noodles in sight.  I came up with 3 boxes of whole wheat penne pasta!  At this point my recipe began to change shape.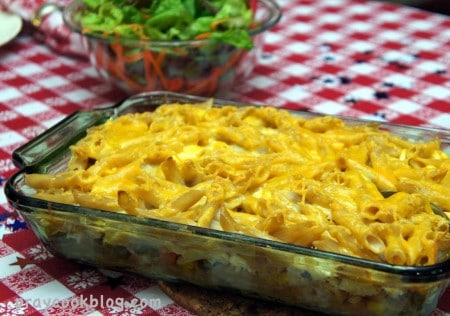 Oh my gosh this dinner turned out to be one for the cookbooks! The chicken, vegetables, and Alfredo sauce blended beautifully while the whole wheat penne gave the casserole that wholesome taste!  A side salad completed the dinner.  I am still going to make the Seafood Lasagna and you will be the first to know when I do.  In the meantime, I promise this is a keeper casserole!
Happy Cooking and Have a Blessed Day!
~Catherine
Ascribe to the Lord the glory due his name;
worship the Lord in the splendor of his holiness.    Psalm 29:2
Penne Chicken Casserole
Dinner's ready! This fast and easy casserole is as good as a leftover as it is the first day. Problem will be -- no leftovers! It's that good.
Ingredients
8 ounces whole wheat Penne pasta
1 jar Light Alfredo Sauce (15 ounces)
1 bag mixed frozen vegetables
2 to 3 cups diced cooked chicken
2 teaspoons minced garlic
¼ cup minced onion
2 cups grated cheddar cheese
Instructions
Cook penne noodles according to package directions. Drain.
Preheat oven to 350 degrees.
Lightly grease a 8" x 12" baking dish.
Combine garlic and onion with the Alfredo sauce.
Layer with penne pasta on the bottom, add mixed frozen vegetables, and top with diced chicken.
Pour Alfredo sauce over all the pasta/chicken layers.
Top with grated cheese.
Bake for 30 to 45 minutes until brown and bubbly.