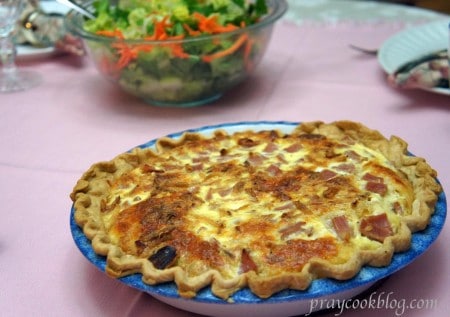 One day out of the month at Community Bible Study we have a fellowship day. Members bring food to share. It is a special time of fun, food, and lots of talking, laughing, and praying!  Last month one of our friends brought an Onion Quiche.  I wasn't a part of her group for the fellowship time but afterwards, gathered around a big counter in the kitchen, she gave me a sliver of the leftover.  I didn't know if I was just hungry at the moment or this was one special quiche.  Either way, I just knew I had to make one and taste more of the wonderful flavors.  She gave me a quick "I used french fried onions" from the can. That was enough to get me going!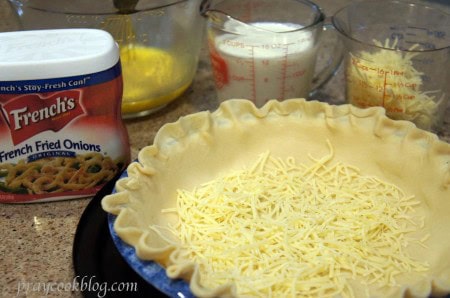 I adore making quiche.  I love eating quiche. It is so easy to make with your favorite ingredients.  For this quiche I used a 9″ pie crust, Swiss cheese, French-fried onions, eggs, milk, salt, pepper, and some leftover ham.  The meat is optional and Cheddar or pepper-jack cheese can be added to crank this up a notch!  Quiche can be made with heavy cream, half 'n half, or a little sour cream.  Those ingredients add to the overall richness and are wonderful.  Feel free to sub in a little of the creams for the milk, if you wish.  For this quiche I used 2% milk and it was still wonderful.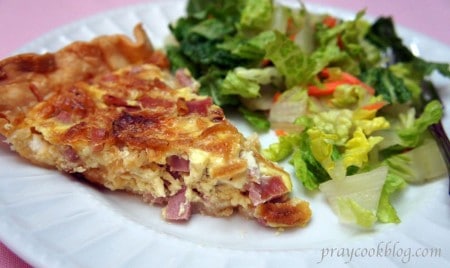 We ate this as a supper meal with a fresh green salad.  Voilà' — dinner  is served. This very same quiche is equally good for breakfast. With Mother's Day just around the corner quiche fits in superbly for a special brunch!
Happy Cooking!  Catherine


Quiche with French Fried Onions

Fantastic flavors meld together for a quiche that won't quickly be forgotten!

Ingredients
1 9" deep dish pie crust
1½ cups Swiss cheese, shredded
1 (3 ounce) can French-fried onions
4 eggs, slightly beaten
1½ cups milk*
1 cup chopped ham**
Salt to taste
Pepper to taste
Instructions
Heat oven to 375 degrees F.
Bake pie shell for 5 minutes (do not prick shell)
Remove pie shell from oven. Sprinkle the cheese, french-fried onions, and chopped ham on the bottom of the pie shell.
Combine eggs, milk, salt and pepper, whisk well, but not until it is frothy. Pour over the cheese/onion/ham mixture.
Place pie ring around edges of pie crust, to keep from over-browning.
Bake 45 minutes or until a knife inserted in the center comes out clean.
Let stand for 5 minutes, then cut and serve.
Notes

Make this quiche your own by adding your favorite ingredients, i.e. mushrooms, sweet peppers, hot peppers, cooked sausage, Cheddar cheese, hot-pepper jack cheese. ** Use 2% milk or heavy cream or half 'n half.