The calendar tells me that we are only a few days away from the 4th of July.  Is that possible?  What happened to June? Summer 1/3 over? Is it only me that is having a hard time wrapping my head around July knocking at the door?  Whew!  Well, I had better get to gettin' some celebration-worthy recipes for you! A few days away means we are already making lists, planning menus and deciding who, what and where! Let's create a red, white and blue fruit pizza!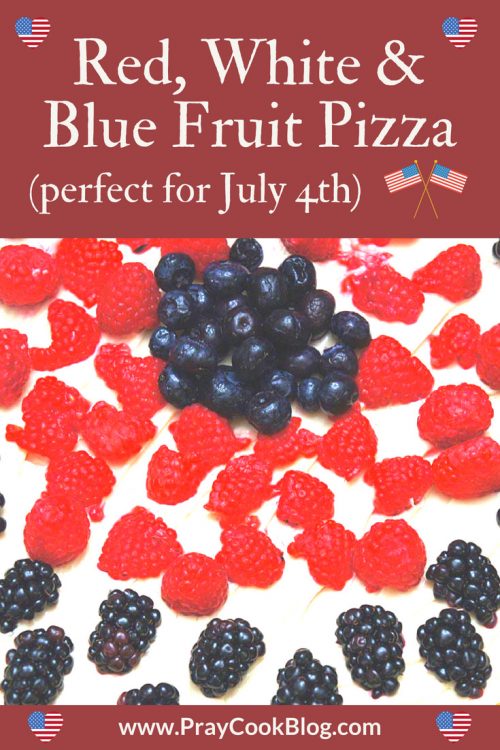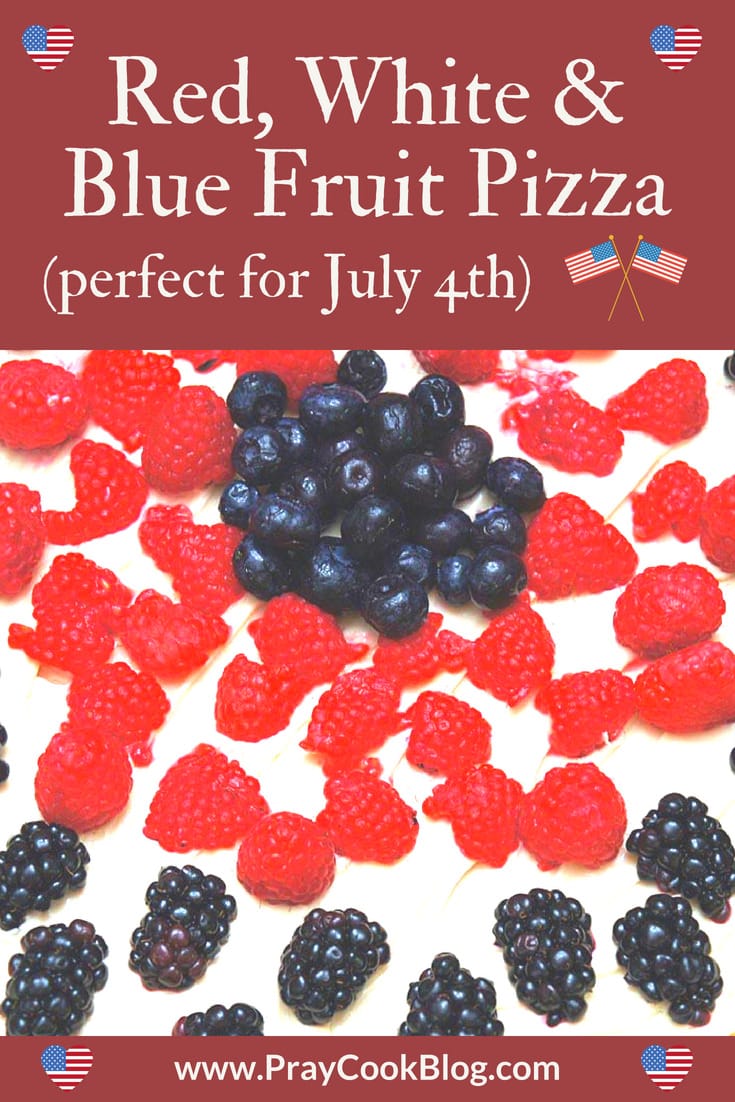 Earlier this month I found myself with raspberries, fresh blueberries, and blackberries all on hand.  I had company coming for dinner and was aching to use up the berries.  It has been several years since I made a fruit pizza but love the berries combined with cream cheese on a sugar cookie crust.  For my summer berries, it just doesn't get better than fruit pizza.  Some fruit pizza recipes start with the sugar cookie dough you can buy in a roll and bake.  That works well, but I gotta tell you, making it from scratch takes maybe 10 minutes plus the baking time.  AND it tastes so much better.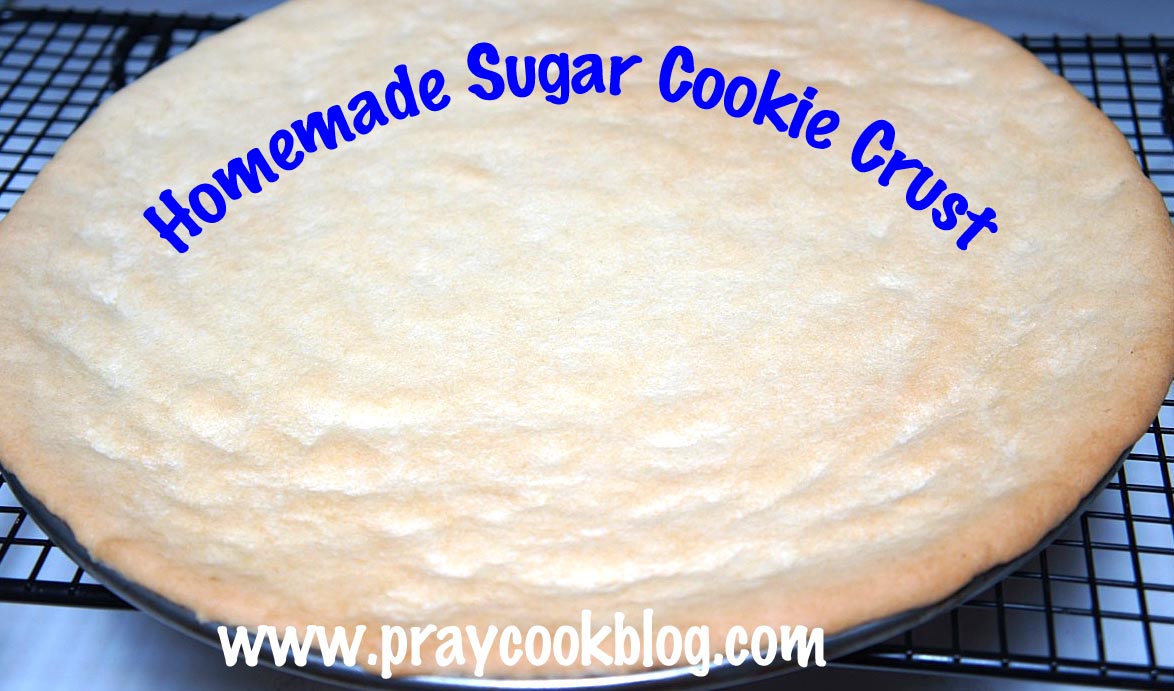 Once baked and cooled a cream cheese, sugar, and vanilla mixture is spread around the entire cookie, leaving just a little crust around the edge.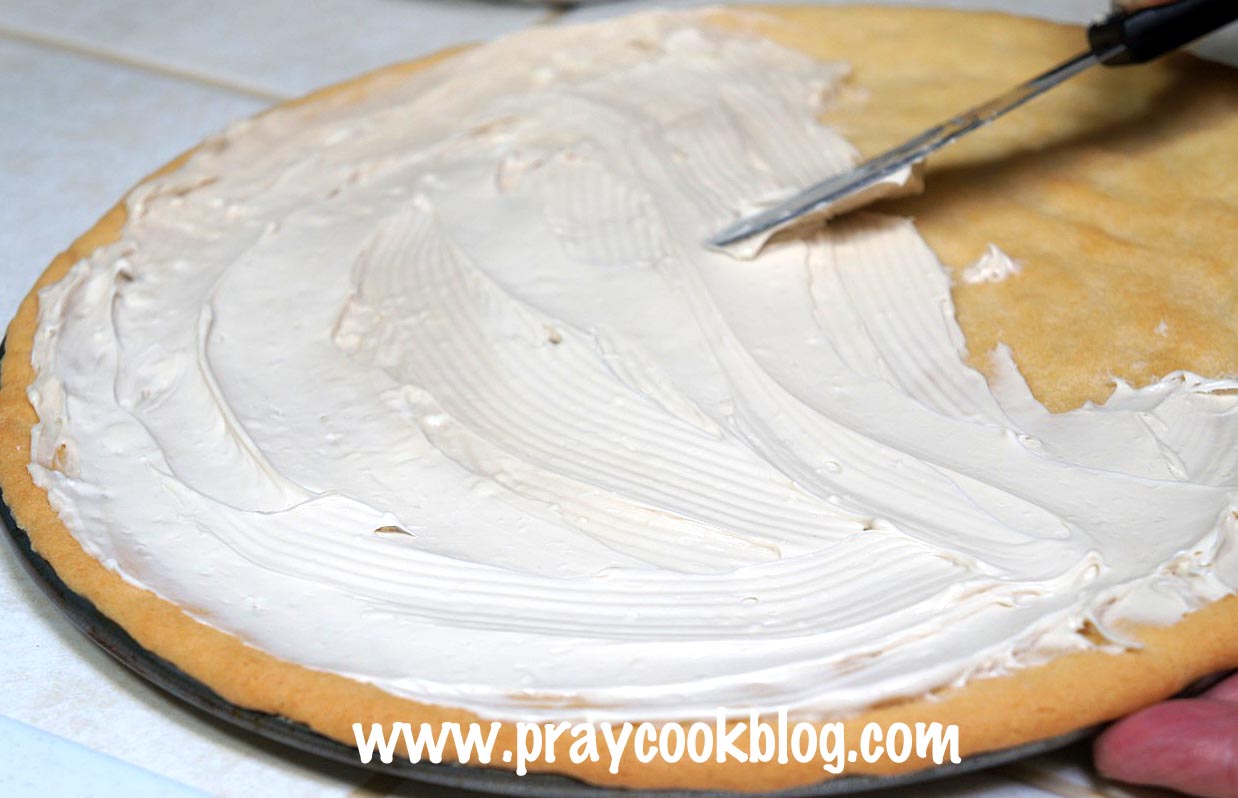 Then the creative part begins.  I thought mine turned out especially pretty, with fruit placed in a nice circular pattern around the pizza.  WRONG!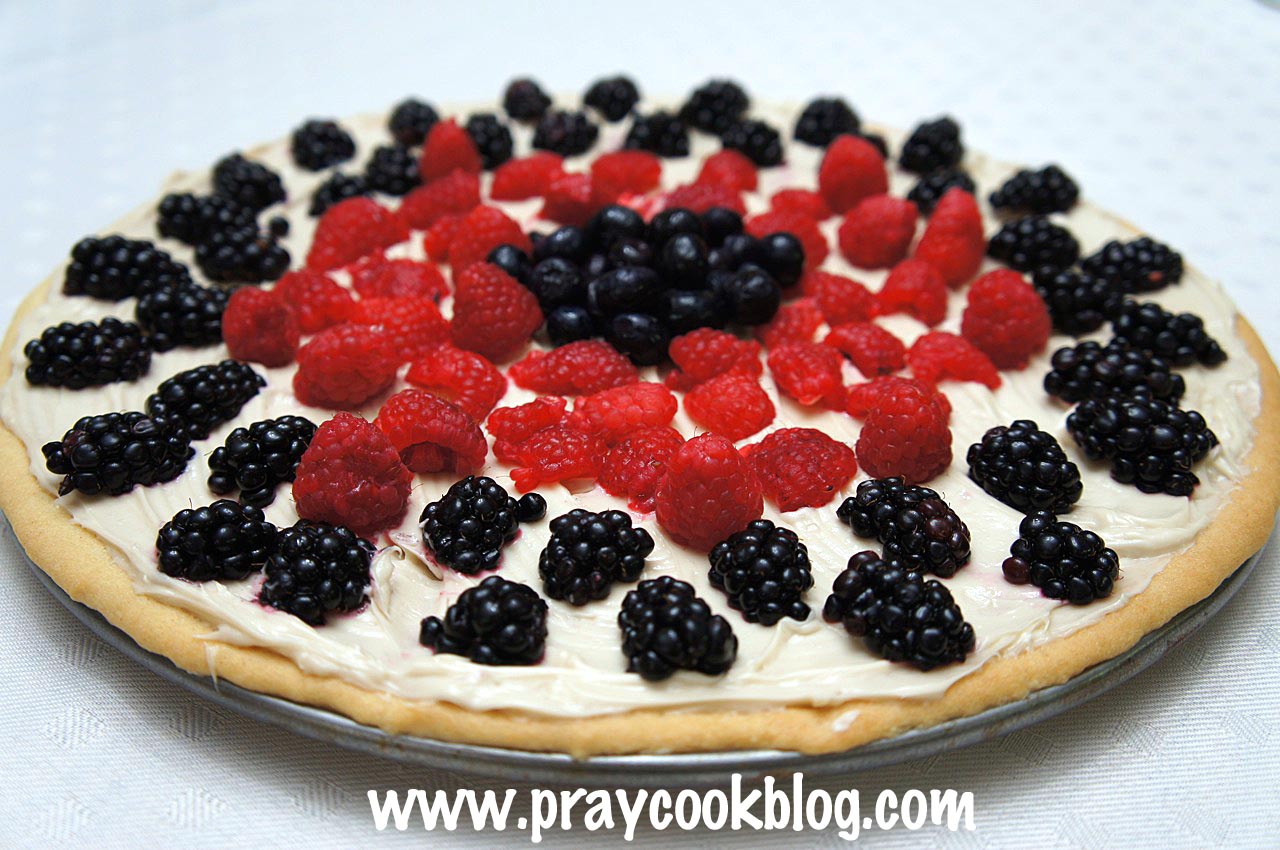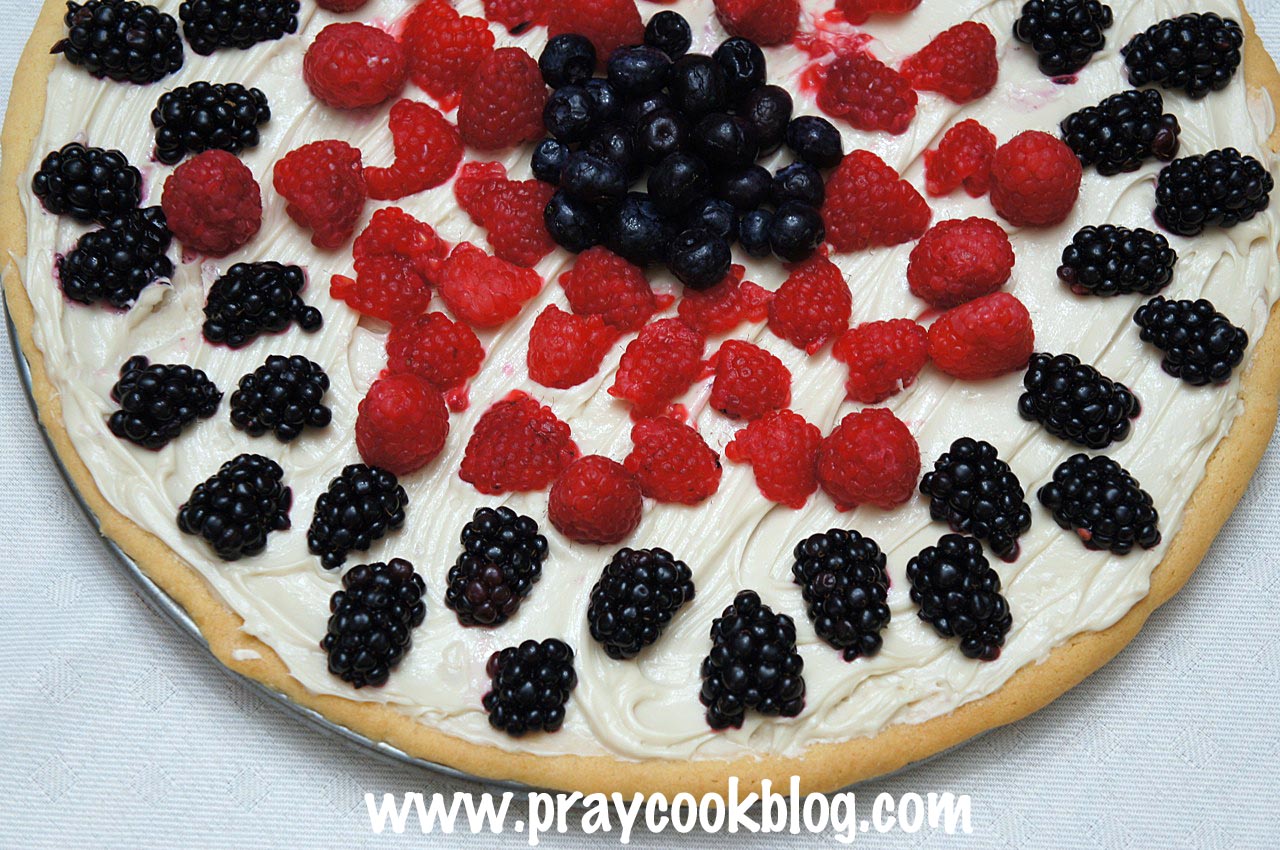 Mine actually looks … predictable.  I really didn't know that until this past weekend when my 13-year-old granddaughter was visiting and we decided to make a fruit pizza … for breakfast!  (Ya, and it is yummy for breakfast!)  We had fresh peaches, bananas, blueberries and strawberries.  I asked Tayler if she would do the decorating.  Her creativity immediately took over and she carefully, lovingly, and thoughtfully placed each piece of fruit.  I watched with amazement as she started with a blueberry design and then filled in with other colors.  The result very pretty, extremely tasty and a pizza that popped with color.  See for yourself…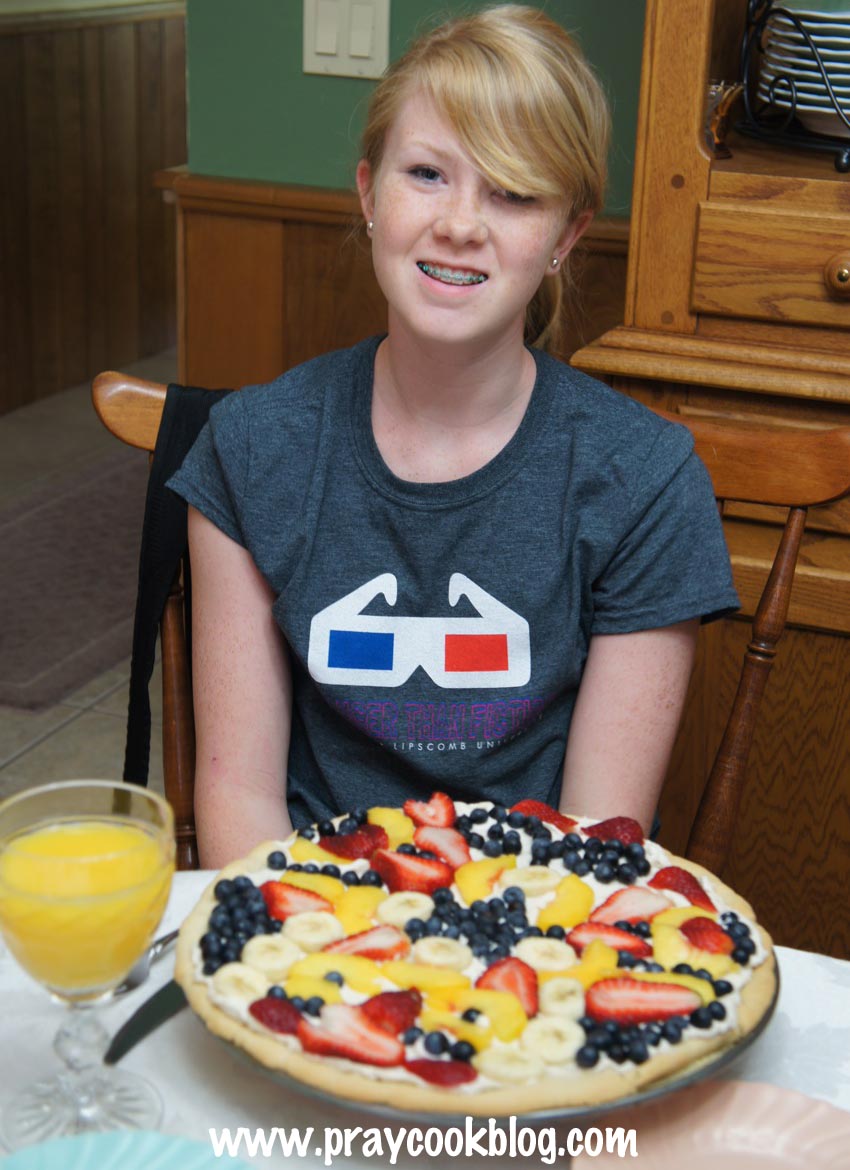 Thank you Tayler, it was fun making breakfast with you!  Dessert or breakfast – you choose! A wonderful addition to any 4th of July celebration!
Blessings and Happy Cooking! ~Catherine
Red, White, and Blue Fruit Pizza
Delicious, colorful dessert or breakfast pastry. Top with your favorite fresh fruits!
Ingredients
½ cup Unsalted butter, softened
¾ cup Granulated Sugar
1 Egg
1¼ cup All-purpose Flour
1 teaspoon Cream of Tartar
½ teaspoon Baking Soda
¼ teaspoon Salt
Spread
1 Package Cream Cheese, 8 ounces
½ cup White Sugar
2 teaspoon Vanilla Extract
Berries, Bananas, Mixed Fruit
Instructions
Preheat oven to 350 degrees F.
In a large bowl, cream together the butter and ¾ cup sugar until smooth. Mix in egg. Combine the flour, cream of tartar, baking soda, and salt. Stir into creamed mixture until just blended. Press the dough into an ungreased pizza pan.
Bake in preheated oven for 8 to 10 minutes or until lightly browned. Cool.
In a bowl, beat cream cheese with ½ cup sugar and vanilla. Spread on cooled crust.
Arrange favorite fruit on top of filling and chill for at least 1 hour.