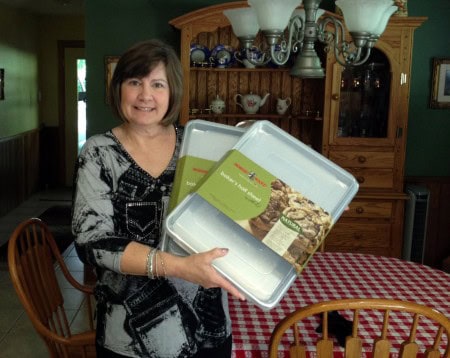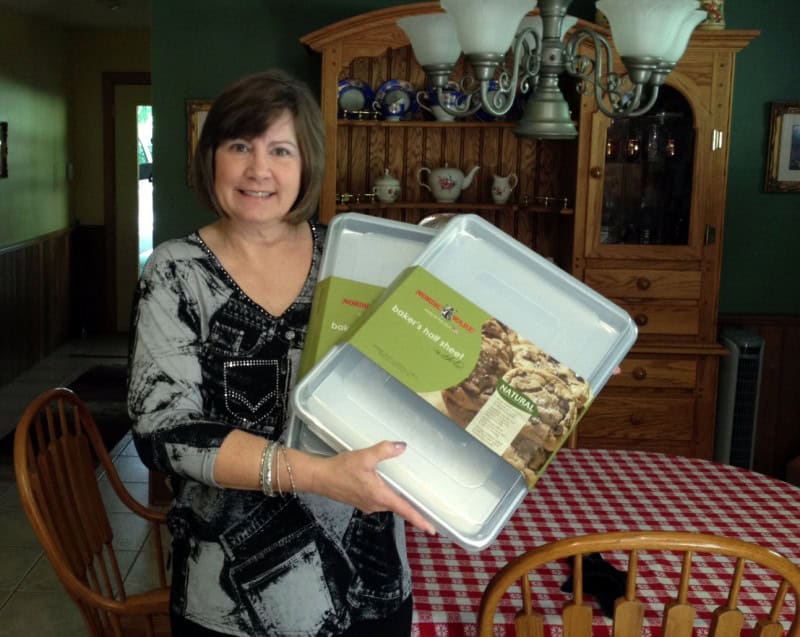 Here I am showing off my new bakers half sheets with lids! It was Christmas in July at my house this week when this surprise gift arrived from my nephew Ryan.  At our recent family reunion Ryan brought four of these bad boys to use and was the envy of every cook in the family!  Now I know envy is a sin, so I will just call it a big dose of enthusiasm that bubbled over as I used Ryan's pans to make a batch of rice krispie treats.   Ryan used them to bake Pepperoni Bread (recipe coming soon) and outstanding carrot cake bars!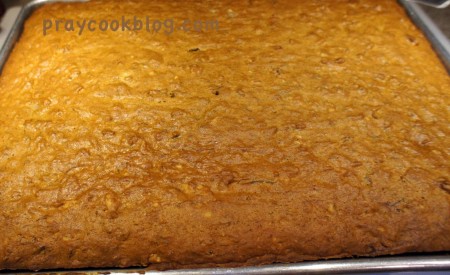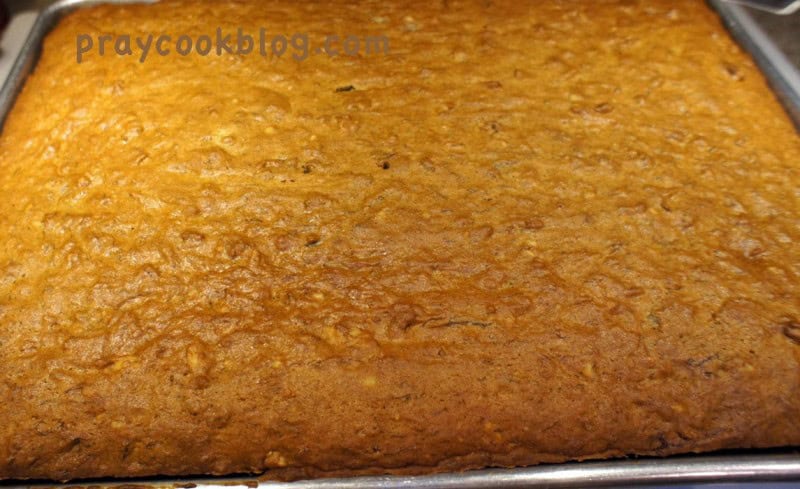 Fast forward a couple of weeks and I am home cleaning out my freezer and I pull out six really, really ripe frozen bananas.  What to do, what to do?  I have a Healthified Frosted Banana Bar recipe but I decided to go looking for something "different". Do you do that sometimes?  You don't know what you want to bake, you just know you want "something different"?  Well, have you ever roasted bananas?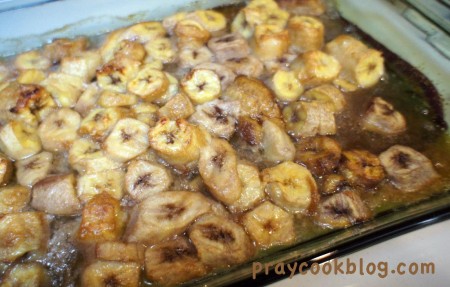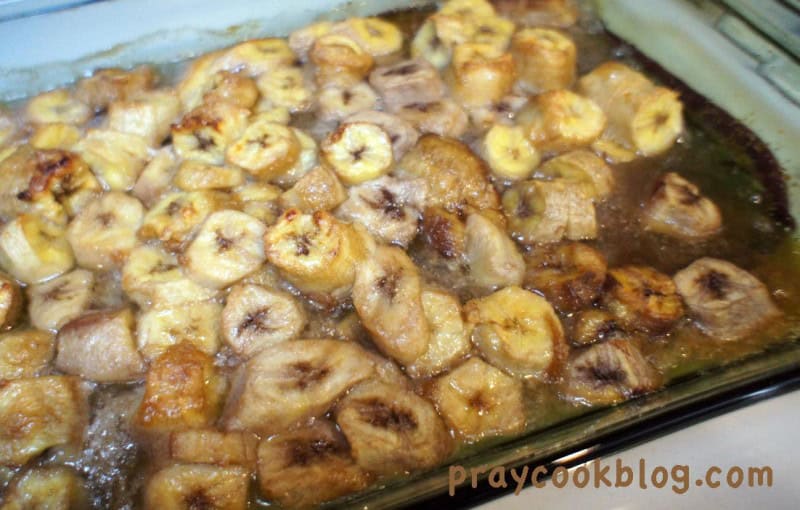 Yep, you read that right – roasted bananas.  I found the recipe at www.myrecipes.com posted by Lindsay Weiss of Overland Park, Kansas.  She says it came from Cooking Light magazine.  It intrigued me and I was wondering if roasting bananas brings out a richer, deeper flavor.  According to my taste-testers, The Chief and my sous-chef dish-washing mom — these are the best banana bars I've ever made! Their words, not mine. 🙂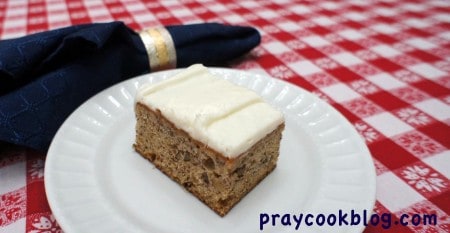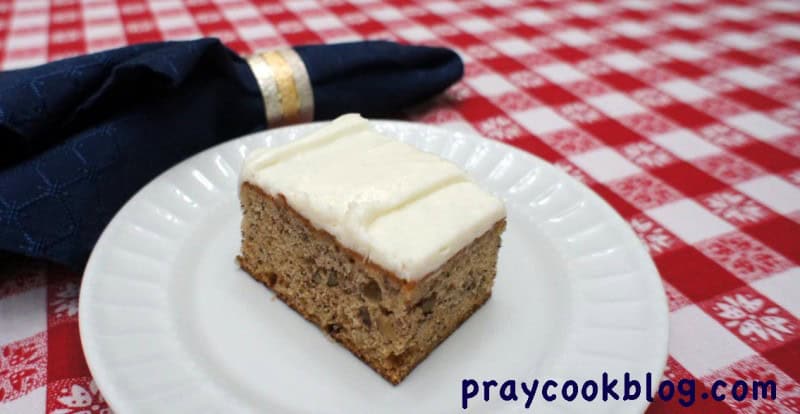 Lindsay's recipe called for a browned butter pecan frosting.  I opted to put the pecans in the banana bars and leave them out of the frosting.  I didn't brown the butter because I wanted the creamy texture that comes from combining butter and cream cheese with a little vanilla and powdered sugar.  I also doubled the recipe and instead of baking in a 9″ x 13″ baking dish I baked it in my bakers half sheet pan which is roughly 13″ x 18″.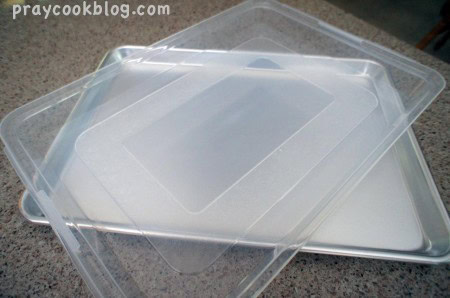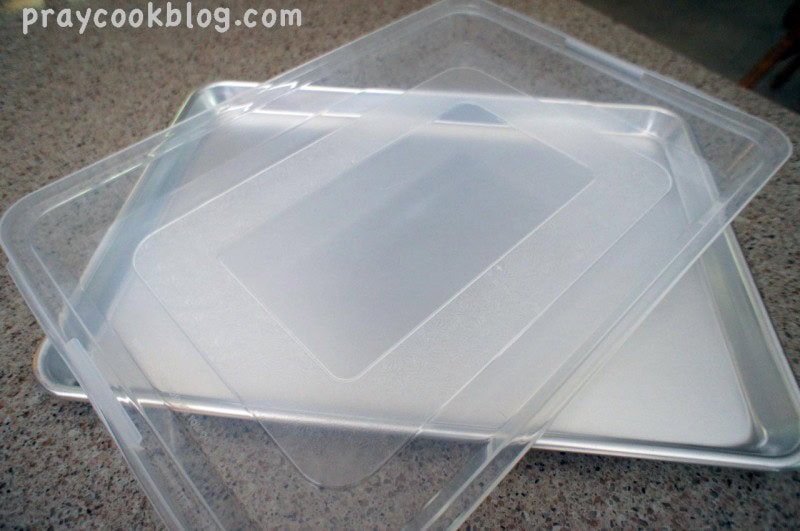 Just in case you are wondering what this has to do with the  bakers half sheet baking pans with lids — it was at this point I was wishing I had one of those pans to cover up my beautiful pan of frosted banana bars.  Instead I used foil, which sank a bit in the refrigerator and smooshed my lovely cream cheese frosting. Truly this isn't an earth-shattering crisis, but it did remind me of the bakers half sheet pans with lids that Ryan had.  I sent him a quick email and asked him to send me the name and information about the sheets.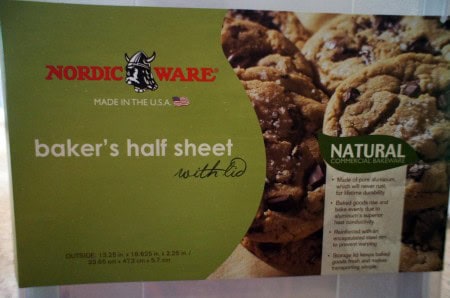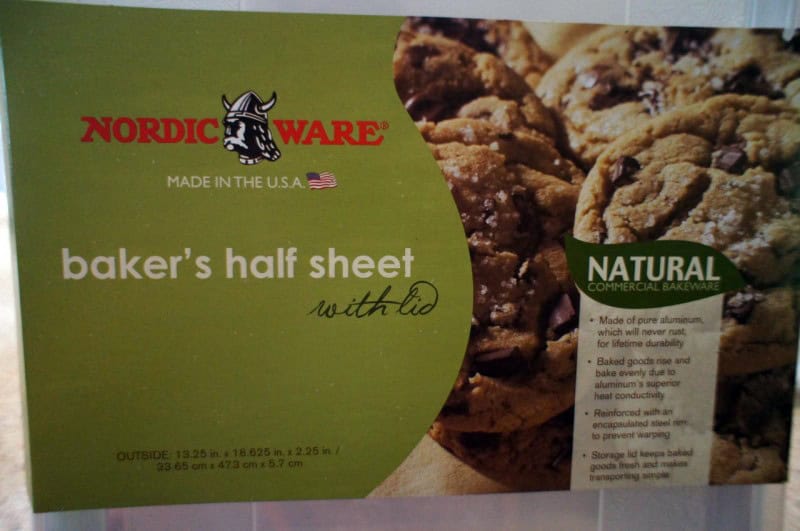 According to him, when he got my email he thought, "maybe she won't be able to easily find them in Tennessee, I'll just send them from Amazon and surprise her."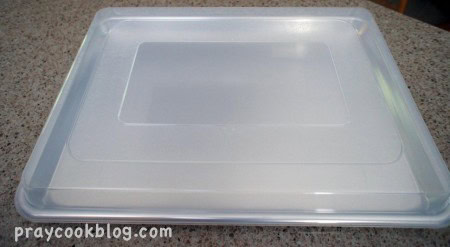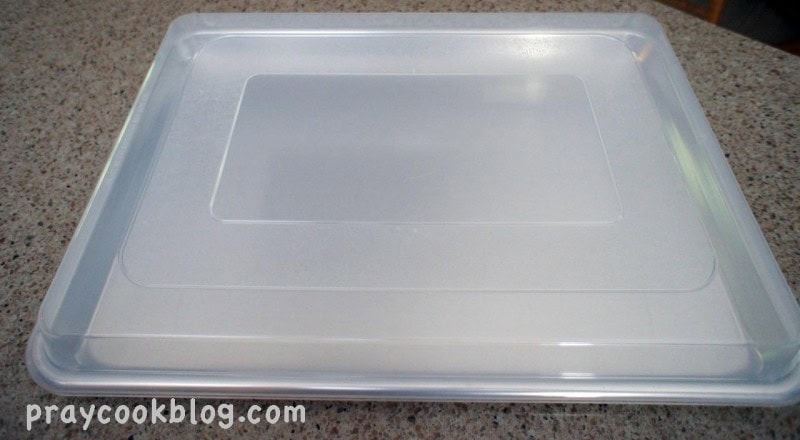 Surprise me he did!  These are beautiful pans and the lid kinda "snaps" on but it snaps on the edge of the pan leaving frosting in perfect condition.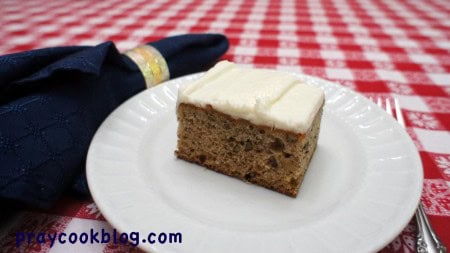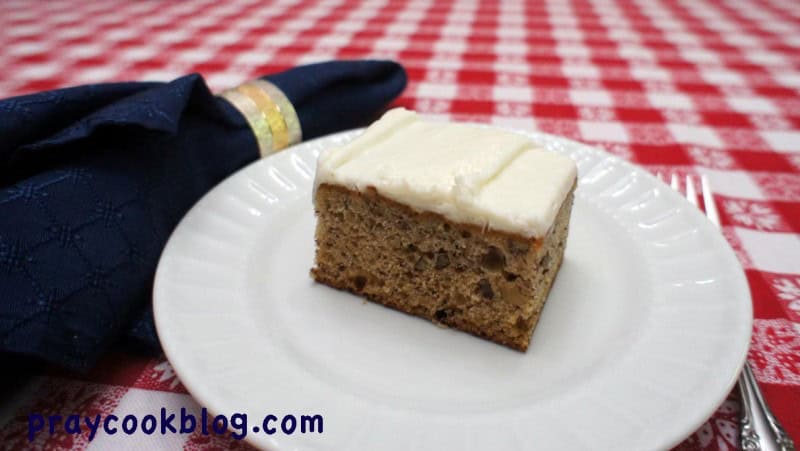 Here is a link where you can buy them on Amazon.
If you don't have bananas on hand now, print out this recipe, buy some bananas and let them get over-ripe.  In the meantime you can order these pans and before you know it you will be roasting bananas too!
Have a blessed and happy 4th of July weekend,
Catherine
2 Corinthians 3:17
"Now the Lord is the Spirit; and where the Spirit of the Lord is, there is liberty."
Romans 8:21
"… that the creation itself also will be set free from its slavery to corruption into the freedom of the glory of the children of God."
John 8:32
"… and you shall know the truth, and the truth shall make you free."



Roasted Banana Bars With Cream Cheese Frosting

Roasting bananas first brings out a richness that makes these bars outstanding!

Ingredients

Roasted bananas:
4 cups sliced ripe bananas (about 6 medium)
⅔ cup packed dark brown sugar
2 Tablespoons butter, cut into small pieces
Cake ingredients:
2¼ cups all-purpose flour
2¼ cups cake flour
1 teaspoon baking powder
1½ teaspoons baking soda
½ cup buttermilk (non-fat or regular)
½ cup butter, softened
2 cups granulated sugar
4 large eggs
½ cup crushed pecans
Frosting:
⅓ cup butter, softened
4 ounces cream cheese
4 cups powdered sugar
2 teaspoon vanilla extract
1 to 2 Tablespoons Milk to desired consistency
Instructions
Preheat oven to 400 degrees F.
Combine sliced bananas, brown sugar and butter in a 9" x 13" baking pan, roast at 400 degrees F. for 35 minutes, stirring about half way through. Cool slightly.
Reduce the oven to 375 degrees F.
In the bowl of the electric mixer combine butter and sugar. Beat until light and fluffy. Add eggs, beating until well mixed.
Combine flours, baking soda, pecans, and baking powder, in the bowl of the electric mixer.
Combine cooled roasted bananas with buttermilk and vanilla.
Alternate banana mixture and flour mixture into the butter/sugar/eggs in electric mixer until all ingredients are combined.
Pour batter into a bakers half sheet that has been prepared with baking spray. Bake at 375 degrees F. for 25 to 30 minutes or until wooden pick inserted in center comes out clean. Cool completely on wire rack.
Prepare frosting: Combine butter and cream cheese in bowl of electric mixer. Beat until well combined. Add powdered sugar and vanilla. Beat well. Add milk 1 tablespoon at a time until desired consistency is reached.
Frost cooled banana bars and enjoy!
Notes

Vanilla Coffee-Mate is an excellent substitute for the milk in the frosting.