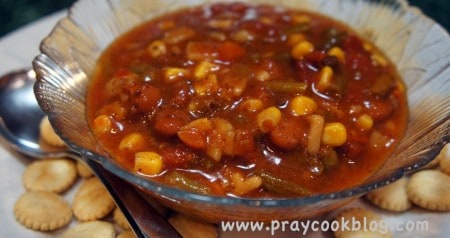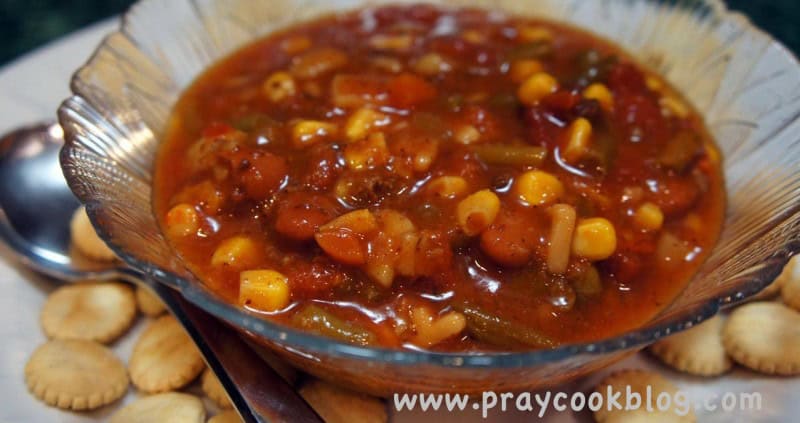 I am a soup snob. There, I've said it and it is true. I don't like soup out of a can.  I never use to even eat soup, unless I made it myself. (Snob) Not Campbells, Progresso, just-like-home made, none of it.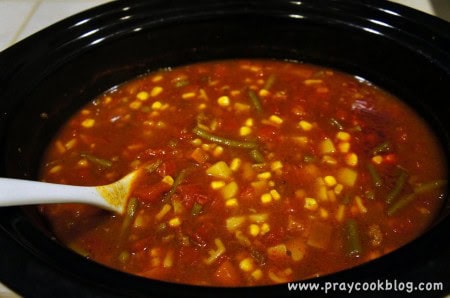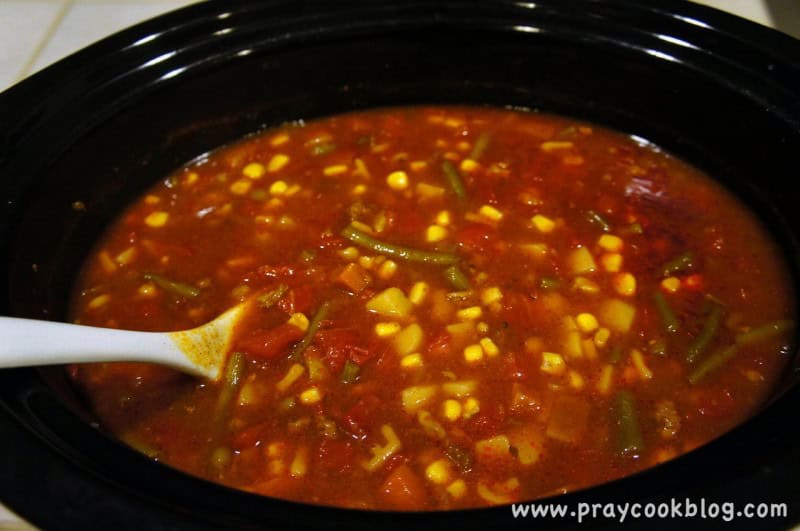 Then one day I received a newsletter from my health insurance carrier.  Inside the newsletter was a recipe for 9 Can Vegetable Soup with the advertisement: Try this simple and delicious vegetable soup

I scanned the list of "cans" and wasn't interested until I saw this nutritional info.
Servings per recipe 12
Per Serving:
Calories: 127.8
Total Fat: 0.8 g
Cholesterol: 2.4 mg
Sodium 602.9: mg
Total Carbs:  25.9g
Dietary Fiber: 4.9g
Protein: 5.1g
In my book those stats make for a pretty healthy main dish. I also started thinking about the convenience of keeping these 9 cans on the pantry shelf and having a meal ready in the flash of a can opener!  During the holidays — after a long day at work, a super long day shopping, an ever-so-late dinner after picking up the kids, attending at least one ball game on the way home and still having homework to do.  These 9 cans can sit on the pantry shelf and are easily dumped into the crock pot in the dark of the early morning.   Oh, but what about the taste? That is after all, MY priority.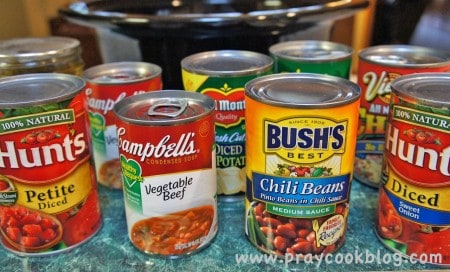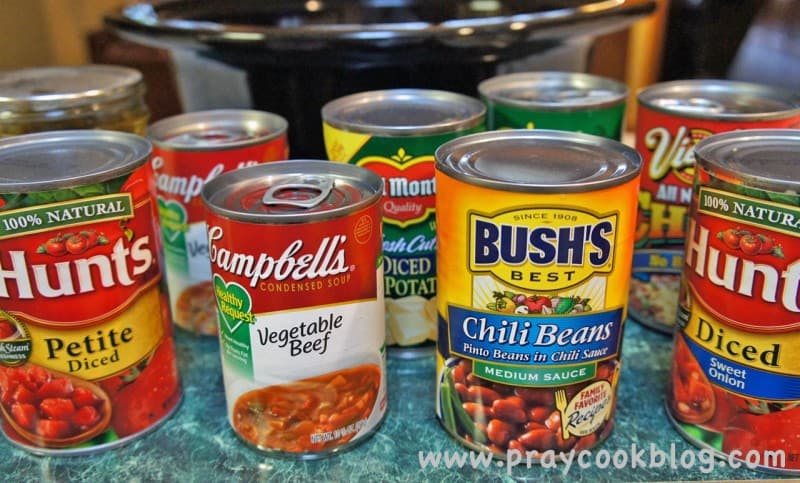 I bought the cans, opened them up (in about 5 minutes) and placed them in my crock pot.  I cooked the soup on low for 8 hours.  Oh my gosh, what a surprise! You are going to have to just trust me that this soup will rival any homemade.  Buy the cans, sit them on the shelf — then make this soon!  You won't be sorry.
~Blessings, Catherine
P.S.  Don't forget to scroll to the bottom of this post to see how you can win this week's cookbook giveaway!
9 Can Vegetable Soup
Incredibly healthy, very tasty, perfectly suited for a make-ahead meal.
Ingredients
1 can Chili with beans
1 can Chili without beans
1 can vegetable soup
1 can green beans
1 can sliced new potatoes
1 can mixed vegetables
1 can corn
2 cans diced tomatoes
Instructions
Empty entire contents of each can into the crockpot.
Heat on low all day or on high for 2 hours or less.
Notes
Use standard 15 ounce cans of each ingredient.
Keep these 9 cans on your pantry shelf and you will never be caught without dinner on short notice!
Nutrition Information
Calories:
127.8 calories per serving
Fat:
0.8 grams of fat per serving


Do you want to win the cookbook, BAKING, from my house to yours?
To enter to win, simply leave a comment on this post.
You can receive up to FOUR additional entries to win by doing the following:
1. Subscribe to My Daily Bread Body and Soul by either RSS or email. Come back and let me know you've subscribed in an additional comment.

2. Become a fan of My Daily Bread Body and Soul on Facebook. Come back and let me know you became a fan in an additional comment.

3. Follow My Daily Bread Body and Soul on Pinterest. Come back and let me know you became a fan in an additional comment.

4. Follow Me on Twitter. Come back and let me know you started following on Twitter.
Deadline: Sunday, December 9, at 11:59pm CST.
Winner: The winner will be chosen at random using Random.org and announced at the top of this post on Monday, December 10, 2012. If the winner does not respond within 24 hours, another winner will be selected.
Disclaimer: This giveaway is sponsored by Pray Cook Blog, My Daily Bread Body and Soul. Good luck!