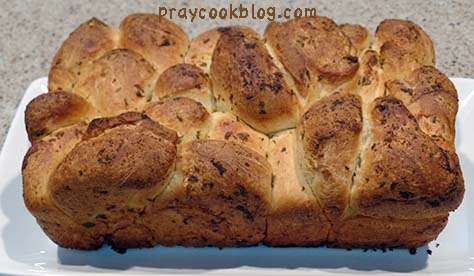 If you have followed my blog very long you will know that I love making recipes that are fast and easy and look like a million bucks! This is just such a recipe.
I saw a Taste of Home recipe for pull-apart garlic bread. The cook sharing the recipe is Carol Shields, from Summerville Pennsylvania.  Five ingredients, prep time 10 minutes, raise for 1 hour and bake for 30 minutes.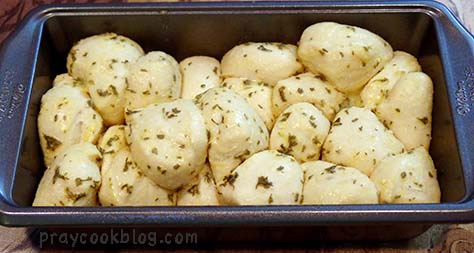 This bread is perfect to serve alongside Taste of Lasagna soup,  Crock Pot Creamy Chicken Spaghetti, or the dish of your choice!   If garlic is your favorite herb of choice then crank it up a notch and make this an over-the-top flavor buster bread!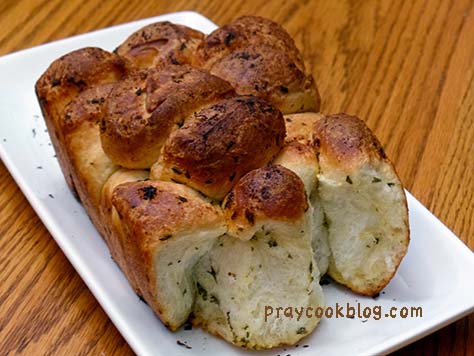 The first time I made this I used one loaf frozen bread dough and it fit just right in a 9″ x 5″ loaf pan.  The second time I used 3 frozen loaves of bread dough and a 12″ x 14″ baking dish.  Both turned out perfect!
Happy Baking,
~Catherine
P.S.  I named this Savory Monkey Bread because it reminds me of making my sweet version. (Also known as Monkey Bread and the Sensitive Cook!)

Savory Monkey Bread
A savory bread so fast and easy you will make it again and again!
Author:
Adapted by Catherine Daugherty
Ingredients
¼ cup unsalted butter, melted
1 Tablespoon dried parsley flakes
1 teaspoon garlic powder
¼ teaspoon garlic salt
1 loaf (1 pound) frozen white bread dough, thawed
Melted butter for drizzle, optional
Instructions
In a small bowl, combine the butter, parsley, garlic powder, and garlic salt.
Cut thawed dough into 1-inch pieces; dip into butter mixture.
Layer in a greased 9" x 5" loaf pan. Cover and let rise until doubled, about 1 hour.
Bake at 350 degrees F. for 30 minutes, or until golden brown.
Cool for 5 mintues before serving. Drizzle with hot melted butter, optional.
Notes
Adapted by Taste of Home recipe by Carol Shields.

Melted butter drizzle optional.