Affiliate Disclosure: I receive a small commission for purchases made via affiliate links.
Walk Through The Bible In One Year
Week 23 reading plan Psalm 40 through 80
Click on the colored link to read each day's scripture.
Monday Psalm 40-46, Tuesday Psalm 47-54,
Wednesday Psalm 55-61, Thursday Psalm 62-68,
Friday Psalm 69-73, Saturday Psalm 74-77,
Sunday Psalm 78-80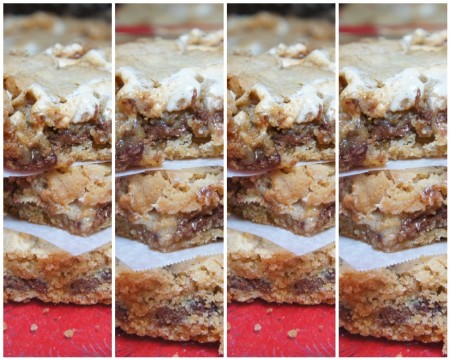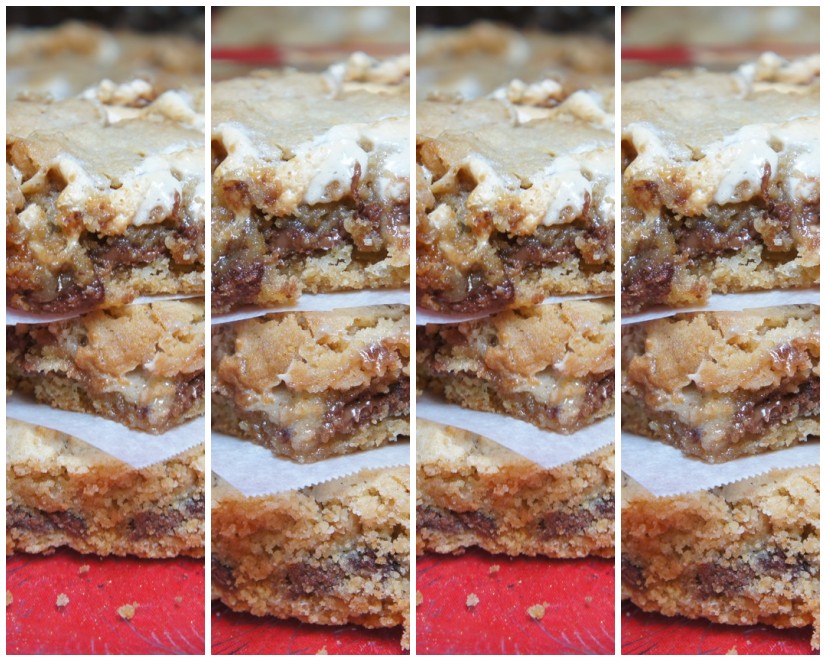 Happy Independence Day America! Are you celebrating right this minute with family and friends?  Eating BBQ?  Watching the night sky light up with beautiful colors raining back down to earth?  Whatever the day has been I hope you have enjoyed it.  Sometimes holidays are spent another way.  Cleaning house. Washing clothes. Cooking. Catching up because it is an extra day off in the middle of the week!  That is how I spent my holiday.  We've been blessed to have two sons and a grandson here for the better part of the last 6 days.  This means lots of cooking, eating, laughing, and sitting on the front porch!  Shooting off fireworks (oops, a little dry for that!), shooting guns, bow and arrows, looking for bugs, watching the hummingbirds.  Swimming, exploring a huge cavern and much more.  They are now making their way westward toward home and I am missing them.  The finger prints are gone from the glass doors, the bedding washed and re-made. The ipads, ipods, iphones, laptops, cords, batteries, and cameras are all gone.  The house looks empty.  In an attempt to make myself feel better, I am sharing a recipe tonight that my 10-year-old grandson Sean,  just fell in love with this weekend.  As he was walking out the door he made me promise to blog it so he will have the recipe and directions to make these at home 🙂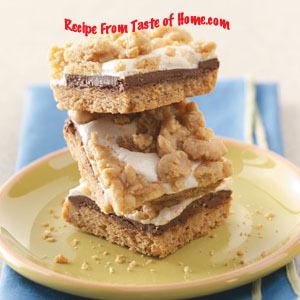 For several months now I've seen  S'more Bars popping up around the internet, on Pinterest, and on some of my favorite blogs.  I didn't get too excited about them until I came home from our family reunion.  You see, I bought graham crackers, marshmallows, and Hershey Candy Bars for making s'mores around the campfire during our week at Kentucky Lake.  But it turned out it was just too hot for a campfire.  So, I packed up the grahams, the mallows, and the candy and brought them back home.  Fast forward a couple weeks to the arrival of the kidlings and my desire to make some treats for them.  A quick search and I found the S'more Bar recipe on Taste of Home's website.  Since I tweaked it a bit to suit my ingredients, I'll put the link here to the actual recipe (but trust me, you will like mine better!).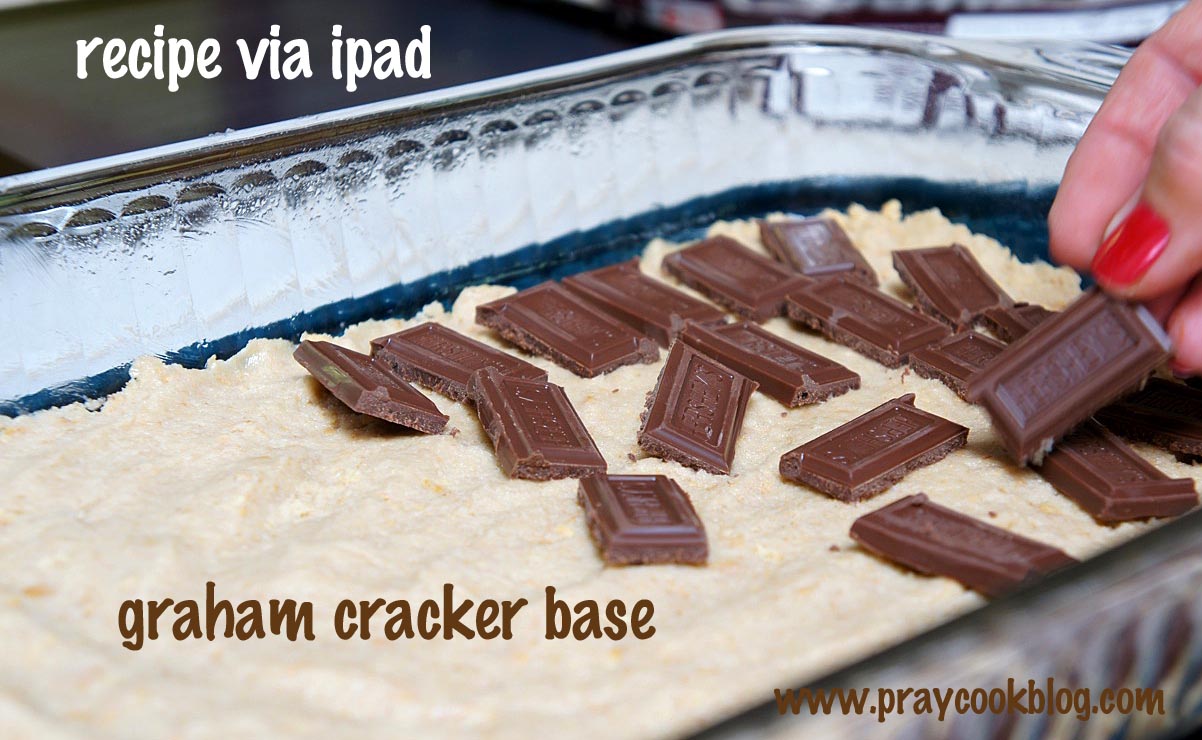 Do you cook with your computer screen handy for recipe viewing? How about your laptop on the counter?  These days my ipad is on the counter more often than not when I am cooking.  The recipe is easily seen (made LARGER for my old eyes) and the whole thing can be wiped clean when I splatter.  Okay… back to S'mores.  This delightful recipe starts out with a quickly made dough consisting of butter, sugar, eggs, vanilla, flour, graham cracker crumbs, baking powder and a little salt.  I creamed the butter and sugar, added eggs and the rest of the dry ingredients in my Kitchen Aid.  Then I pressed 3/4 of the dough into a 9″x 13″ baking dish. Hershey Chocolate bars are broken apart and layered  over the crust.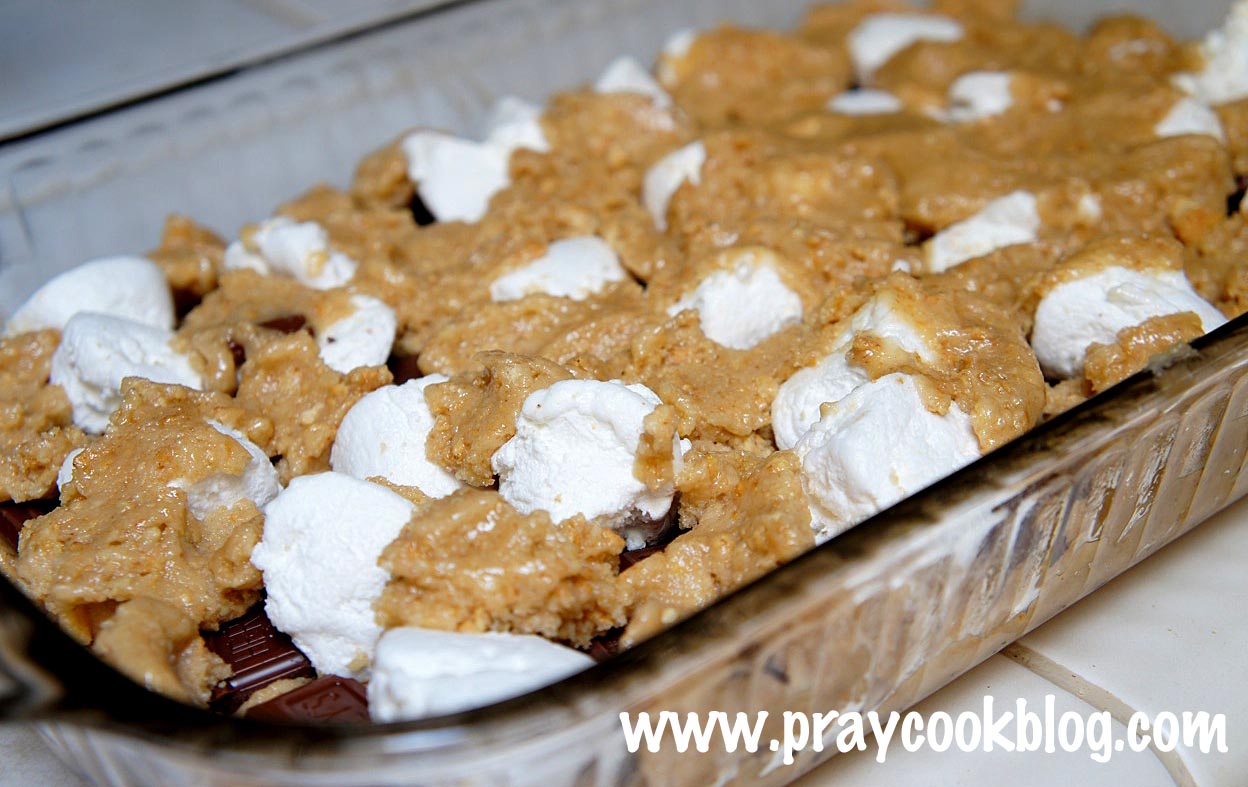 The original recipe calls for layering marshmallow cream next.  I dotted the candy bars with marshmallows cut in half (remember, left-overs.)  Next time I will just by mini-marshmallows and sprinkle liberally.  The remaining dough is dropped on top the marshmallows.  Original recipe says to create a "layer" with the dough.  I say just drop it around, because when you do it creates this finished look: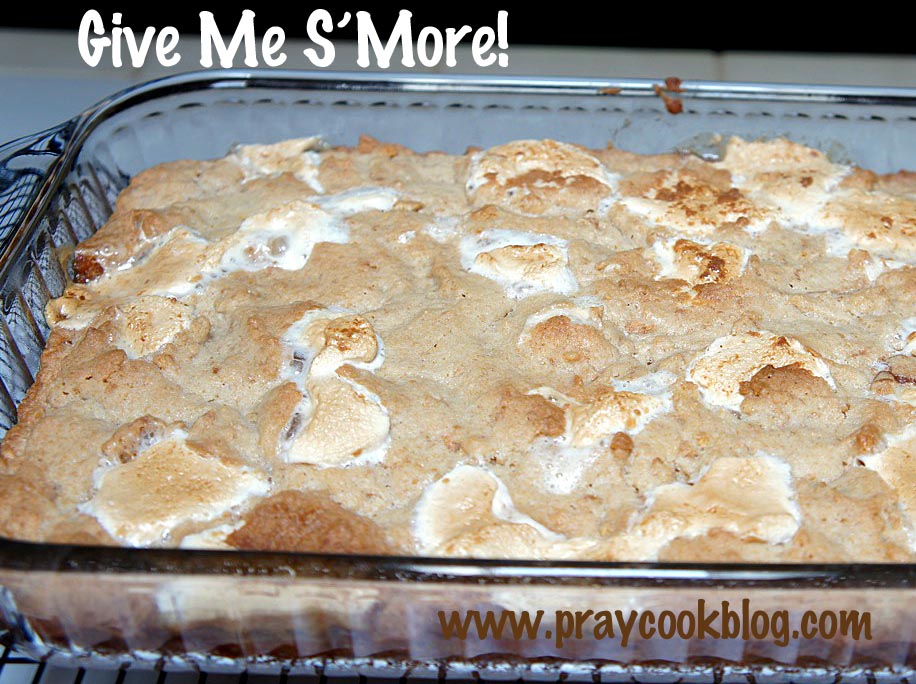 The bars come out of the oven all puffed up and bubbly and gooey.  This is when Sean really got excited!  We let them cool a bit and then started slicing.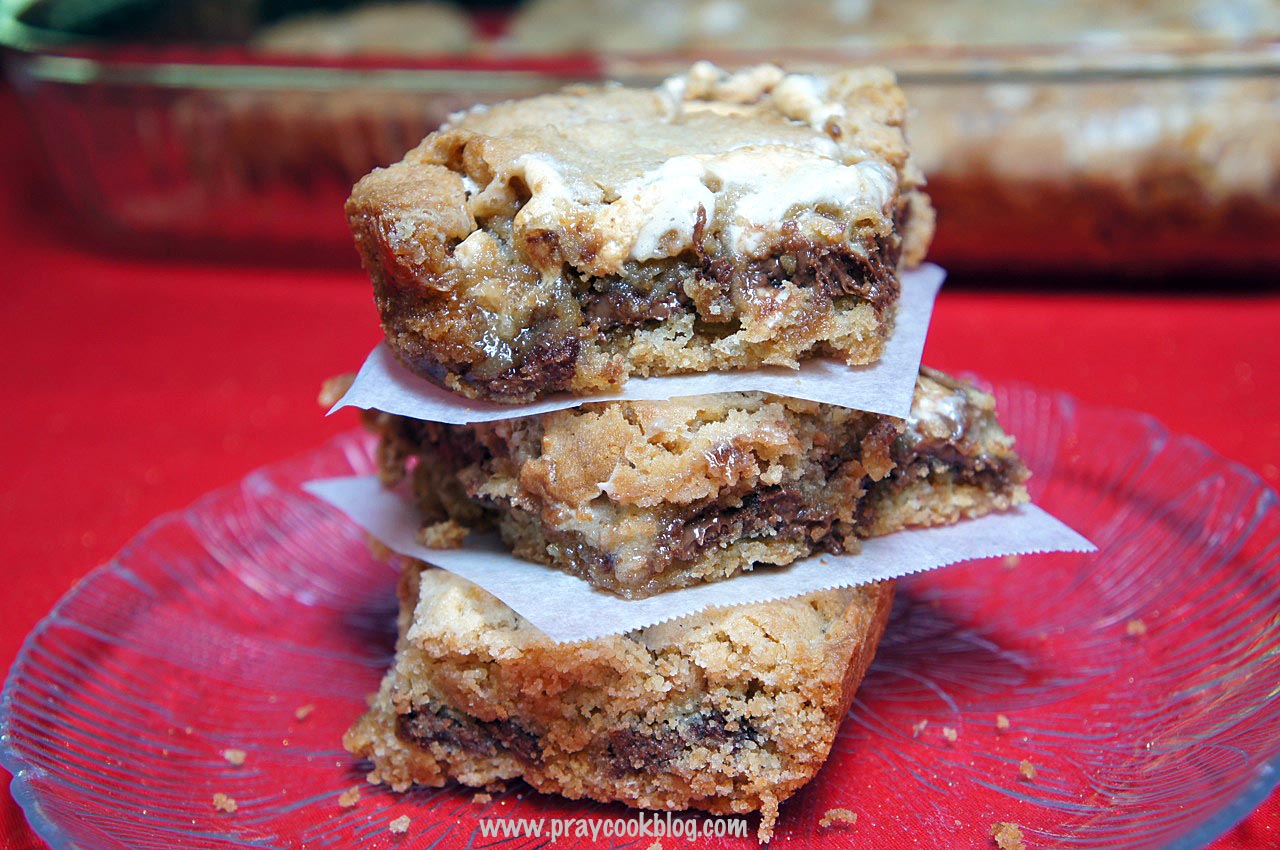 If only I could share an ooey-gooey bite with you — I am confident this S'more Bar recipe would go on your make-it now list!  The kids will love it — hubby will sneak a second piece — your co-workers will esteem your culinary talents 🙂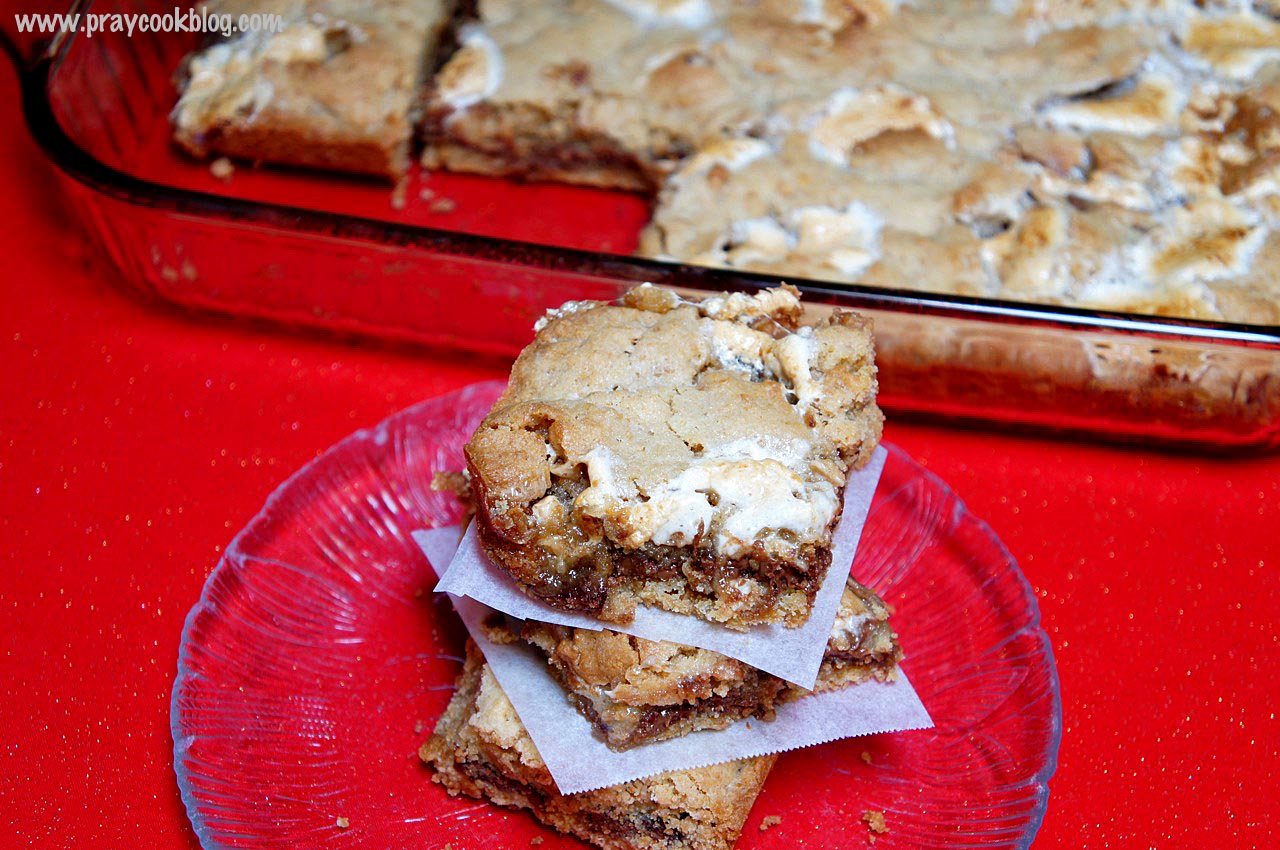 My beloved grandson Sean – this recipe is for you!
~Blessings, Grandma Catherine

S'more Bars
You won't need a campfire to enjoy the ooey-gooey goodness of S'mores!
Author:
Adapted From Taste of Home
Ingredients
1 cup Unsalted butter, softened
1½ cup Granulated Sugar
2 Eggs
2 teaspoon Vanilla Extract
2⅔ cup All-purpose Flour
1½ cup Graham Cracker Crumbs
2 teaspoon Baking Powder
¼ teaspoon Salt
7-8 Chocolate Candy Bars
2-3 cup Miniature Marshmallows
Instructions
In a large bowl, cream butter and sugar until light and fluffy. Beat in eggs and vanilla. Combine flour, cracker crumbs, baking powder and salt; gradually add to the creamed mixture. Set aside ¼ of dough for topping.
Press remaining mixture into a greased 9" x 13" baking pan. Place candy bars over the crust.

Sprinkle marshmallows over the candy. Crumble remaining graham cracker mixture over the top.

Bake at 350 degree F. for 25 to 30 minutes or until golden brown. Cool on a wire rack.

Cut into bars. Store in an airtight container. Yield 28 bars.

Notes
Recipe can be cut in half and backed in a 8" x 8" pan.