A Walk Through The Bible In One Year
Week 11 reading plan per day
Click on the colored link to read each day's scripture.
Monday Joshua 1-4. Tues Joshua 5-8, Wed Joshua 9-12,
Thursday Joshua 13-16, Friday Joshua 17-20,
Saturday Joshua 21-22, Sunday Joshua 23-24
Are you walking through the Bible with me this year? If so, I am quite certain you are finding this weeks reading intriguing. What a woman of faith Rahab must of been! As we discovered this week Joshua spared Rahab the prostitute, with her family and all who belonged to her, because she hid the men Joshua had sent as spies to Jericho–and she and her family then lived among the Israelites. I am regularly encouraged by the men and women of faith who have gone before me and I hope you are too!

Do you just love coconut?  I have found that coconut is one of those foods that you either really, really like or you don't want it to touch anything you plan on eating!   As it turns out my family loves coconut and my sister-in-law, Liz, is known for her delicious Sour Cream Coconut Cake.  It is a family holiday tradition for her to make this cake.  This Easter she was out-of-town and when discussing Easter dinner, my chief culinary consultant (and SCC Cake fan) said, "what about the sour cream coconut cake?"  Knowing that Liz was going to be gone I was way ahead of the Chief and besides — I have a new cupcake corer …. Did I mention this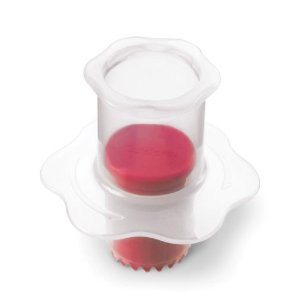 very cool new addition to my kitchen?  Okay, maybe I have mentioned it recently, but I really love biting into a luscious cupcake only to be speechlessly surprised when a fabulous chocolate mousse or a creamy sour cream and frozen coconut filling oozes out!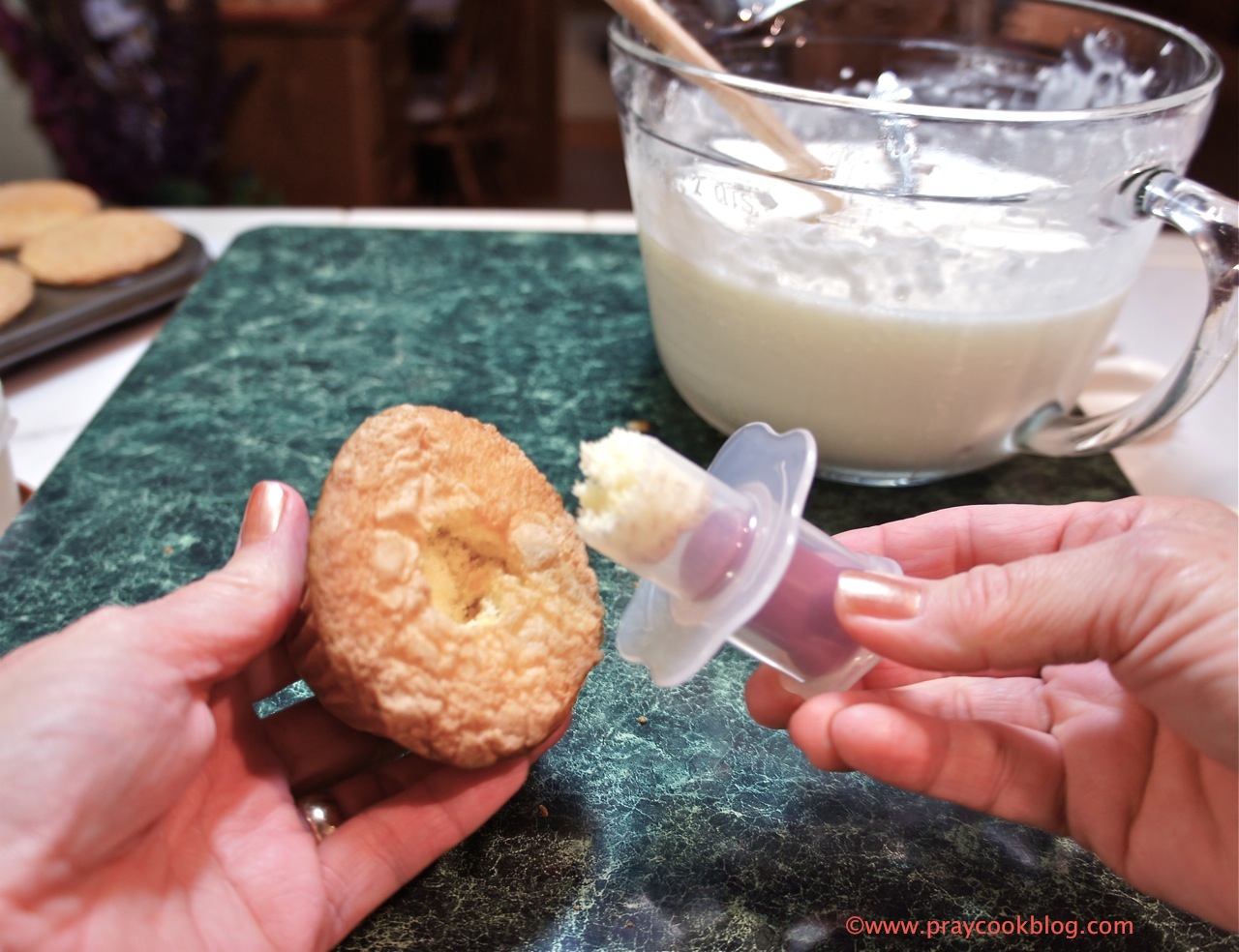 One of the best parts of this cake recipe is that it can be made up to 7 days in advance, wrapped in plastic or Tupperware and for every day it spends in the refrigerator the flavor just gets better and better.  Technically the sour cream filling goes between the layers of the cake.  But these days, in my kitchen, the sour cream filling goes into the middle of the cupcakes!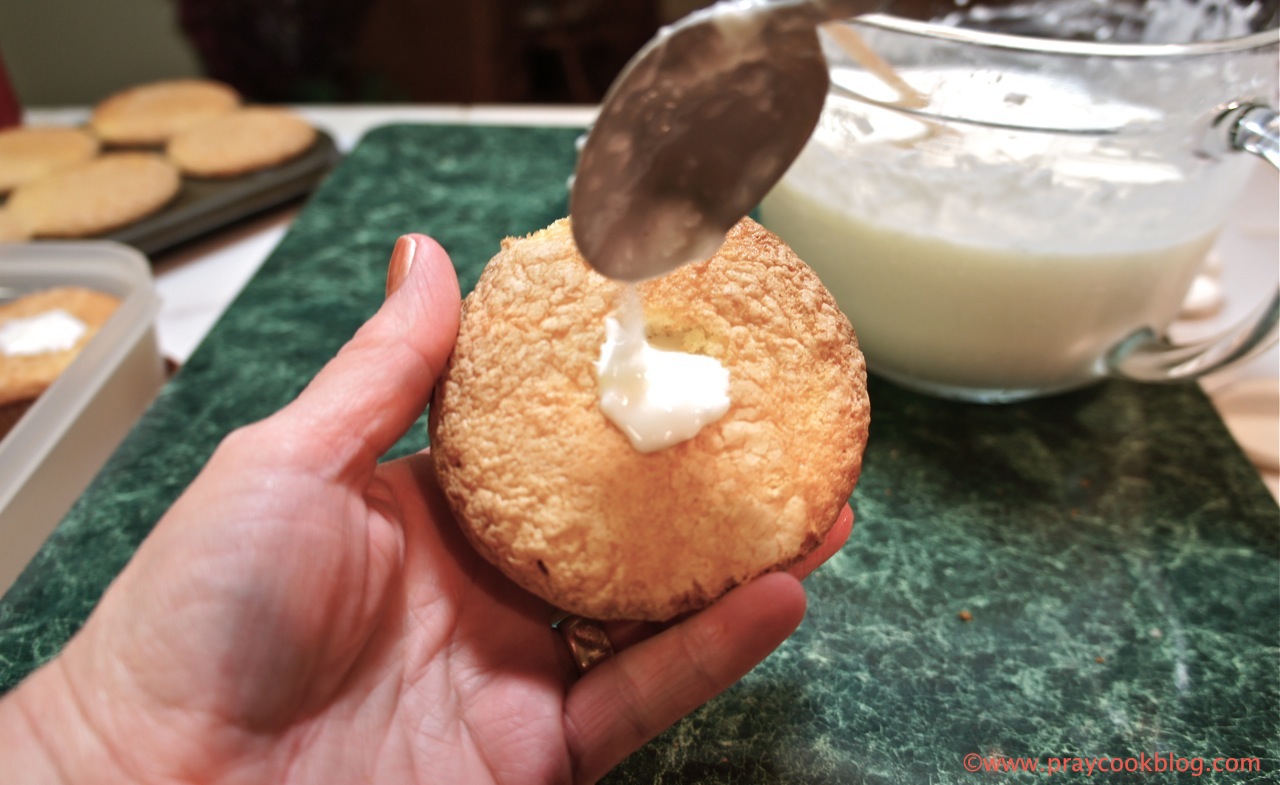 I made the cupcakes on Wednesday before Easter and quite honestly I couldn't wait to taste them and see how the "filling" turned out in the middle of the cupcakes.  As it was – the cupcakes are so adorable and definitely live up to their sister cakes reputation!  Cupcakes are so easy to transport and don't necessarily need the plate and fork like cake does.  A good napkin and you are ready to serve.   If you are looking for just the right combination in a coconut cake recipe, this one won't disappoint.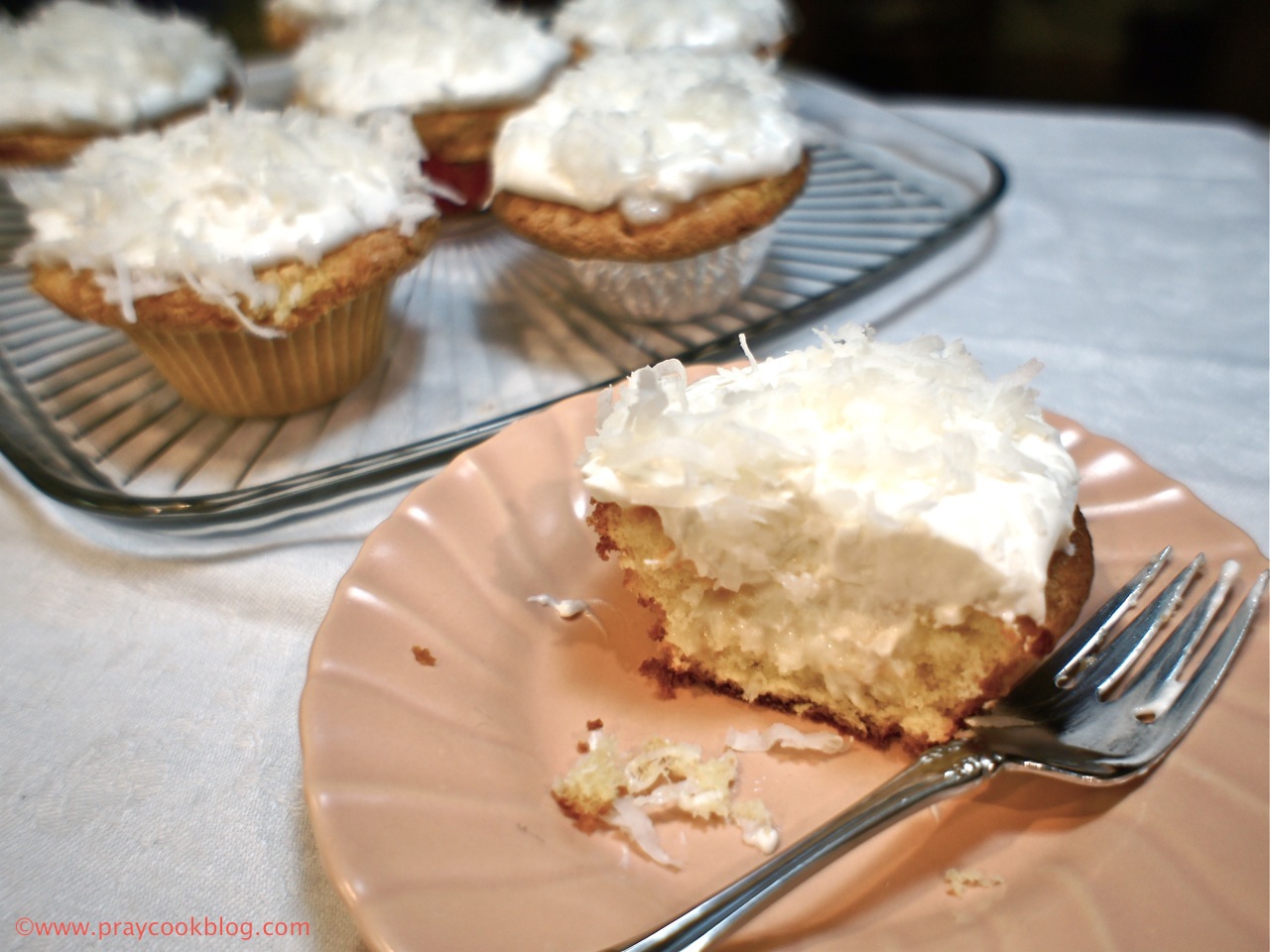 Need a cupcake corer?  Click on the Amazon link just to the right of this blog post!
Yeah It's Friday Blessings and Happy Cooking!


Sour Cream Coconut Cupcakes

This sour cream coconut mixture adds a layer of moisture to the cake making a lusciously light and flavorful dessert. Simple yet elegant.

Ingredients

1 Ducan Hines Yellow Butter Cake Mix
16 oz Sour Cream
2 cup Granulated Sugar
2 Packages Frozen Coconut
8 ounces Cool Whip
½ cup Flaked Coconut

Instructions

Mix cake mix according to directions on the package. Pour into 18 to 24 cupcake holders (depending on size). Fill ⅔ fill. Bake according to package directions.
Cool cupcakes on wire rack.
In a medium size bowl, mix together sour cream, sugar and thawed coconut.

Core cooled cupcakes by taking small plug out of the center from the top.

Fill cupcake with sourcream mixture. This may take as little as 1 teaspoon or as much as a tablespoon depending on the size of the core you removed.

When all cupcakes are filled in the middle, mix remaining sour cream mixture with cool whip. Frost cupcakes with this mixture. Sprinkle with flake coconut and seal up in an airtight container. i.e. Tupperware, or plastic wrap. Can store up to 7 days in the refrigerator.
Serve and enjoy!


Notes

These are "make ahead" cupcakes.  I believe the ideal time for moistness and flavor is 5 to 6 days in advance, although it will keep up to 7 or 8 days in the refrigerator.