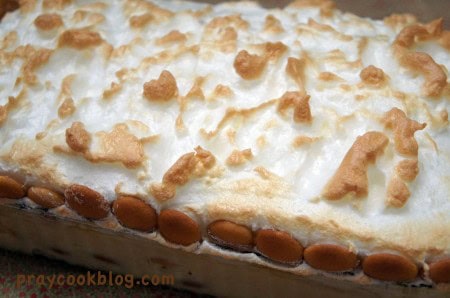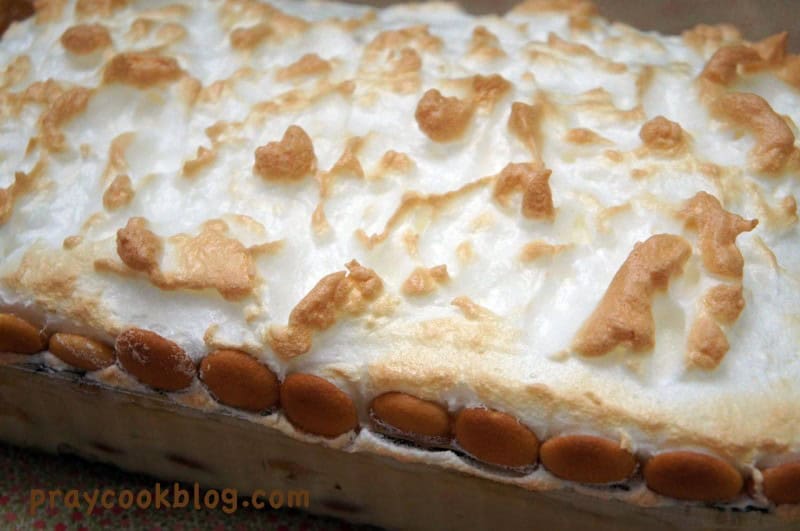 In 2011 I blogged about the best banana pudding I've ever made. The recipe was posted in Southern Living magazine years ago.  I recently made this for a fellowship lunch at Community Bible Study.  As I was making it I realized the first time around my camera technique wasn't so great and I decided to re-post and remind you to put this on your fall baking list.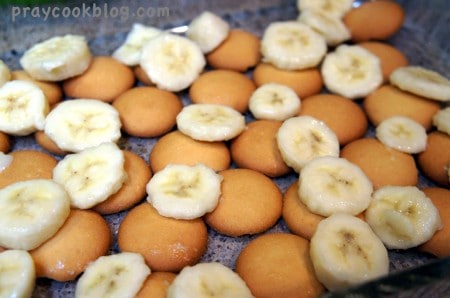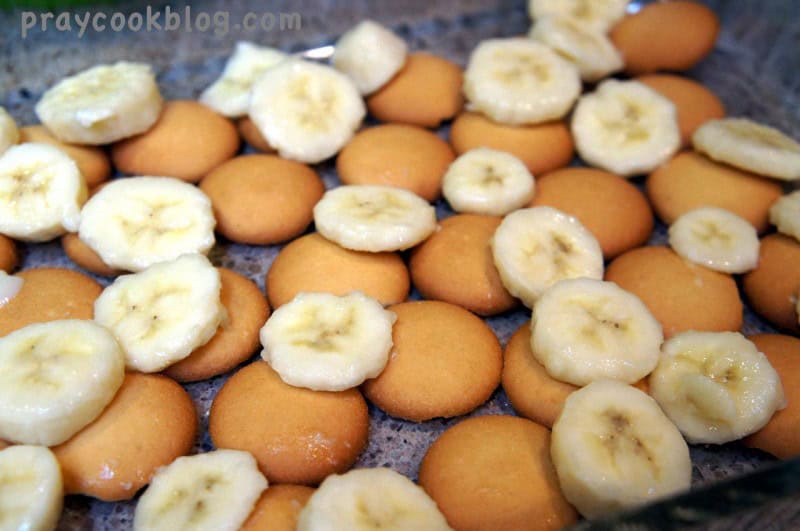 Bananas – lots of bananas and vanilla wafers, lots of vanilla wafers.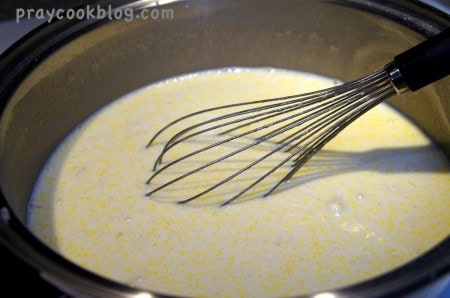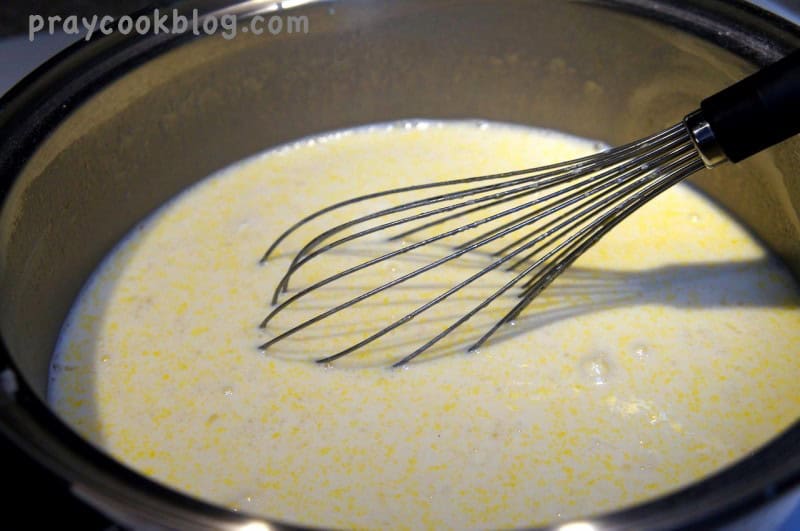 Homemade vanilla custard.  Easy to make and soooo much better than the box mix puddings.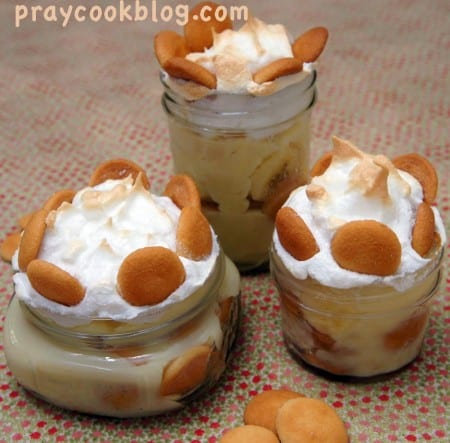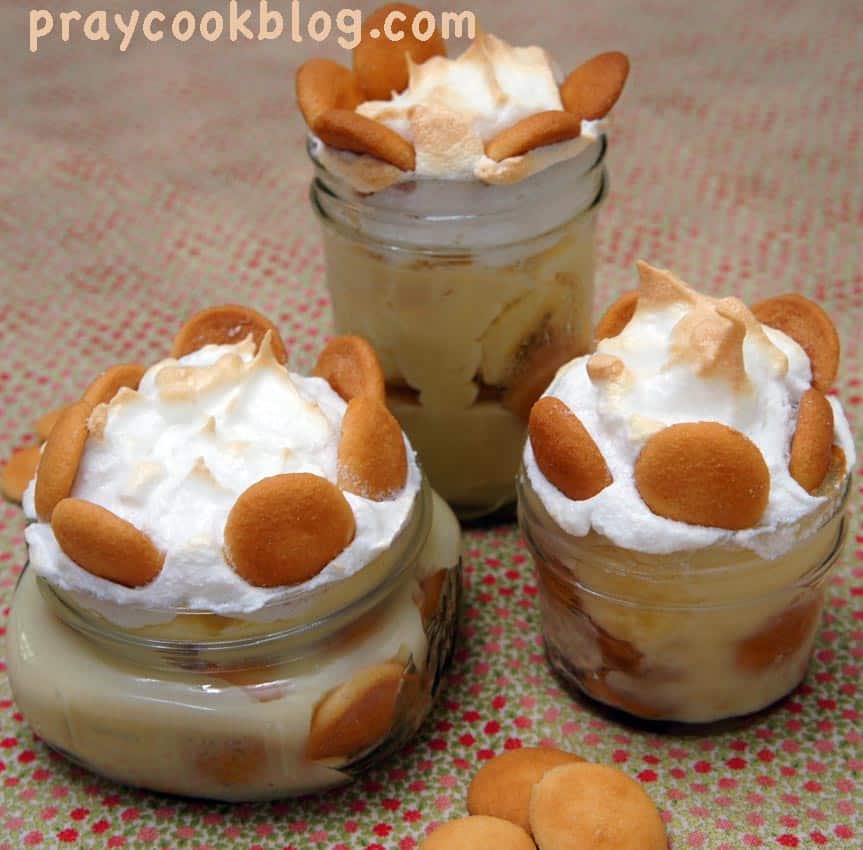 I made a double batch. An over-full 9″x13″ pan for Community Bible Study and supper's dessert for papa bear, mama bear and grandma bear. 🙂 I know better than to try and sneak a Banana Pudding out of the house past the Chief and my sous-chef dish-washing mom. Nabisco is making "mini vanilla wafers" and I couldn't resist using these little canning jars for our baked puddings!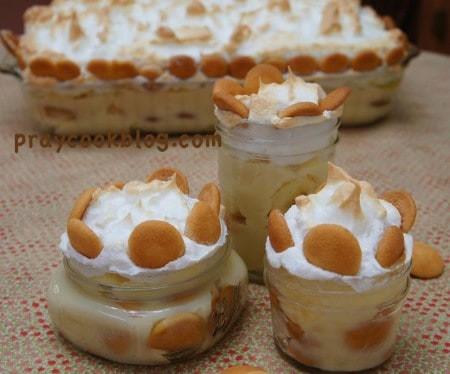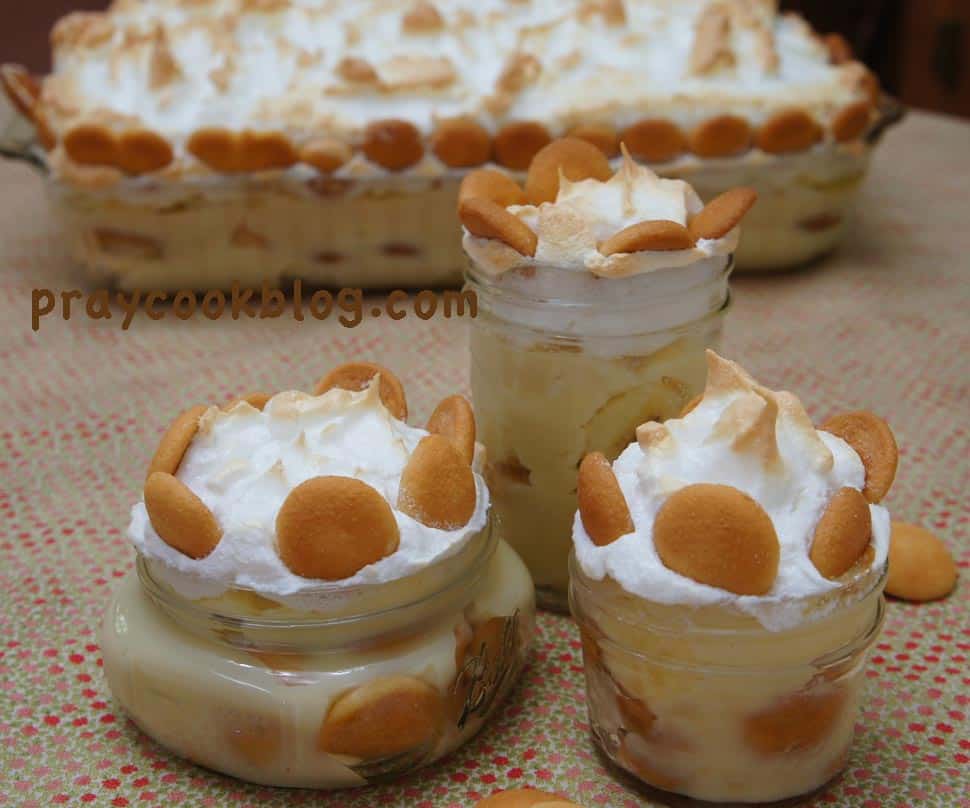 Happy Baking!
Blessings, Catherine
"Remember this and stand firm,
    recall it to mind, you transgressors,
remember the former things of old;
for I am God, and there is no other;
I am God, and there is none like me, "
Isaiah 46:8-9
Southern Living Banana Pudding
Homemade doesn't get any better than this Best-Ever-Banana Pudding from Southern Living!
Ingredients
⅔ cup sugar
¼ cup all-purpose flour
Dash of salt
1 (14 oz.) can of sweetened condensed milk
2½ cups milk
4 large eggs, separated
2 teaspoon vanilla extract
1 (12 oz.) package vanilla wafers
6 large bananas, sliced and sprinkled with fruit fresh
⅓ cup sugar
½ teaspoon banana extract
Instructions
Combine first 3 ingredients in a heavy saucepan.Whisk together milk and egg yolks; stir into dry ingredients. Cook over medium heat, whisking constantly until smooth and thickened.
Remove from heat; stir in vanilla.
Arrange one-third of wafers in bottom of a 3-quart baking dish. Slice 2 bananas; layer over wafers. Pour one-third of pudding mixture over bananas. Repeat layers twice, arranging remaining wafers around outside of dish.
Beat egg whites at high speed with an electric mixer until foamy.
Add ⅓ cup sugar, one tablespoon at a time, beating until stiff peaks form and sugar dissolves (2 to 4 minutes). Fold in banana extract; spread over pudding, sealing in edge.
Bake at 325 degrees F for 25 minutes or until golden brown.
Notes
Pudding fits in 9" x 13" baking dish or 3 quart dish.
NOTE: Use Sweetened Condensed Milk NOT evaporated milk.