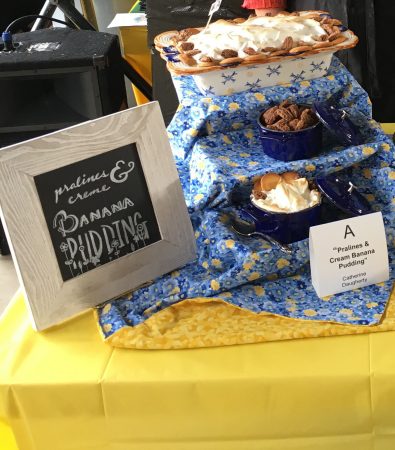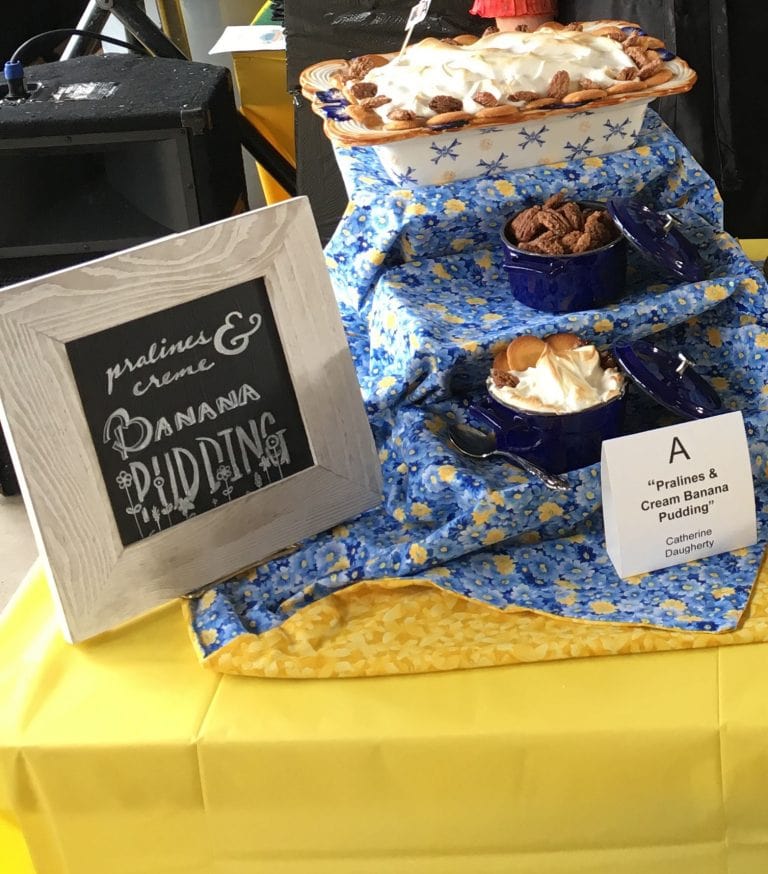 If you enter the National Banana Pudding contest and win third place instead of first place … is it still "Award-Winning" banana pudding?
It all started a long time ago when I moved from Nebraska to Tennessee.  Whenever talking food I would often hear …  "oh! Banana Pudding!  Yum!"  Then I tasted it in a restaurant and truly said, "yuck." My Banana-pudding-lovin' husband said, "that isn't true banana pudding.  The banana pudding in my memory is creamy, delicious and topped mile high with oven-browned meringue!"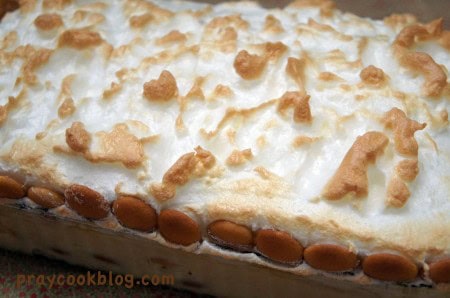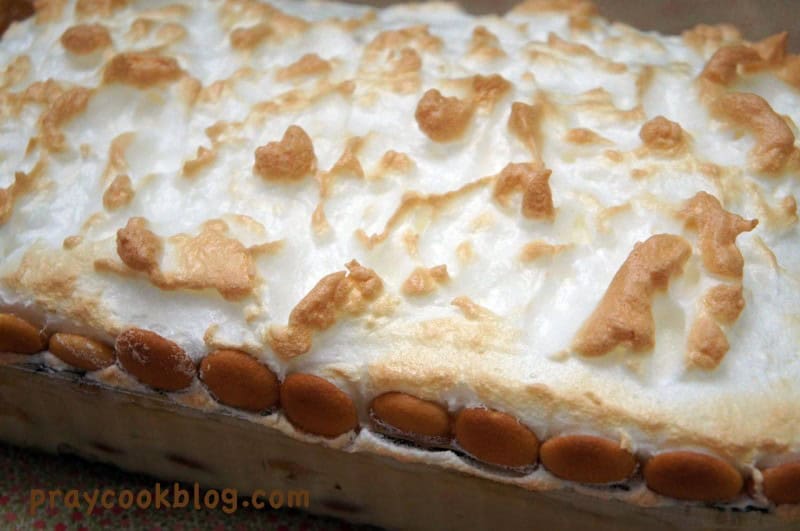 That is when my sister-in-law, Liz, gave me Southern Living's Banana Pudding recipe.  She said, "this is the one he is talking about."  I made it and the rest is history.  These pictures are some of the most shared pictures on Pinterest and the recipe still receives a lot of views on this blog.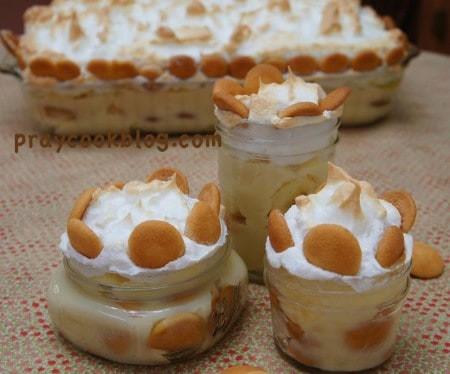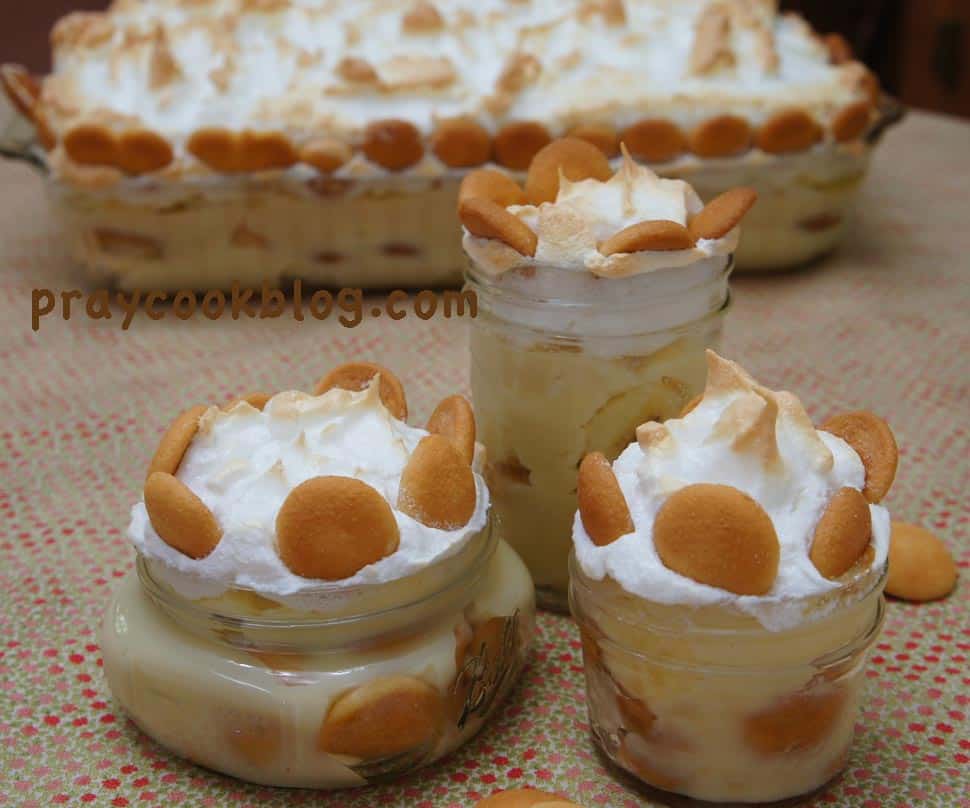 Last August (2016) my Chief Banana Pudding-Lovin' Husband read about the National Banana Pudding Festival held every year in Centerville, Tennessee.   He said, "Catherine, you should enter your banana pudding recipe in the National Banana Pudding Festival Cook-off!"
Without even missing one little beat he said, "well, tweak it and make it an original!"  I had just taken an Apple Praline Cake out of the oven and I had pralines and caramel thoughts dancing in my head!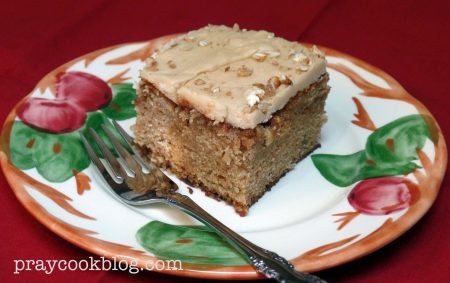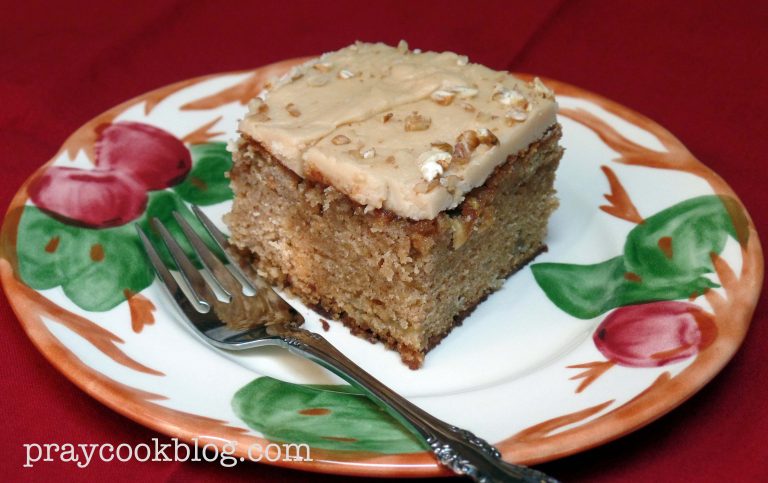 I started researching what it takes to enter the contest and again I was stopped by the "original, non-published" requirement for the banana pudding recipe that I could submit.  However, The Chief continued to encourage me to get creative.  I let my fingers do the walking through Google and was pleasantly surprised not to find any recipes for pralines and cream banana pudding.  So, I had my title, now I just needed to create a recipe.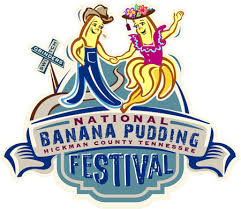 Over the next month, my sous-chef dish-washing mom and my Chief Banana Pudding Eater sampled several versions of what would become my original recipe.  Each time they would say "Yeah!  this is the best one."  I quickly learned they were not an objective source for my recipe because they loved them all!
Finally, I settled on a recipe and the night before the deadline, I emailed off the application and my original recipe.  Three days later I received the surprise call — my recipe was chosen and I was one of 10 finalists chosen for the cook-off to be held in October.
As the information settled on my brain I got to thinking how I don't even like to watch Food Network challenge cooking shows because it makes me too nervous and hypes me up!  Cook-off? In front of judges?  On a stage, in front of people?  What in the world was I thinking?
My husband was thrilled, my sous-chef dish-washing mom was "all-in" for a trip to Centerville, Tennessee and I was … well, sorta numb.  I received information that they were providing a hotel room for us the night before and that I would need to arrive at 7:30 a.m. at the Festival.  The cook-off would begin at 9 a.m. with 5 cooks on stage at one time.  We had ONE HOUR to make our pudding, layer it, top it and finish it.  Oh, yes, and by the way, we needed to make TWO batches, one for the judges and audience to taste and the other to auction off to the highest bidder.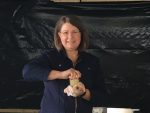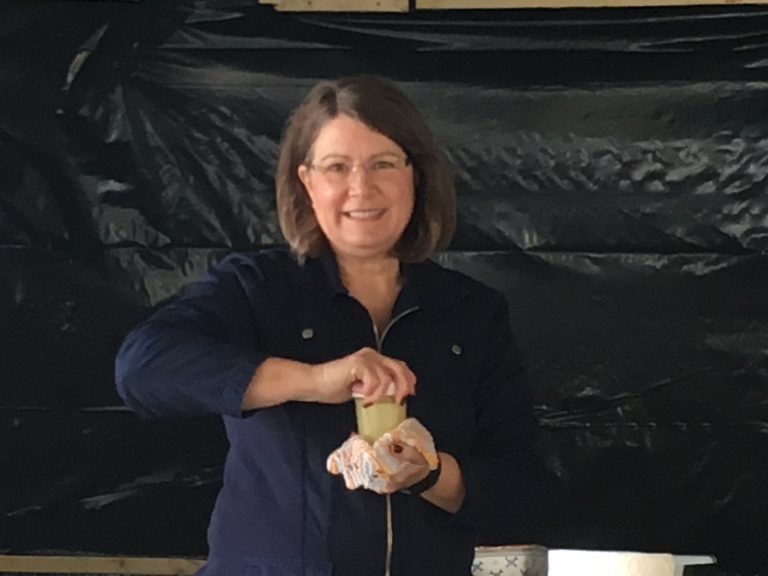 The informational documents I received said each contestant would have a gas stove and oven to use. Perfect, I could make my pudding faster as long as I stirred like a crazy woman!  No problem, I was feeling quite crazy. If there was any part of the recipe I couldn't make in the one-hour time frame, I could do prep work at home.  For my recipe, I made the pecan pralines ahead of time and brought them with me.
The stage was in a large open-air building with a solid wall behind the stage, but was open on the sides.  Chairs were set up in the middle for the audience to sit.  My position on the stage was first in a lineup of 5.  That was good, I felt like the corner gave me some extra moving around space.  I set up all my ingredients and utensils.
The Festival sponsors provided all the bananas and Nilla wafers that we needed.  Then I turned around to heat up the oven.  OH, MY GOODNESS!  Shock set in – the "stove and oven" was a little apartment size that actually was heated with propane, not natural gas. I don't know the technical part of heating with propane vs. natural gas but I do know that propane doesn't heat as quickly or efficiently.  The day was a bit windy and when I turned on the stove the flames skirted off to the side a little bit.  The oven seemed to be heating up okay.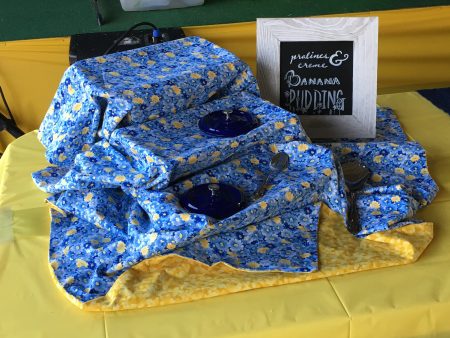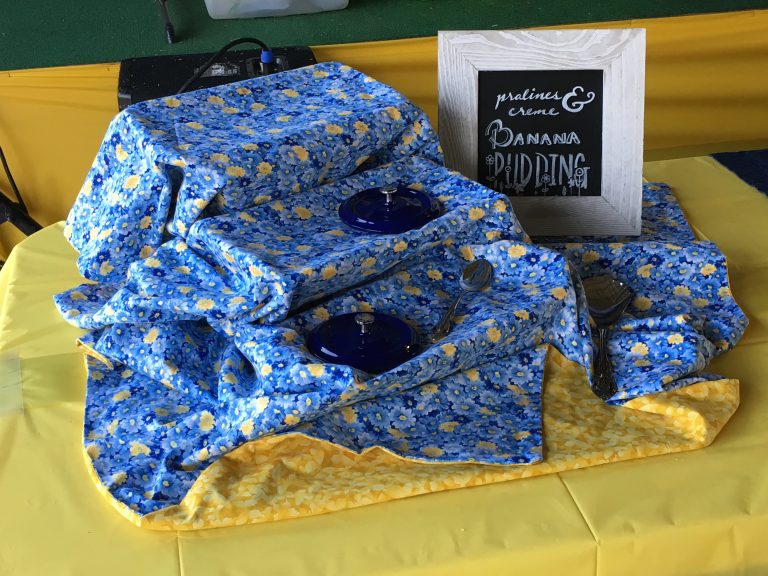 Little did I know when I started that the pudding was going to be very difficult to cook.  My pan was larger than the burner on the stove.  Trouble.  One of the judges approached me and began chatting as my hour began.  Trouble.  The flames were blowing to the side instead of heating up the bottom of my pot.  Trouble.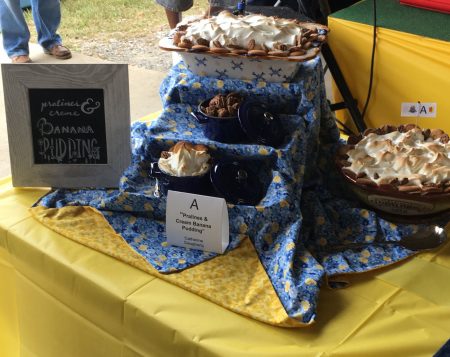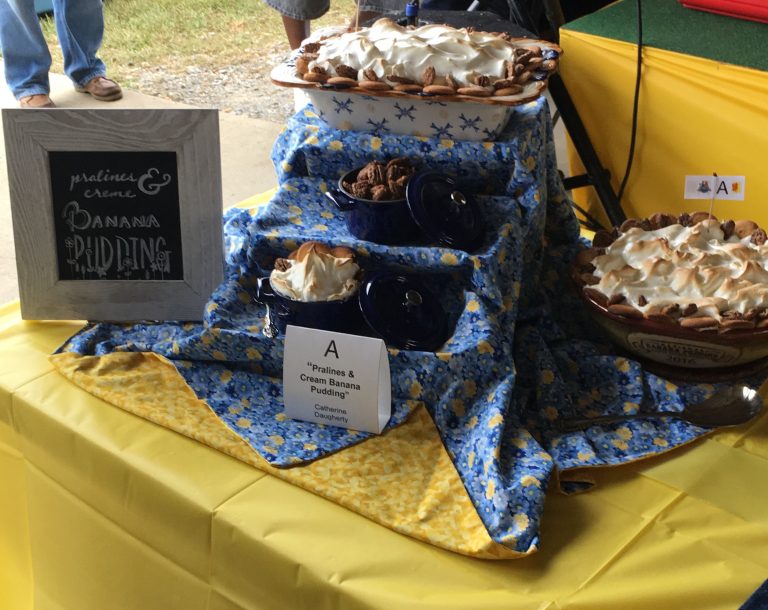 Fast forward one hour.  Two puddings were done, layered with bananas, Nilla wafers, pecan pralines, topped with meringue and baked.  I was given table space to display them. I had designed my space to hopefully grab some attention.  The clock ticked, the bell rang.  It was over.
At home, the pudding took 10 to 12 minutes to cook on my induction stove.  The propane-fired miniature stove took 30 minutes of stir time to make my pudding.  In the end, I added some extra flour and sugar attempting to thicken the pudding quicker.  The pudding ended up grain and not as creamy as I would have liked.
At one point I held the electric mixer in one hand beating the meringue while layering the bananas, Nilla wafers and pudding with the other hand.  I had to of looked out of control and I certainly felt that way.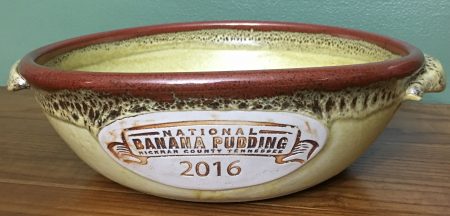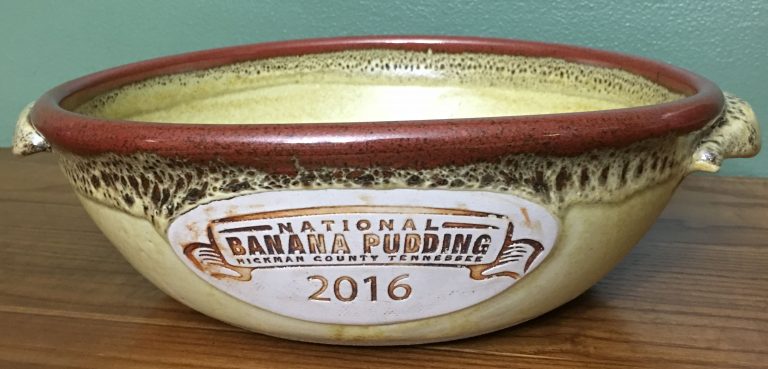 All-in-all it was a fun experience.  I didn't know I was going to be given a hand-made pottery "pudding pot" as part of my 3rd place prize package.  That pudding pot made it all worth it!  I love it.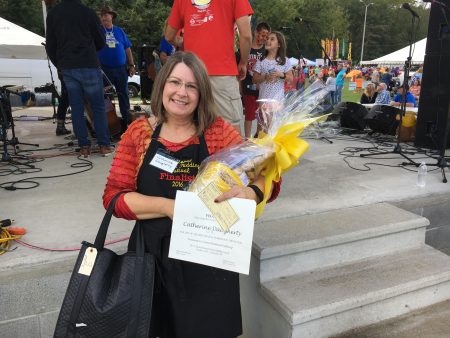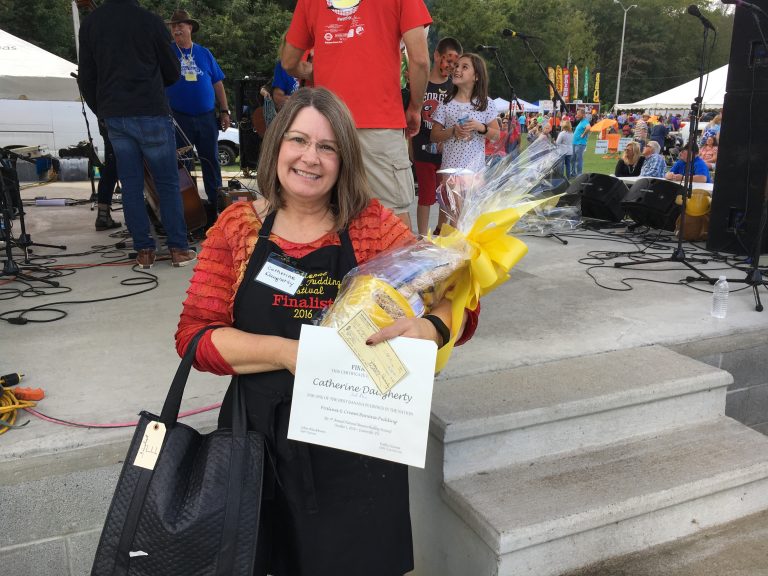 I don't want to do it again.  However, I have tweaked my recipe a little bit since that time.  The recipe I am sharing with you is the "tweaked" version and we agree, it's our favorite!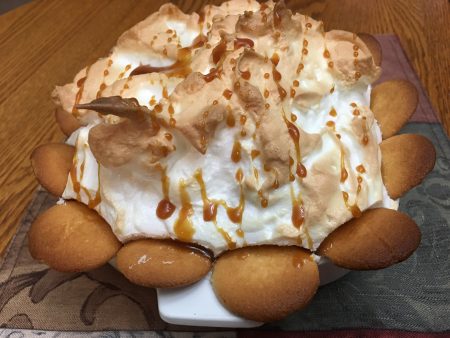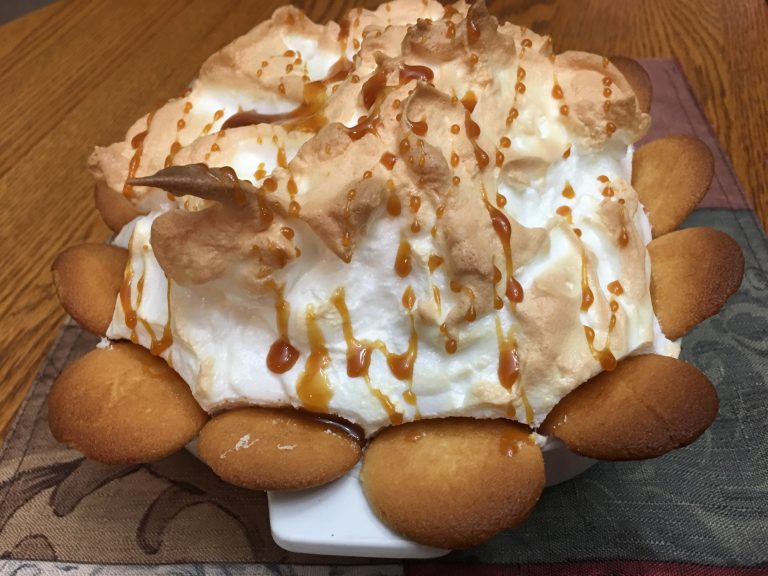 If you've never made banana pudding, it is fun to do and guarantees rave reviews.  If you have made it, you may want to try this version because the caramel flavoring and pecan pralines send it over-the-top on the flavor scale.
Happy Cooking!
~ Catherine
P.S.  Another best part — my sweet banana-pudding-lovin' husband washed up all my pots and pans at the Festival.  ❤️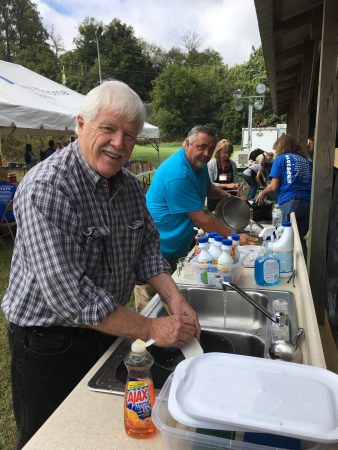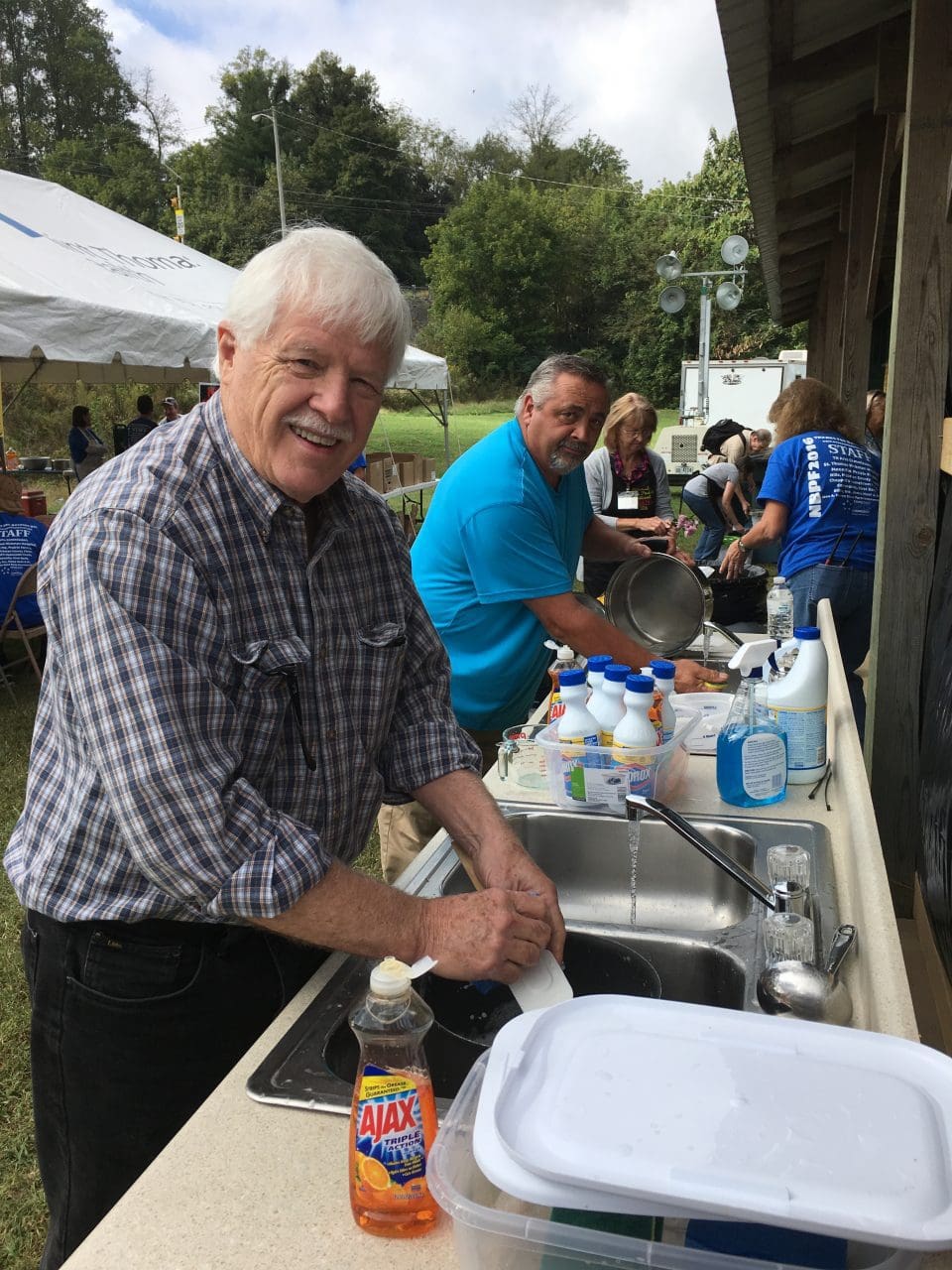 Award-Winning Pralines and Caramel Banana Pudding
No matter where you take this bowl of banana pudding, it will return empty! My original recipe won 3rd place at the National Banana Pudding Festival in 2016. In this version, I added caramel flavoring which only served to improve the over-all recipe.
Author:
Catherine Daugherty
Ingredients
Praline Pecans
1 cup whole pecans
¼ cup packed light brown sugar
2 Tablespoons heavy cream
½ tsp. caramel flavoring
Pudding
⅔ cup white sugar
¼ cup all-purpose flour
½ teaspoon salt
1 (14 oz.) can of sweetened condensed milk
2 cups whole milk
4 large eggs, separated
2 teaspoons pure vanilla extract
2 tsp. caramel flavoring
1 (11 oz.) packaged of vanilla wafers
4 bananas, sliced (dipped in lemon water or sprinkled with fruit fresh)
1 teaspoon banana extract
⅓ cup sugar
Instructions
Preheat oven to 350 degrees. F.
In a medium bowl combine whole pecans, brown sugar, cream, and caramel flavoring. Mix well coating the pecans evenly. Spread onto a baking sheet, sprayed lightly with cooking spray. Bake in the preheated oven for about 20 minutes or until the coating is dry and slightly crystallized, stirring at least once. Remove from oven to cool and break apart any pieces that are sticking together. Set aside.
To make pudding
Combine ⅔ cup sugar, flour, and salt in a heavy saucepan. In a separate bowl whisk together condensed milk, whole milk, and egg yolks; stir into the dry ingredients. Cook over medium heat, whisking constantly until smooth and thickened. Use the largest whisk you have to stir while cooking the pudding. This usually takes 10 to 15 minutes, but really depends on your stove or heat source.
Remove from heat and stir in vanilla extract and caramel flavoring. Cool the pudding at this point on the counter until just barely warm.
Using a 2 to 3-quart baking dish, arrange ⅓ of the wafers in the bottom of the dish, laying each one flat. Layer 2 sliced bananas over the wafers. Pour ½ of the pudding mixture over the wafer and banana layer. Repeat with a second layer ending with pudding on top.
Beat egg whites on high speed with an electric mixer until foamy. Add banana extract. Continue beating at high speed, adding ⅓ cup sugar just one tablespoon at a time. Continue to beat until egg whites are very stiff.
Spread egg white mixture over the pudding, sealing it up against the edge of the bowl. Arrange remaining wafers around the outside of the dish. Dot around the edge with praline pecans.
Bake at 375 degrees for 10 minutes or until golden brown.
Drizzle with caramel ice cream topping if desired. Serve pudding warm at room temperature, or refrigerate and serve cold. Enjoy!
Notes
Note: This pudding will fit a 9" x 13" baking dish or a 2 or 3-quart dish.
Also – be sure and use sweetened condensed milk and NOT evaporated milk!