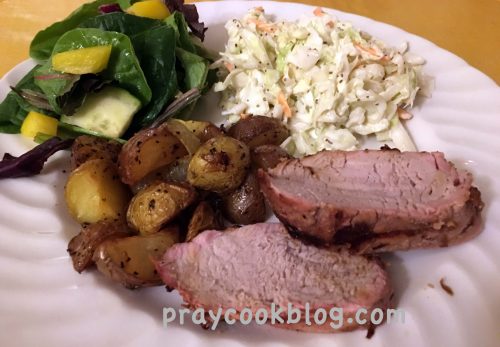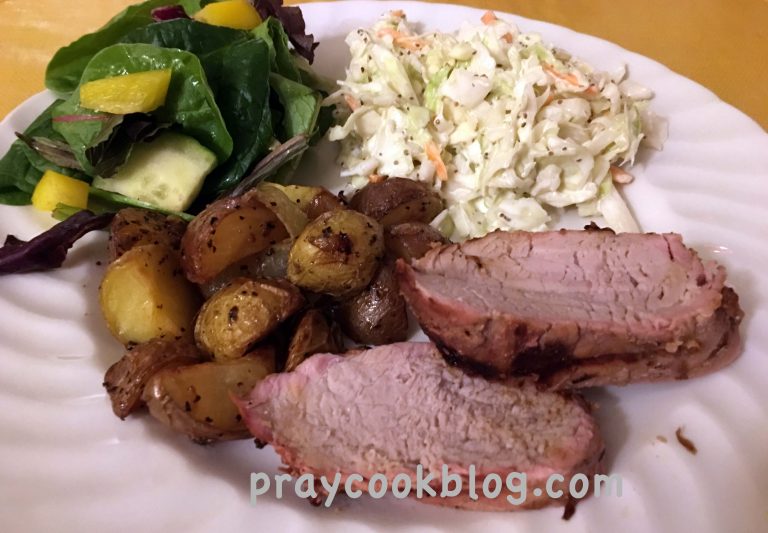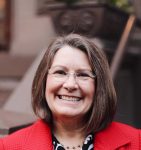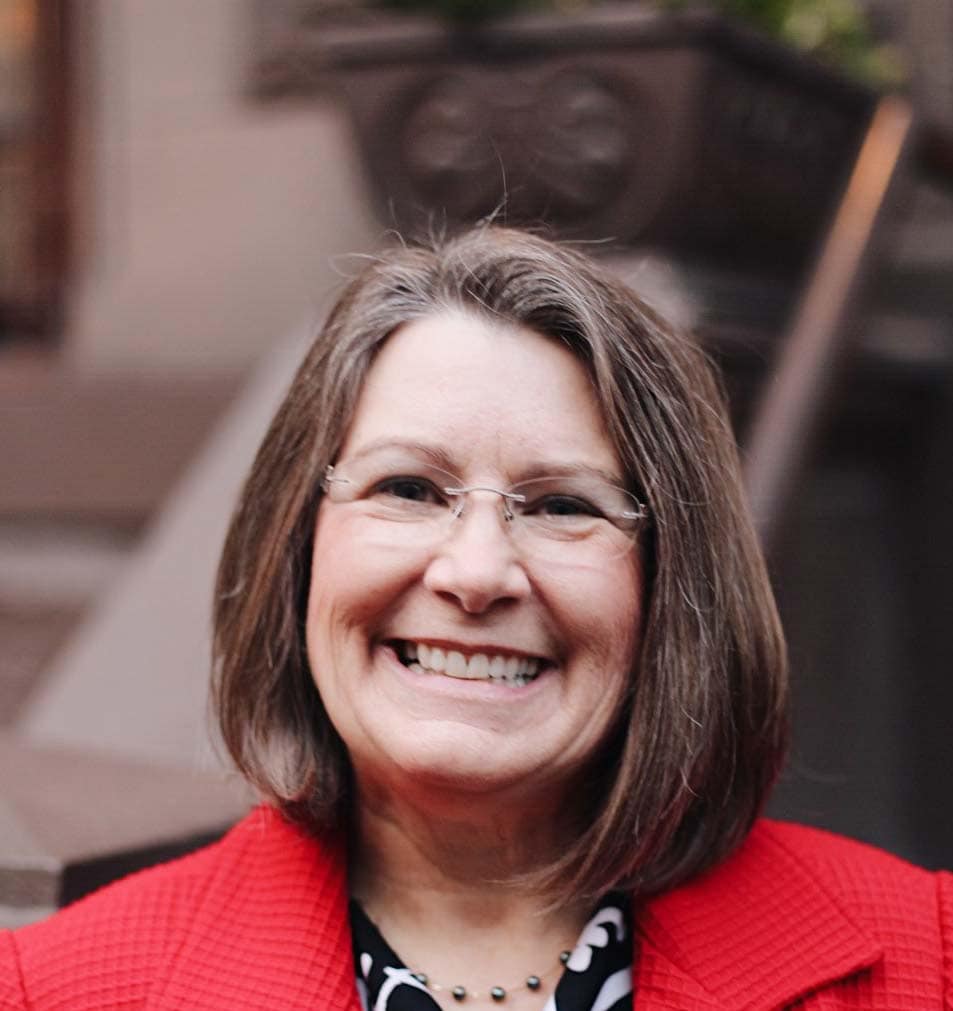 When you are in Manhattan the choices for a 5-star meal exists around nearly every corner.  But when my Chief Travel Mate and I were reminiscing with friends, Catherine and Russ about Russ's awesome 4-ingredient Spiessbraten … well, it didn't make sense to go anywhere except to the market to buy a pork tenderloin!  Russ quickly agreed to make Sunday dinner.
Spiessbraten is a well-known dish from Idar-Oberstein, Germany that truly needs only 4 ingredients and a pork tenderloin!   When Russ was in the army and stationed in Baumholder, he would go to Idar-Oberstein to eat Spiessbraten.  Now these many years later,  his memory floods with the fragrance of the sweet onion and garlic combination and the juicy tenderness of this famous dish.
The first time Russ made this famous dish for us we were lounging on their beautiful deck in Brentwood, Tennessee.  Fast forward to another life and they are serving as Christian missionaries in NYC, we once again gather to enjoy this beautifully prepared meal and a God-given friendship.
Russ didn't need to go searching for the recipe card.  He quickly assembled the dish as we talked and laughed about the meal to come.  Here is what you will need to get the same 5-star meal we did:    24 hours, pork loin, salt, pepper, onion, garlic. 
Chop onion and garlic chunky, then the pork loin is placed in a shallow dish, and covered with a good dosing of salt and pepper.  Then the chopped onion and garlic are tucked all around the pork tenderloin including on the bottom of the dish.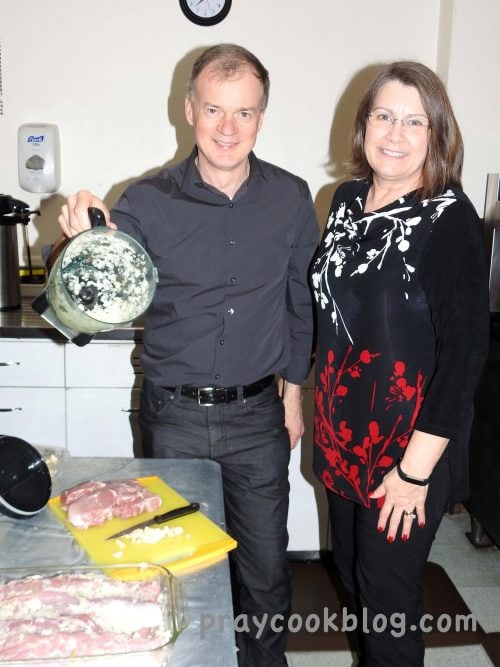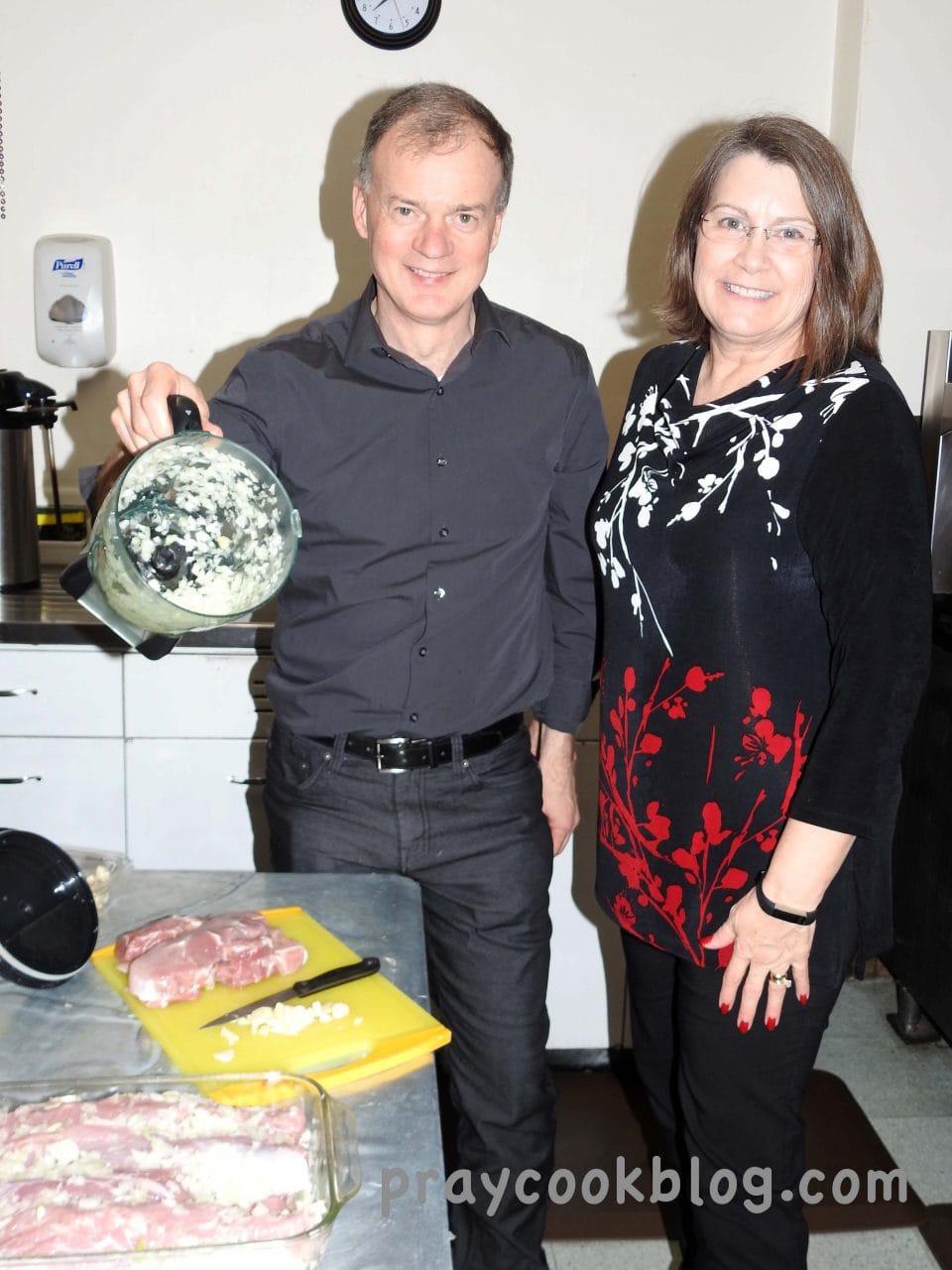 I was the "helper".  My job was to make the coleslaw and cheer on Russ!  I love being the cook's helper!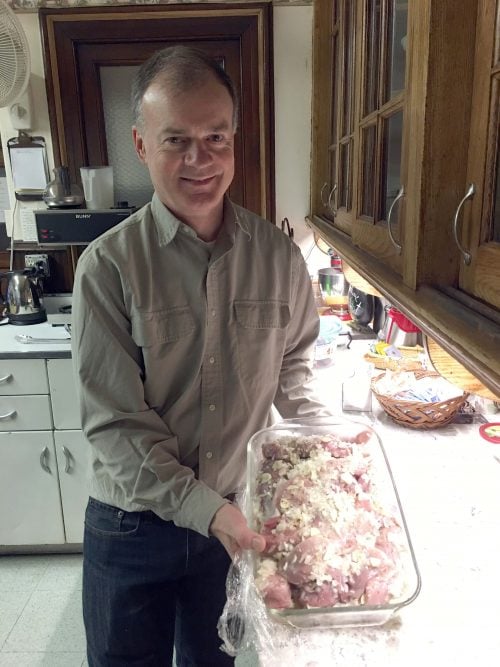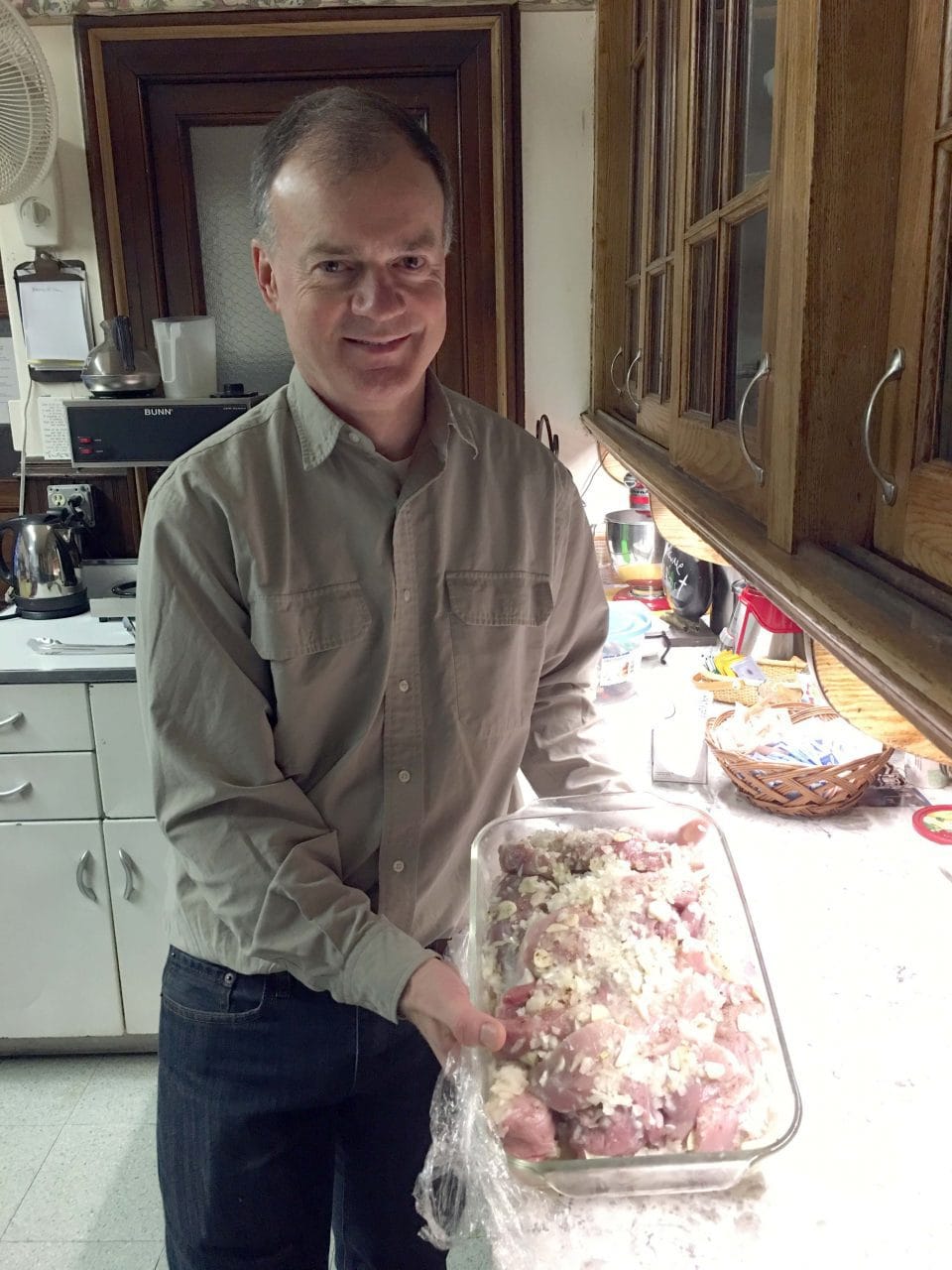 The meat was tightly wrapped in plastic and placed in the refrigerator for 24 to 30 hours.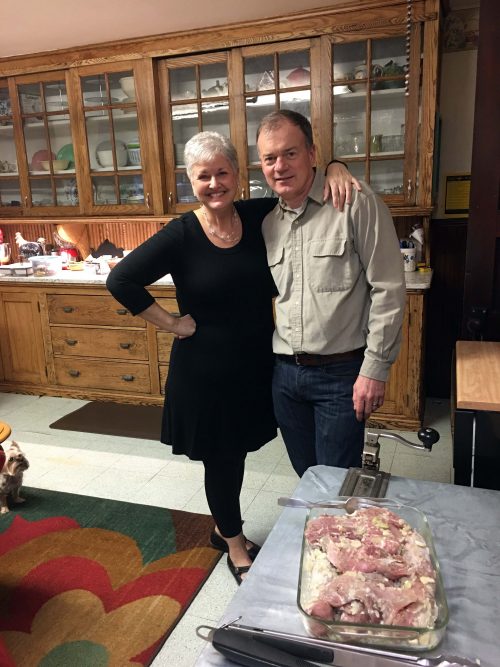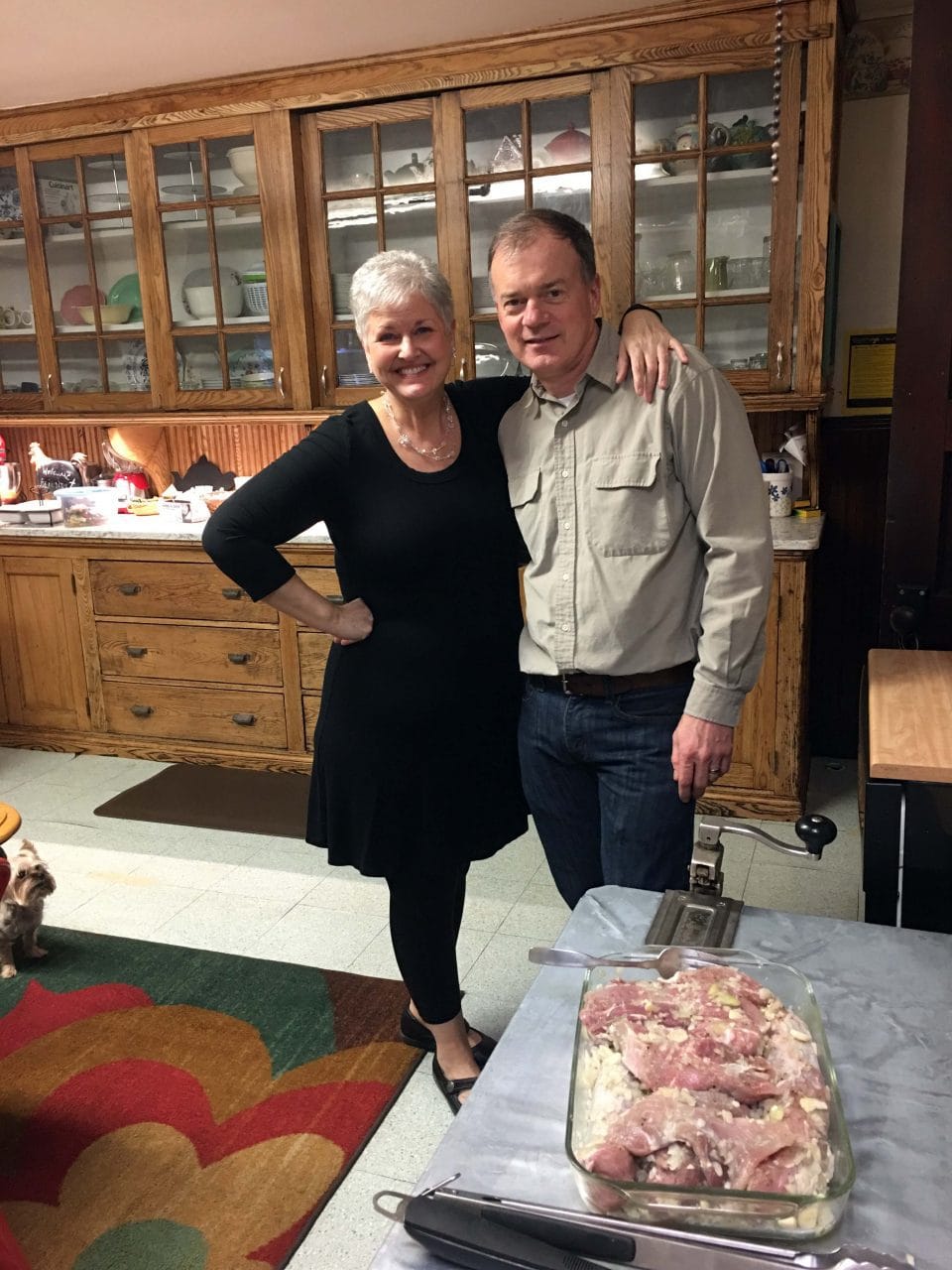 Even at the end of a busy day, this meal goes together fast and easy!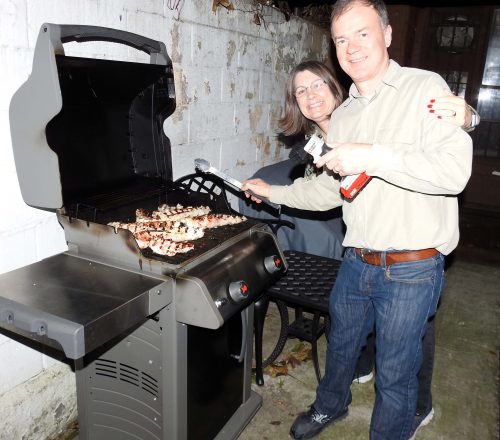 24 hours later the meat is removed from the marinade and the grill is heated to 350 degrees F.  The meat cooks pretty fast in 30 to 40 minutes depending on the thickness of the loin.  My job was simply to photo-bomb Russ' fine grilling!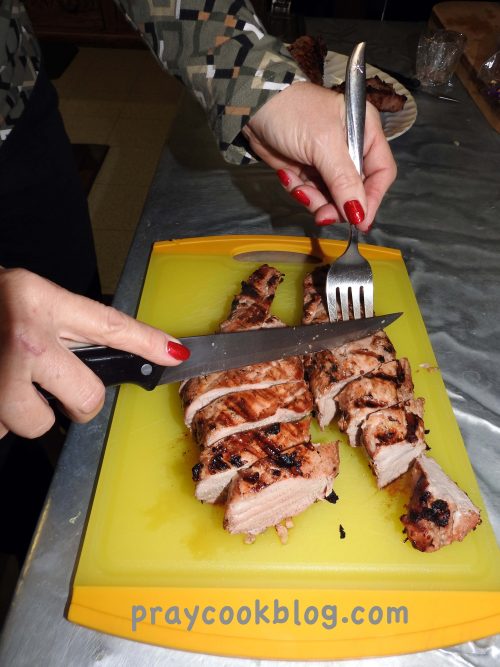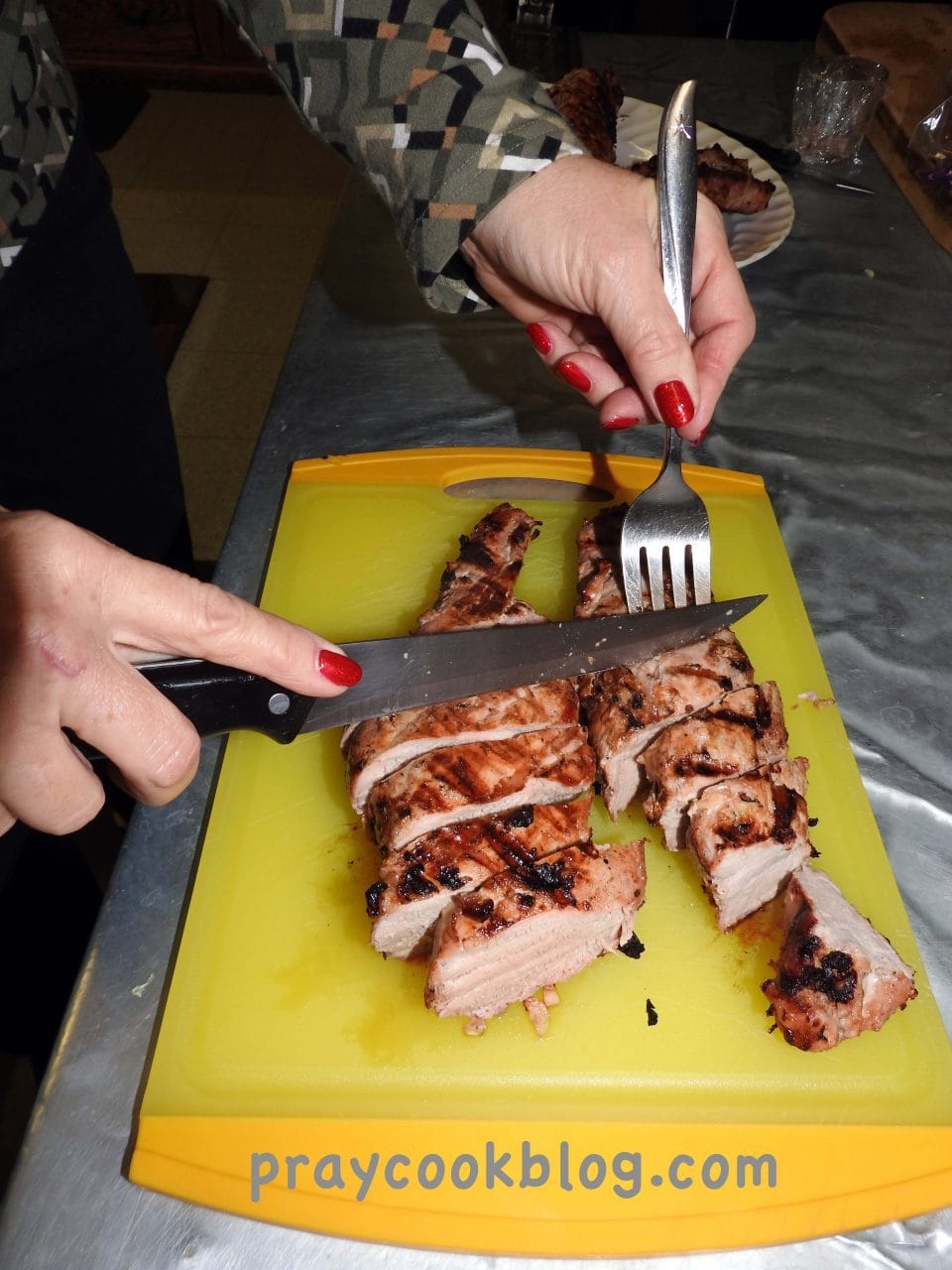 Under Russ' watchful eye and direction, I did the slicing!
The problem with the internet is that you can't smell or taste this incredibly moist and flavorful meat.  Ah!  But with 4 ingredients and a pork loin, you too can eat a 5-star Idar-Oberstein style Spiessbraten!  (It is also quite fun to say Spiessss-BRATEN!  I like to add a touch of Sgt. Schultz from my Hogan's Heroes memories!)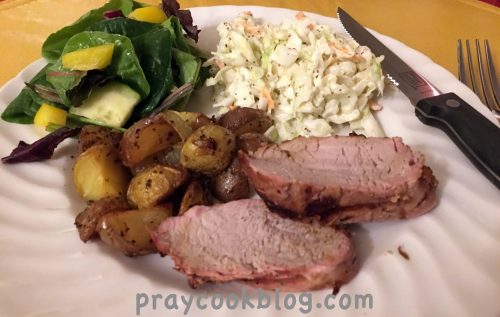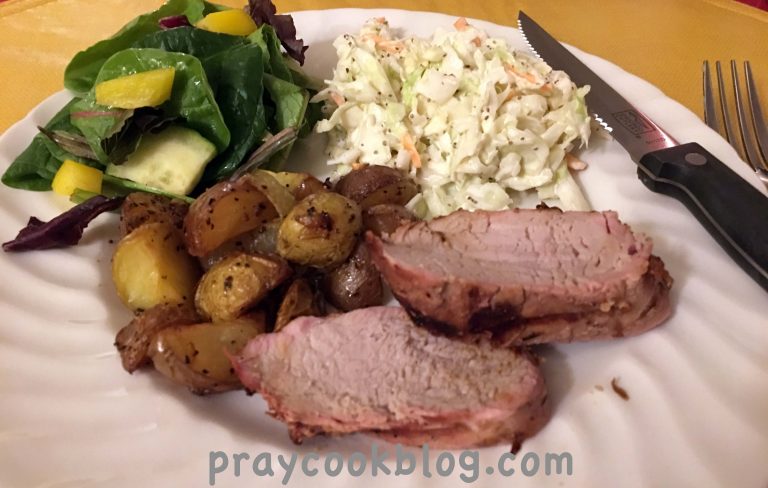 We added coleslaw, oven roasted potatoes, and a green salad.  It was 5-Star all the way!  ⭐️⭐️⭐️⭐️⭐️
Happy Cooking!
~Catherine

SPIESSBRATEN, IDAR-OBERSTEIN STYLE
A perfect adaption of the famous Spiessbraten from Idar-Oberstein, Germany. This is the dish you can make for family dinner or a special dinner party! Rave reviews are sure to follow!
Author:
Adapted by Russ McCullum
Serves:
2-3 servings per pound
Ingredients
1 lb pork tenderloin
1 large yellow onion, chopped
1 garlic clove, minced
4 pinches salt (or to taste)
4 pinches black pepper (or to taste)
Instructions
Mix the 4 ingredient spices with your hands, squeezing the onions until they get juicy.
Place some of the spice mixture in a dish, place the meat on top and cover with the rest of the mixture.
Cover the dish and marinate for 24 hours or up to 30 hours.
Fire up the grill and when it has its cooking temperature of 350 F, remove the marinade from the meat and grill to desired doneness, 30 to 40 minutes.
Depending on the thickness of the pork tenderloin, make sure you don't overcook the meat. Take it off the grill when it is still flexible when you press on it with your finger. Place it in an oven dish, cover it and let it rest in the oven at about 200 degrees for 10 minutes. This gives the juices a chance to settle and the meat will be soooo tender.
Slice and enjoy!
Notes
1 lb will feed 2 to 3 people. Normally you will make 3 to 4 lbs. at a time.