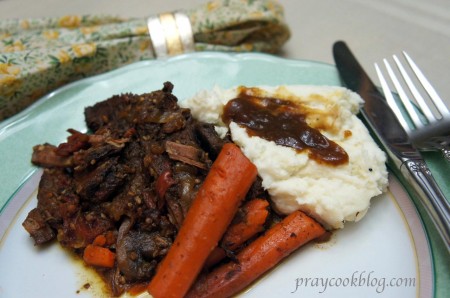 You may not think "pot roast" is a very exciting or blog-worthy recipe.  But when my sous-chef dish-washing mom came home from her visit in Kansas City earlier this month I wanted to greet her with some down home comfort food.  I was picking her up at the Nashville airport at 3:00 p.m. and would arrive back home about 5:30 p.m.  I wanted the house to smell like "dinner" as we walked in.  PLUS my mother-in-law, my sister-in-law, and my sister-in-law's granddaughter were all here visiting!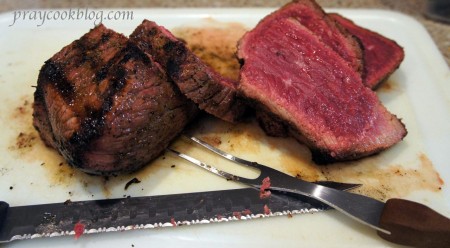 With all that criteria for the evening meal, I turned to my crock-pot and I assure you no one was disappointed that I had been gone all afternoon. A nice chuck roast with or without bone works well but a rib roast is also outstanding for this recipe.  I like to sprinkle mine with salt, pepper, and garlic seasoning and then place on the BBQ grill for about 15 minutes total.  I turn it every 5 minutes or so to brown it evenly.  This is much less mess than browning in a dutch oven on the stove top.  Plus the BBQ adds a really nice flavoring!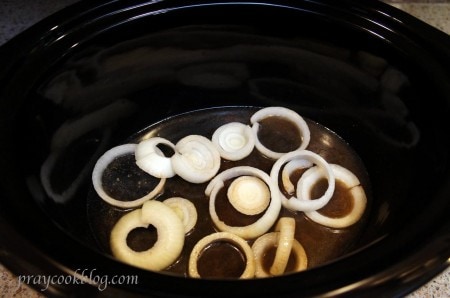 While the meat was browning on the grill I mixed together beef broth, balsamic vinegar, red wine, minced garlic, smoked paprika and pepper.  I poured a small amount of this mixture into the bottom of my crock-pot and turned the it on low.  I chopped one big onion and added half of the onion rings to the bottom of the crock-pot.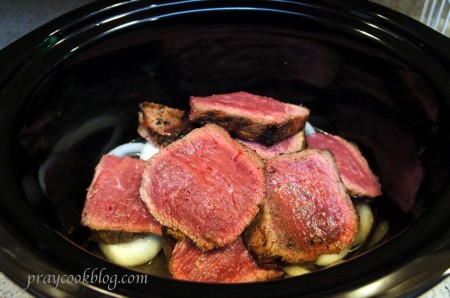 Once the meat came off the grill I sliced it into chunks about 1 1/2″ thick.  I usually cut one piece for each person I am serving.  Some will eat the whole piece others will take a smaller amount.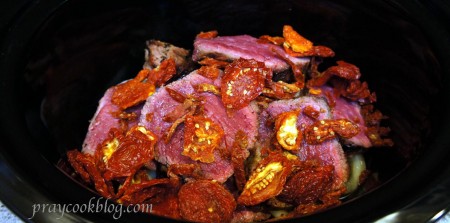 The next layer is a 3 ounce package of sun-dried tomatoes.  These can be cut either in half or Julienne-style.  I used both and they work equally well.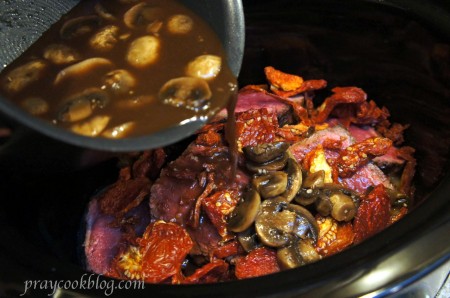 One 8 ounce package of sliced baby Bella mushrooms are added to the broth and vinegar mixture and the whole thing is then poured over the meat.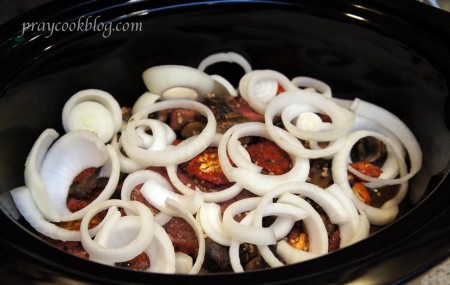 Another layer of onions and this pot roast is ready to cook on high for 1 hour and on low for as many hours as you've got.  A minimum of 5 hours is needed to get the meat cooked and tender but 8 or 9 hours creates a pot roast that will fall apart as you retrieve it and melt-in-your-mouth as you eat it!  Carrots and potatoes can be added 3 hours or so before the meat is done.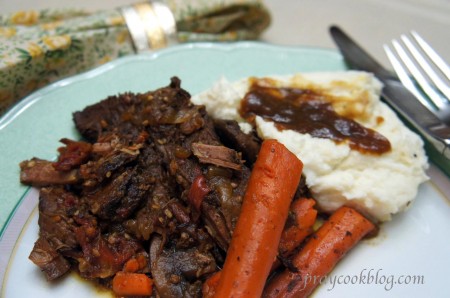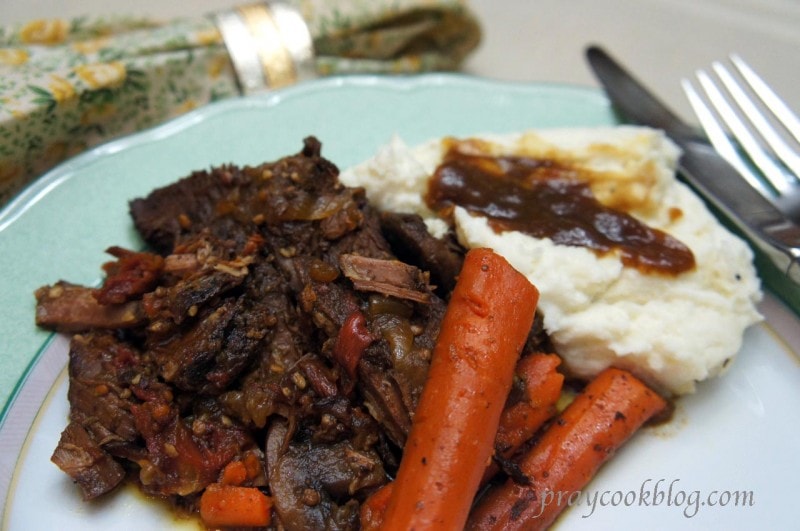 This summer you can still cook up a plate of comfort food that will warm the heart but not the kitchen!  I encourage you to experiment with different combinations of liquids and spices.  For a 4 lb roast you will need 2 to 3 cups of liquid and 2 to 3 teaspoons of spice.  Water, red wine, beef broth or stock, vegetable stock, or beer are excellent liquid choices.  Garlic, rosemary, thyme, paprika (sweet or smoked) all make wonderful seasonings along with salt and pepper.
I like to remove the meat and carrots, strain the liquid and make a quick gravy.  The flavor is really quite amazing!
Here's to delicious start to your summer menu planning!
Happy Cooking!
Catherine
Stay Cool With Melt-In-Your-Mouth Pot Roast
This crock-pot roast beef will warm the hearts of your family without warming up the kitchen!
Ingredients
3½ to 4 lb. chuck roast
1 large onion, sliced
1 (8 oz.) package sliced baby bella mushrooms
1 (3 oz.) package sun-dried tomatoes
2 cups beef broth or stock
⅓ cup balsamic vinegar
¾ cup red wine
3 cloves garlic, minced
½ teaspoon smoked paprika
Salt and Pepper to taste
Instructions
Preheat BBQ grill. Sprinkle roast with salt and pepper and any other favorite seasonings. On medium heat cook the roast for 15 minutes, turning at 5 minute intervals.
Mix together beef broth, vinegar, red wine, garlic, and paprika. Slice onion.
Pour a small amount of the broth mixture into the bottom of a crock-pot. Add one half of the sliced onion rings.
Remove roast from the BBQ grill and slice into chucks the width of the roast and about 1" to ½" wide. Place pieces of meat in the crock-pot on top of the onion rings.
Sprinkle sun-dried tomatoes over the meat.
Add sliced mushrooms to the remaining broth mixture and pour over the meat.
Top with remaining onion slices. Add salt and pepper to taste.
Bake on HIGH for 1 hour then turn crock-pot on LOW for an additional 7 to 8 hours.
Remove meat and drain off the juices to make gravy or ladle juice over the meat to serve.
Notes
Carrots and/or potatoes can be added 2 to 3 hours before serving.
Try experimenting with different combinations of liquids and spices. 3 cups of liquid and 2 to 3 teaspoons of seasoning is a good rule of thumb for a 4 lb. roast. Water, red wine, beef stock or beer are excellent liquid options. Garlic, rosemary, thyme and paprika make wonderful spice additions to your roast.