Congratulations to Cheryl Harris winner of this week's cookbook giveaway. Cheryl will be receiving Dorie Greenspan's book, BAKING, from my house to yours! Thank you to everyone who entered to win.  Not-to-worry if you didn't win, I have another giveaway starting this week!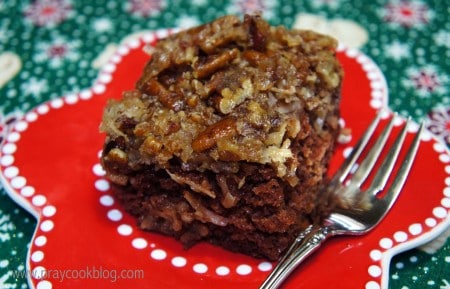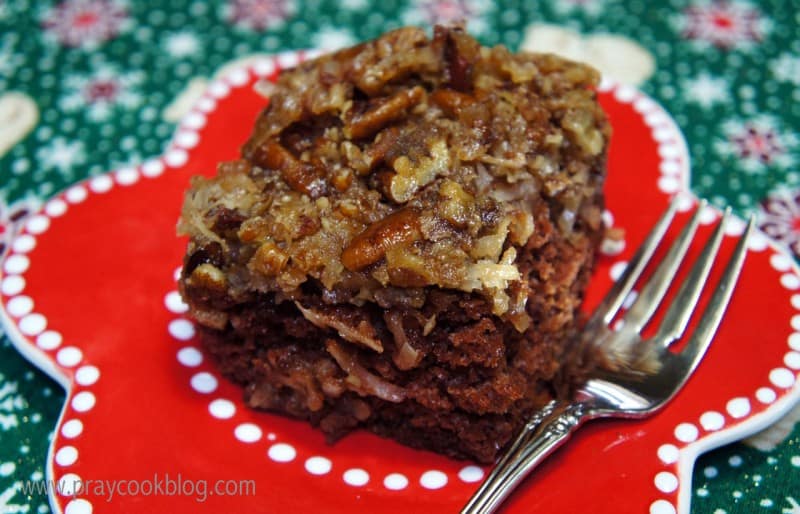 I really try not to get too excited about knock 'em dead recipes like this one, just in case you don't think like I do.  But then, who doesn't think a super easy cake, loaded with chocolate and topped with a crunchy, gooey, coconut-pecan frosting isn't something to get excited about?  Especially at this time of the year when you are already putting in 36 hour days and still need to make something that will knock 'em dead at the company Christmas potluck?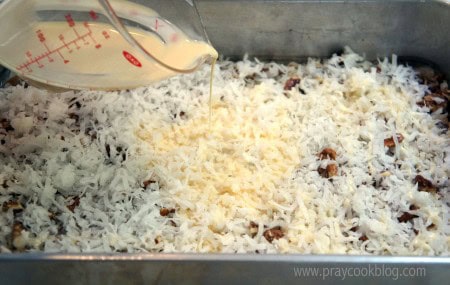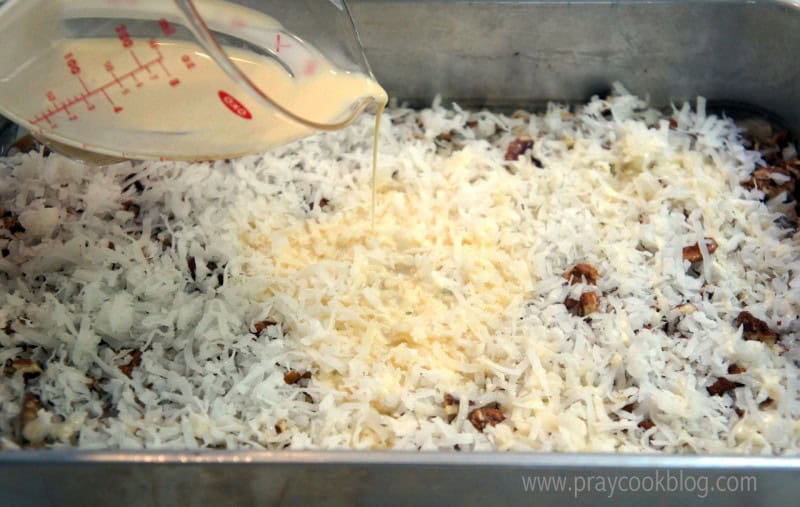 I first heard about this upside-down cake recipe from my friend Leslie in Nebraska.  She was making it for a Halloween potluck at work.  She was so excited about making it that I got excited about tasting it!  She said "it's the best and everyone LOVES it".   My Chief Culinary Consultant's favorite cake is German Chocolate.  I was curious what he would think of this cake.  I started by  greasing the sides and bottom of 9″ x 13″ baking pan with shortening.  Then I cut a piece of parchment paper and laid it in the bottom of the pan.  The topping is the first to go in the pan after melting brown sugar and butter. Pecans and coconut are sprinkled over the sugar/butter mixture and then evaporated milk is poured over it all.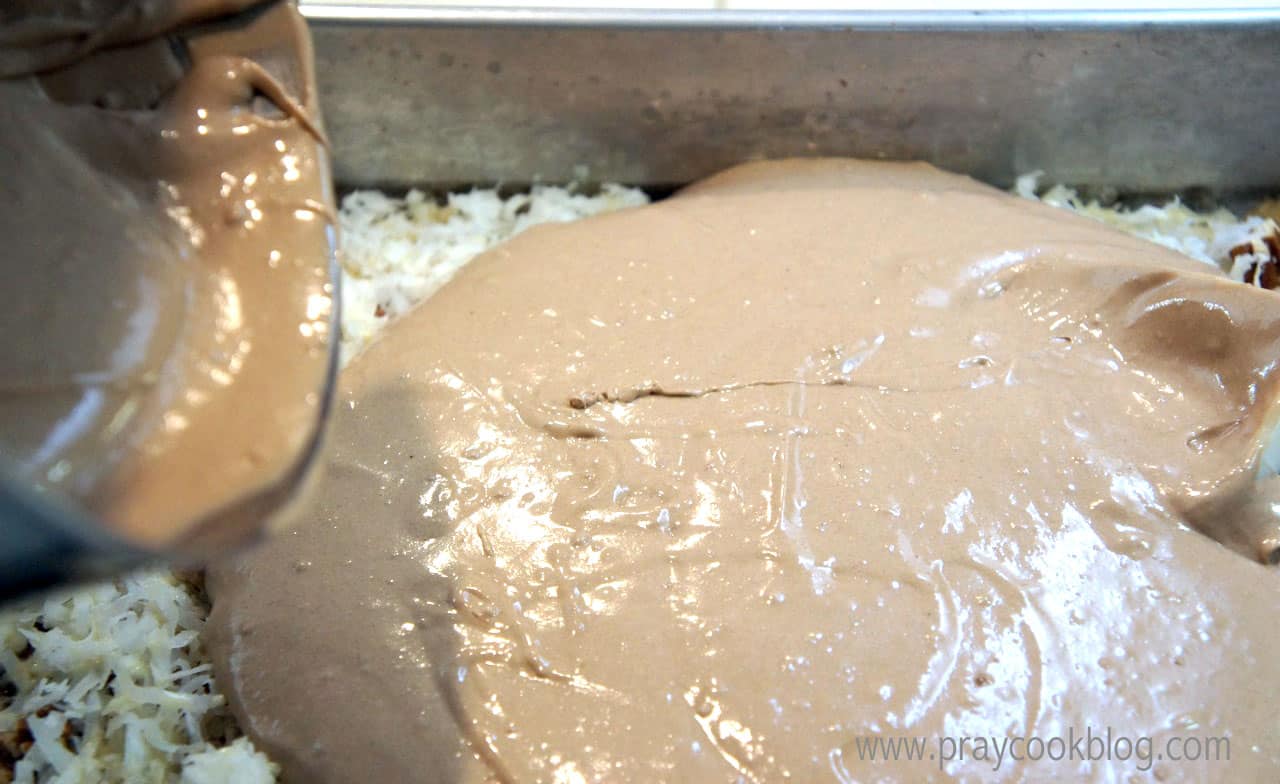 The Chief isn't particularly fond of box cake mixes, so I kept that little nugget of information to myself.   However, you should know, this cake is deliciously easy – starting with a Duncan Hines German Chocolate cake mix!  The cake is mixed up according to package directions and spread over the coconut/pecan layer.  Into the oven this cake goes baking for about 40 to 45 minutes or until a tester comes out clean.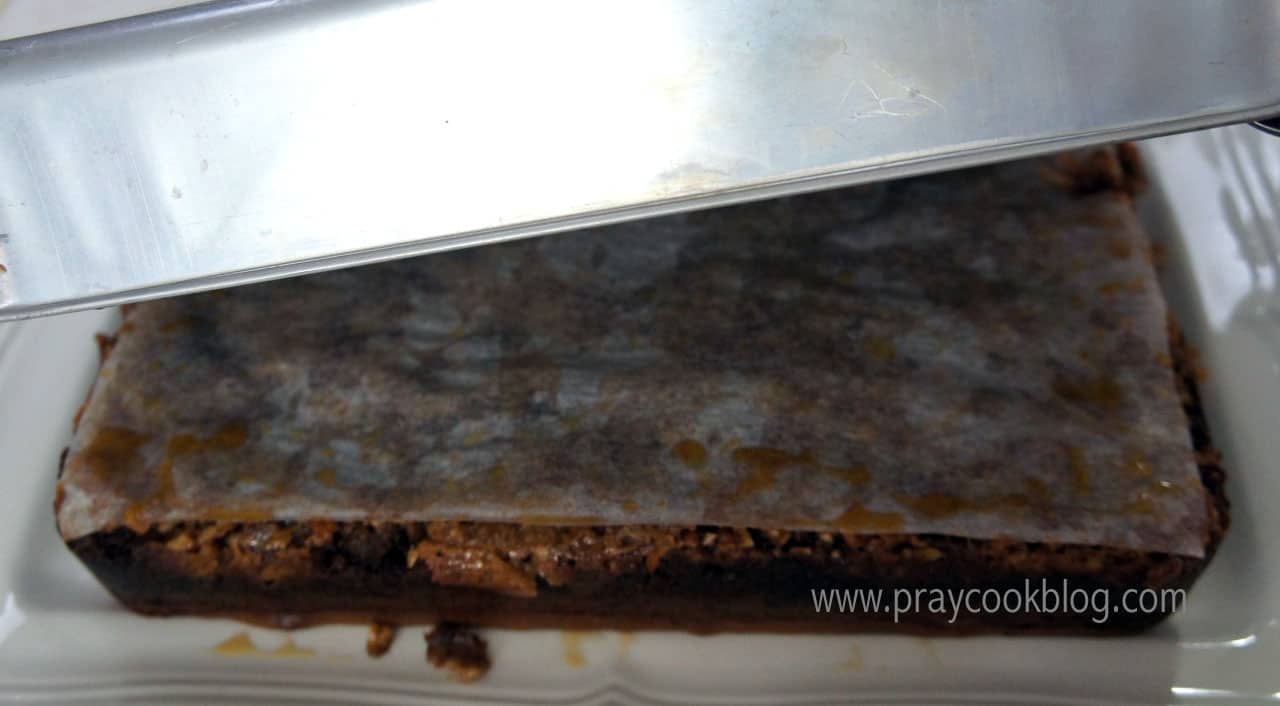 The cake is carefully inverted onto a serving plate and the parchment paper removed.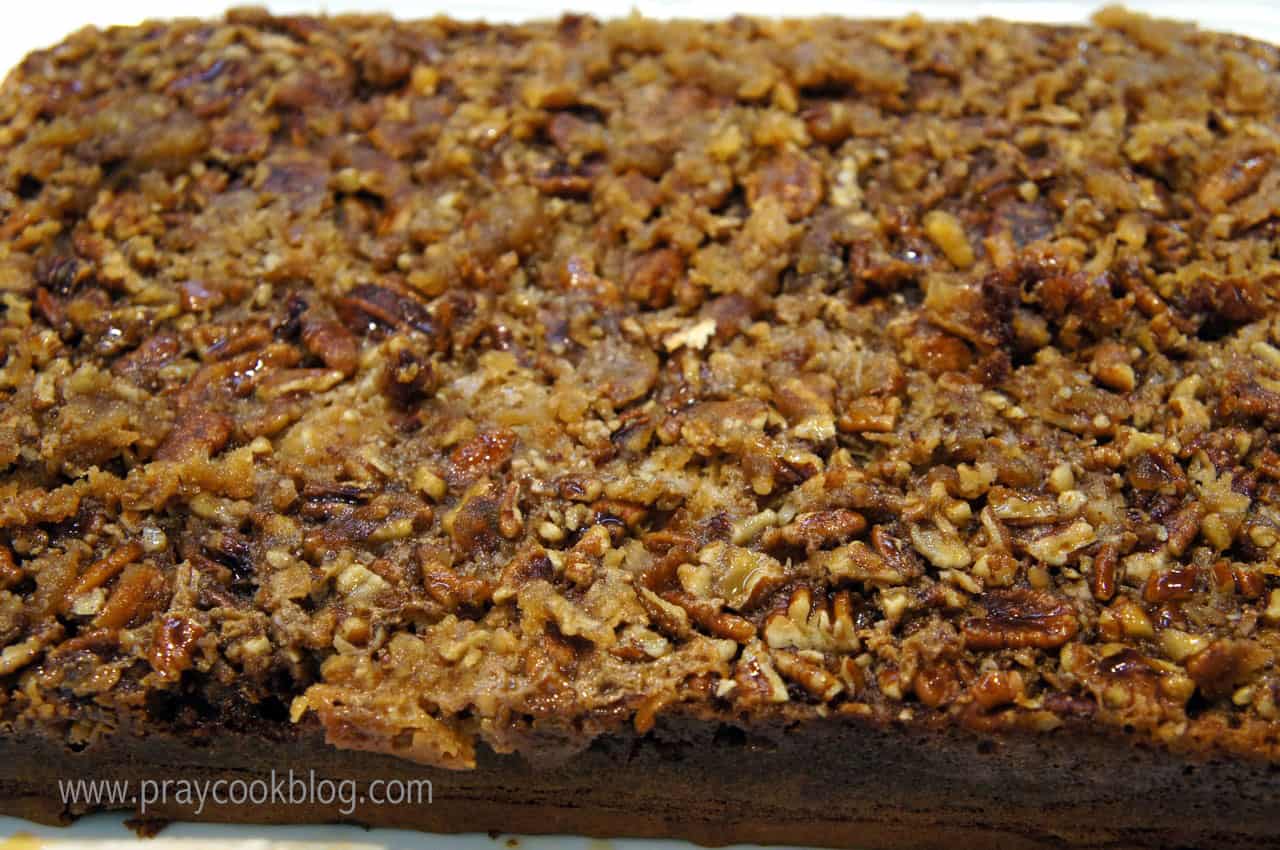 Look at this amazing cake!  It tastes as good as it looks.  Ooey-gooey, crunchy, pecan coconut over German chocolate cake.  Thank you Leslie for sharing this recipe with me.  You are right – "everyone does LOVES it!"  ~ including my chief taste tester and my sous-chef dish-washing mom and me!
~Blessings, Catherine
The Easiest German Chocolate Cake In The U.S.A. (and The Cookbook Winner Is…)
Friends and family will "flip over" this German Chocolate Upside-Down cake.
Ingredients
For the cake:
1 Duncan Hines German Chocolate Cake Mix (16.5 oz)
1¼ cups water
½ cup vegetable oil
3 large eggs
For the topping:
1 cup brown sugar
¼ cup butter
1 cup chopped pecans
1½ cup flaked coconut
½ cup evaporated milk
Instructions
PREHEAT oven to 350°F for metal or glass pans, 325°F for dark or coated pans. GREASE sides and bottom of 9" x 13" baking pan with shortening. Cut a piece of parchment paper and lay on the bottom of baking pan.
IN a saucepan over low heat, cook and stir brown sugar and butter until sugar is dissolved and butter is melted. Spread into the greased 9"x"13" baking pan.
SPRINKLE with chopped pecans and coconut.
DRIZZLE with evaporated milk. Set aside.
BLEND dry mix, water, oil and eggs in large bowl at low speed until moistened (about 30 seconds). BEAT at medium speed for 2 minutes. Pour over topping.
BAKE at 350 degrees F. for 38 to 44 minutes or until a toothpick inserted near the center comes out clean.
COOL for 2 minutes before inverting onto a serving plate.
SERVE at room temperature with whipped cream, if desired.