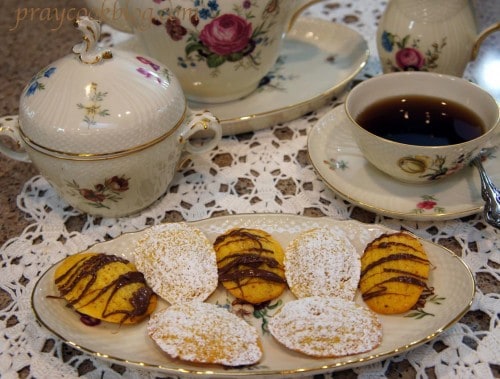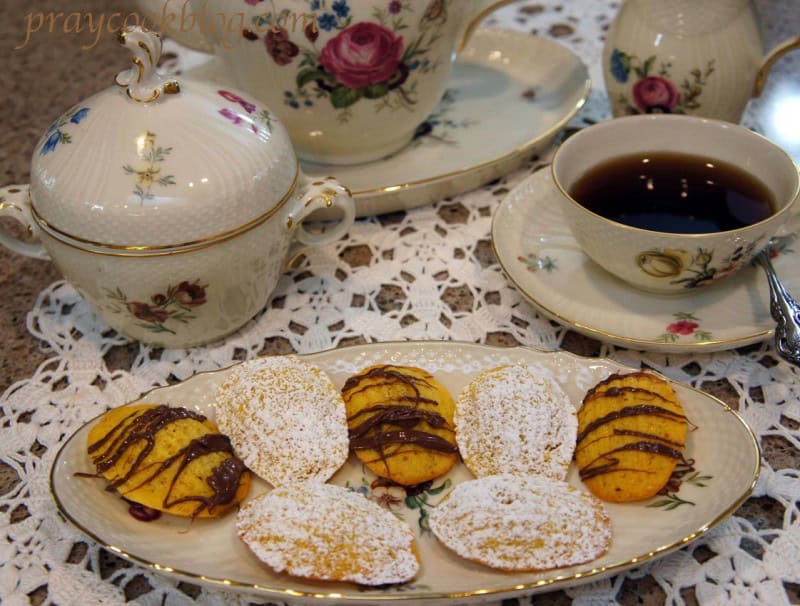 It's Tuesdays With Dorie — where a whole bunch of bakers around the world all bake the same recipe from Dorie Greenspan's cookbook, Baking With Julia and then blog the results.  Today we are featuring Madeleines.  The Madeleine (french pronunciation: ​[mad.lɛn], English /ˈmædleɪn/  is a traditional small cake from the Lorraine region in northeastern France.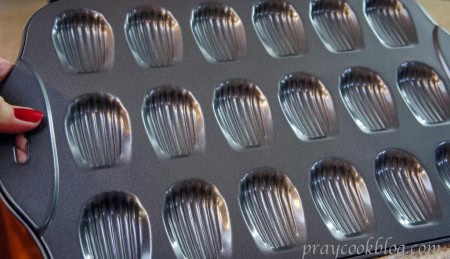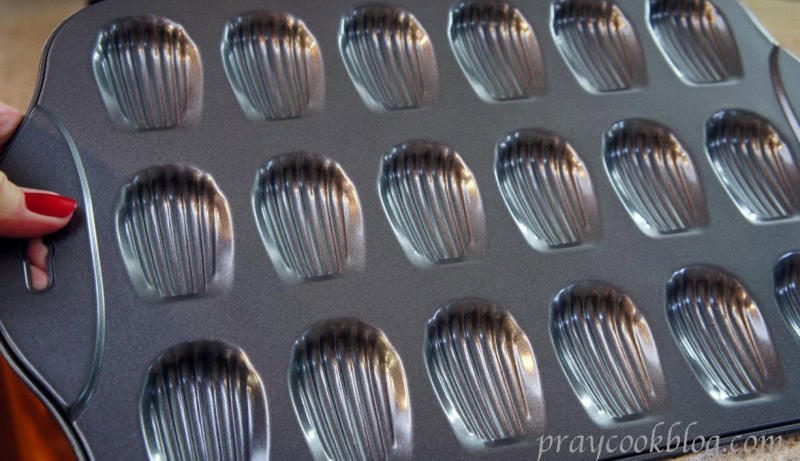 I bought my petite-madeleine pan from Amazon last year in anticipation of today's recipe.  My mini Madeleine pan makes 18 small shell-shaped tea cakes.
Contributing baker Flo Braker joined Julia when making Ladyfingers and Madeleines on her PBS TV show, Baking With Julia.  Both of these sponge cakes use the same genoise batter.  A genoise is a whole egg sponge cake. That is, it gets its lift from air retained in a whole egg and sugar mixture that is well-beaten. Our Tuesdays With Dorie hosts this week are Katie and Amy from Counter Dog. They have posted the recipe in its entirety and I hope you will check out there blog post!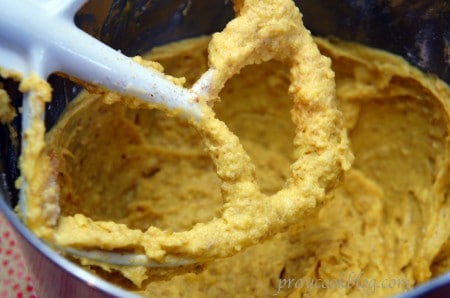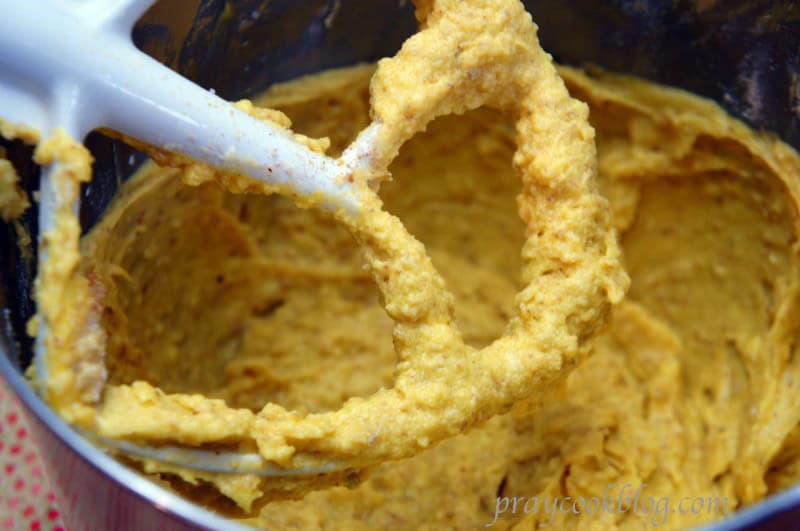 Meanwhile, my rebellious streak took hold of me this weekend and when I got my mini Madeleine pan off the shelf I noticed the Almond Lemon Madeleine recipe that came with the pan. Ahhhh, I have almonds, I love lemon flavor, and in a sponge cake cookie-looking thing — yes!  Eggs make up a big part of the success of a Madeleine.  My eggs are from a neighboring farm and much more yellow-orange than store-bought eggs.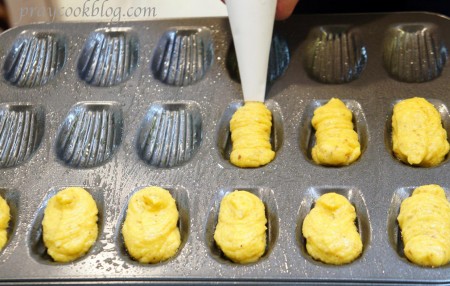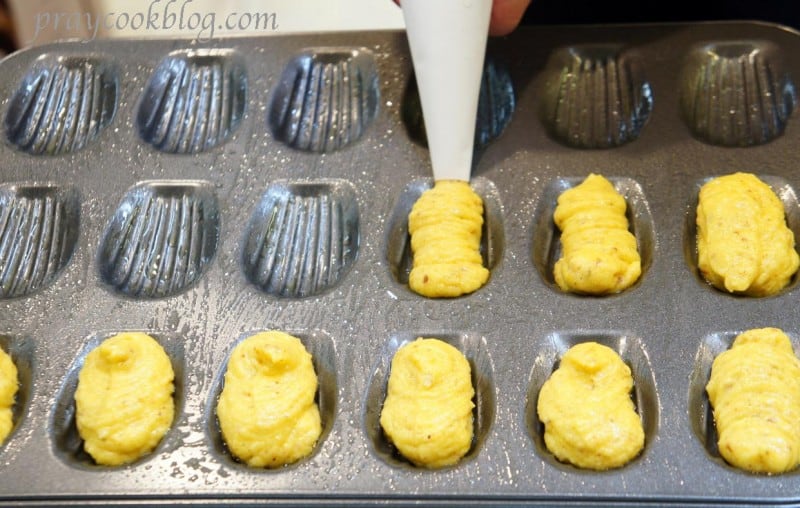 Pipe the batter into the molds for quick, even filling.  If you don't have a piping bag you can use a Ziploc bag, snipping off a corner for easy piping once it's filled with batter.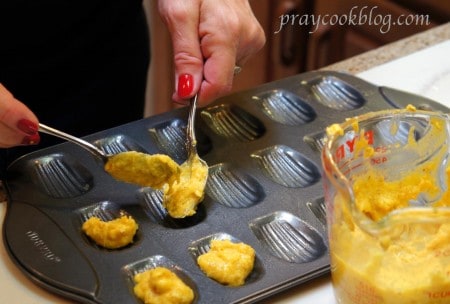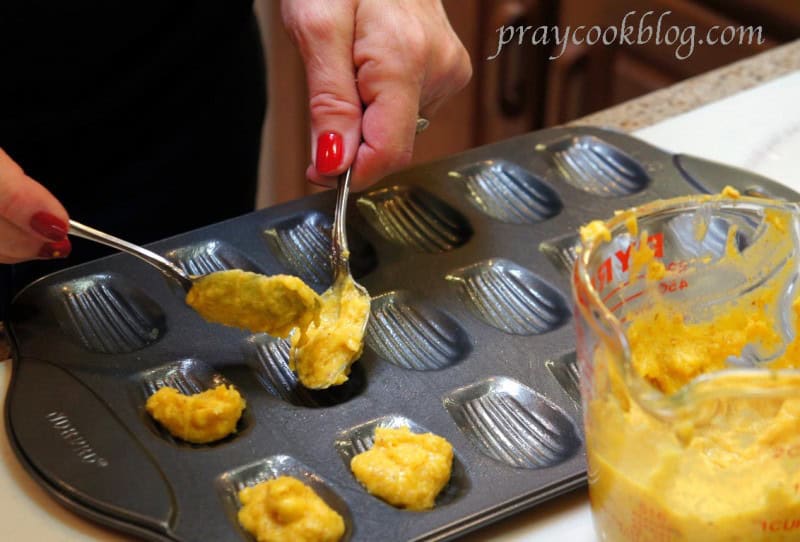 I also used a couple teaspoons and dropped the batter onto the pan to see if the little cakes baked up differently than when I piped the batter.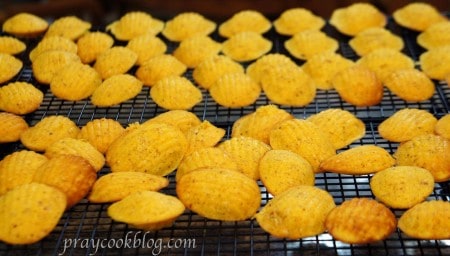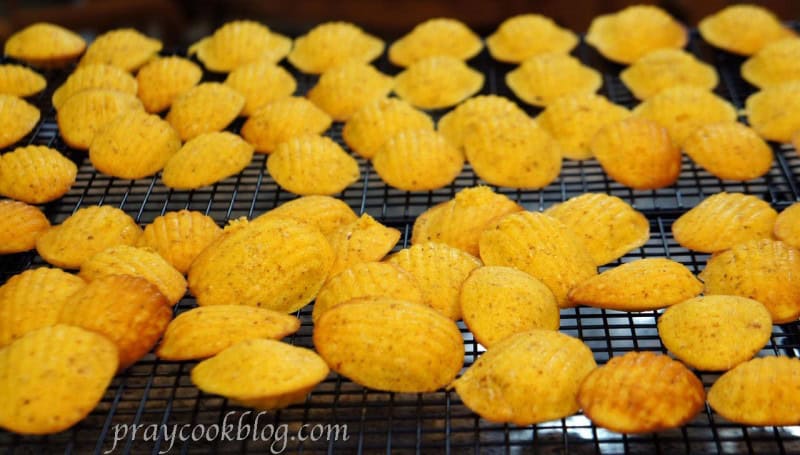 I didn't notice any difference.  Either way they turned out great.  These were baked for 8 minutes. I gently turned the pan upside-down over the cooling tray and the little sponge cakes dropped right out.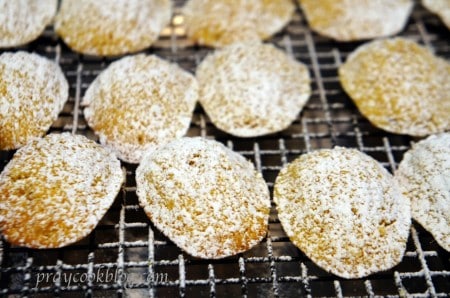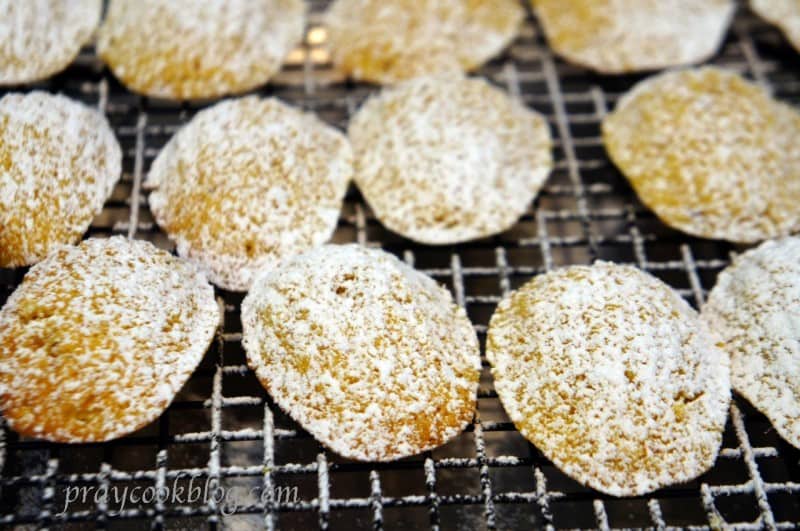 French Madeleines are known by their heavy powdered sugar-coating.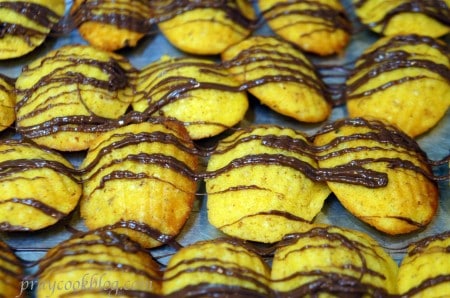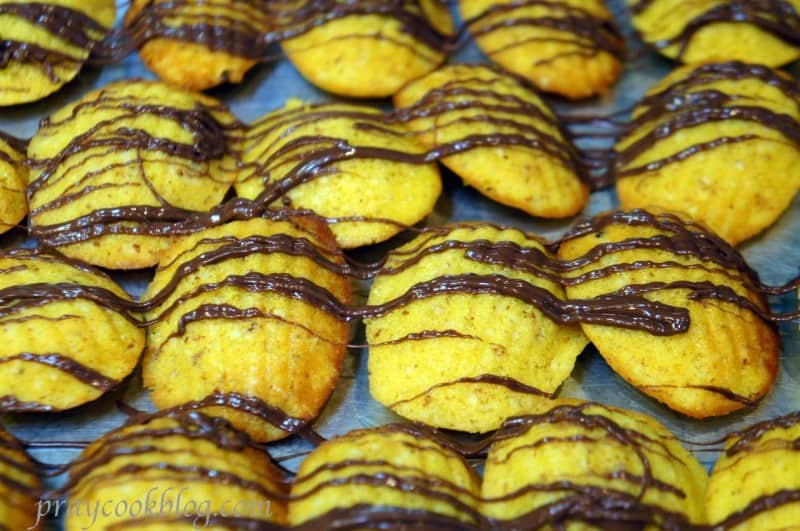 For my Chief Culinary Consultant I drizzled melted milk chocolate on a few.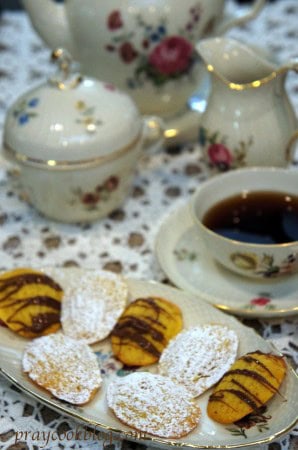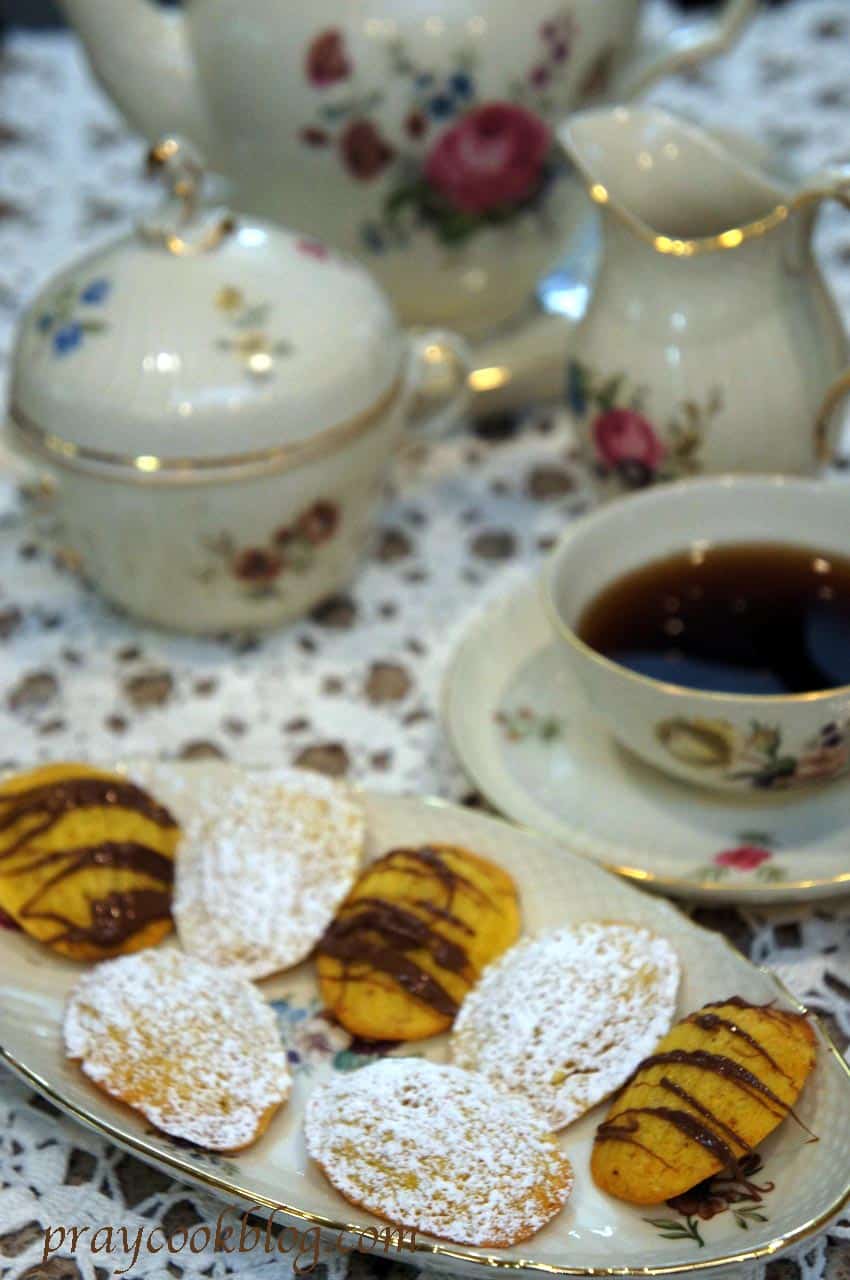 My recipe made 72 little maddies.  I saved a few for the Chief and the rest will be delivered to two neighbors and one cousin!  A fun recipe I will no-doubt make again.
~Blessings, Catherine
Almond Lemon Madeleines
Is it a sponge cake or a cookie? You decide as you savor these delectable little treats!
Ingredients
1 cup almonds
1 cup sugar
2 sticks (1 cup) unsalted butter, softened
4 large eggs
1 Tablespoon freshly grated lemon rind
1 cup All-purpose flour
1 teaspoon baking powder
¼ teaspoon salt
¼ cup fresh lemon juice
Garnish
Confectioner's sugar, candy sugar sprinkles, drizzled chocolate
Instructions
Preheat oven to 375 degrees F.
Spray Madeleine pan molds with nonstick spray.
Using chopper or food processor, grind the almonds with the sugar until very fine in texture.
Cream butter. Continue beating butter, adding almond and sugar mixture gradually. Beat until mixture is light and fluffy.
Add eggs, one at a time, beating until completely combined with other ingredients. Add in lemon rind.
In a separate bowl, sift the flour, baking powder, and salt together. Add flour mixture to butter mixture, alternating gradually with lemon juice.
Spread batter into the molds of Madeleine pan or petite-madeleine pan. This can be done by piping into the mold or dropping by teaspoon. Do not over-fill each mold.
Bake in the lower third of the oven for 8 minutes.
Turn Madeleines onto a cooling rack.
Wash and dry pan and repeat process. Makes 4 pans full or 72 cookies.
Garnish with confectioner's sugar or as desired.