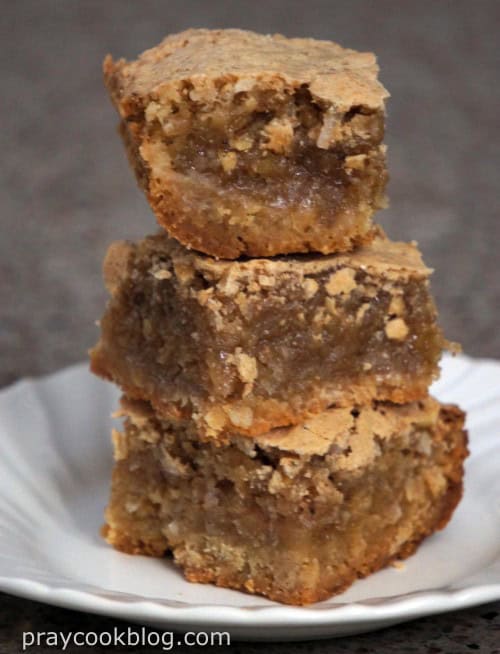 When our granddaughter Abbey arrived for a visit last fall one of the first things she asked of her Grandpa Lee is, "Do you have any black walnuts?" Earlier this summer Abbey had been the recipient of fresh black walnuts from Grandpa Lee's walnut trees. She told us that she used them in a recipe for Coconut Walnut Chews given to her from her best friend's grandmother.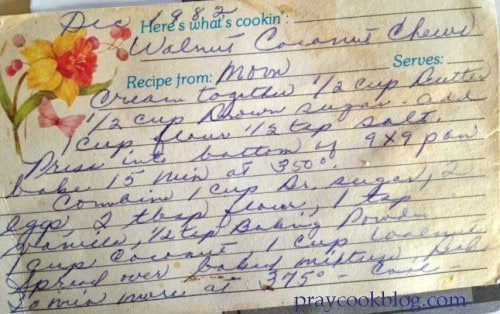 She wanted to make them for us but declared, "they are the very best with black walnuts instead of English walnuts."  Grandpa went to the freezer and dug around awhile reappearing with a pint jar packed with black walnut pieces.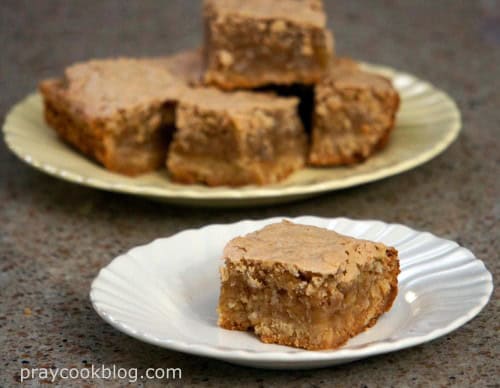 Abbey is right, these walnut coconut treats are outstanding when made with black walnuts.  However, if your pantry doesn't include any of these pricey little nuts, English walnuts run a very close second when mixed up to make these oooey, gooey, chewy bars.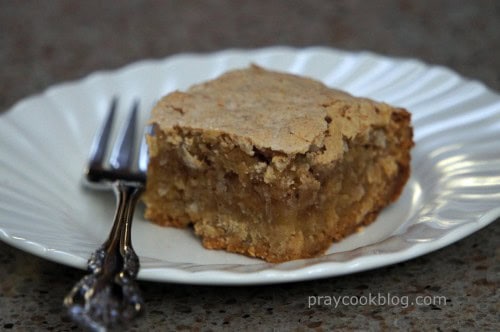 The top of the bars bake up into a thin crispy layer while the middle stays chewy sitting on a buttery crust.  I've made this recipe several times.  With black walnuts, with English walnuts, doubled in a 9″ x 13″ pan and single recipe in an 8″x8″ pan, and even in a round pan!  Every time they receive rave reviews.  This is a keeper!  Thank you Abbey!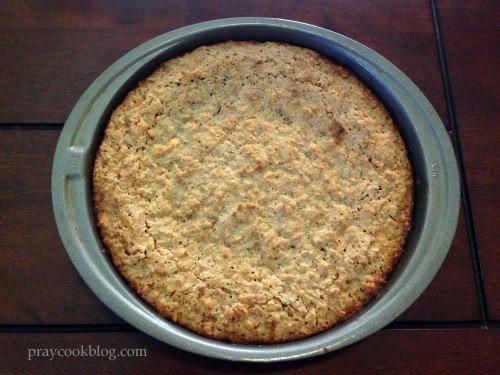 Here's wishing you a Happy May Day and a lovely spring weekend ahead!
Happy Baking!
~Catherine
Song of Solomon 2:11-12
"for behold, the winter is past;

the rain is over and gone.

The flowers appear on the earth,

the time of singing has come,

and the voice of the turtledove

is heard in our land."
Walnut Coconut Chews
Chewy, ooey, gooey goodness with a crispy top and a buttery crust! Just say "yum!"
Author:
Adapted by Catherine Daugherty
Ingredients
Bottom Crust
½ cup unsalted butter
½ cup brown sugar
1 cup all-purpose flour
½ teaspoon salt
Filling
1 cup white sugar
2 eggs, slightly beaten
2 Tablespoons flour
½ teaspoon baking powder
2 teaspoons vanilla
1 cup chopped nuts, black walnuts, English walnuts or pecans
1 cup flaked coconut
Instructions
Preheat oven to 350 degrees F.
Cream together bottom crust ingredients. Press into bottom of a greased 8"x8" baking pan. Bake 15 minutes.
Increase oven temperature to 375 degrees F.
Combine sugar, eggs, flour, baking powder, and vanilla mixing well.
Add coconut and chopped nuts. Spread over baked crust, return to oven and bake 20 minutes at 375 degrees F.
Cool. Cut into bars. Enjoy!
Notes
Black walnuts are delicious in this recipe. English walnuts or pecans okay too!

Recipe adapted from my granddaughter's best friends Grandma!