However, as it is written: "What no eye has seen, what no ear has heard, and what no human mind has conceived"— the things God has prepared for those who love him— 1 Corinthians 2:9 NIV
While the Chief was away last week in NYC, my sous-chef dish-washing mom and I ate at a local Italian restaurant.  The sign at the door said DESSERTS:  Pecan Cobbler.  Okay, I may live in the south but I grew up in Nebraska and cobbler and I don't go way back.  Mom says she used to make peach cobbler and cherry cobbler when I was a kid.  I have zero recollection of either one.  Could be because I don't eat cherry-anything and peach isn't my favorite.  But pecan cobbler?  Neither of us had ever heard of it.
We ate chicken salad (me) and Bowtie Pomodoro (mom).  Too full for dessert we decided to take a helping of Pecan Cobbler home to eat later in the day.  Oh my word was it good!  Gooey pecan filling, very similar to pecan pie, but scooped into a bowl with a cobbler topping mixed about.
I couldn't wait to find the recipe and make a whole panful!  I searched and researched, compared and printed out several recipes.  I looked at pictures throughout the internet and Pinterest.  Most of the cobbler recipes I found were just pecan pie made in a baking dish.  That wasn't what I wanted.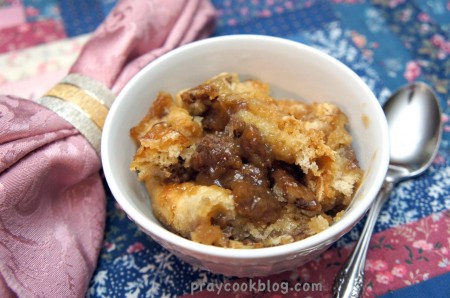 I kept coming across this recipe that calls for a cake mix and only has 5 ingredients.  The recipe I used came from Just A Pinch website and was shared by Patsy Fowler of Anderson, SC.  Only 5 ingredients intrigued me and I decided to make it for the home-coming of my sweetheart.
He arrived home safely, I am thrilled to have him home.  He is thrilled to be eating Pecan Cobbler. 🙂 I doubled the pecans from 1 cup to 2 cups and I am glad I did.  In a 9″ x 13″ pan I think 1 cup of pecans would have been too few.  The next time I make it I may add a little vanilla in the butter/pecan mixture but all in all this is fabulous!
Happy Baking!
Catherine
Welcome Home Pecan Cobbler
Ooo-la-la a wonderfully gooey, tasty, and delicious dessert. Feeds a crowd and is ready to bake in 5 minutes.
Serves:
10 to 12 servings
Ingredients
½ cup butter
1 teaspoon vanilla
2 cups pecans, whole, half or chopped
1 pkg white cake mix
1½ cups packed light brown sugar
1¾ cups hot water
OPTIONAL: Ice cream or Whipped Cream
Instructions
Preheat oven to 350 degrees F.
In a 9x13 inch cake pan or casserole dish, place the butter and put in the oven to melt.
Once butter is melted, add vanilla and sprinkle the pecans over the butter.
Spread the dry cake mix evenly over pecans, do not stir.
Next spread the brown sugar over the cake mix.
Carefully pour the hot water over the mixture, do not stir.
Bake 30-35 minutes or until golden brown.
Best served warm with ice cream or whipped cream.