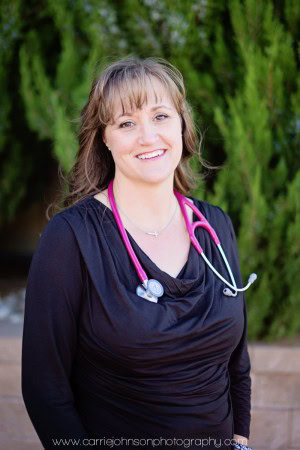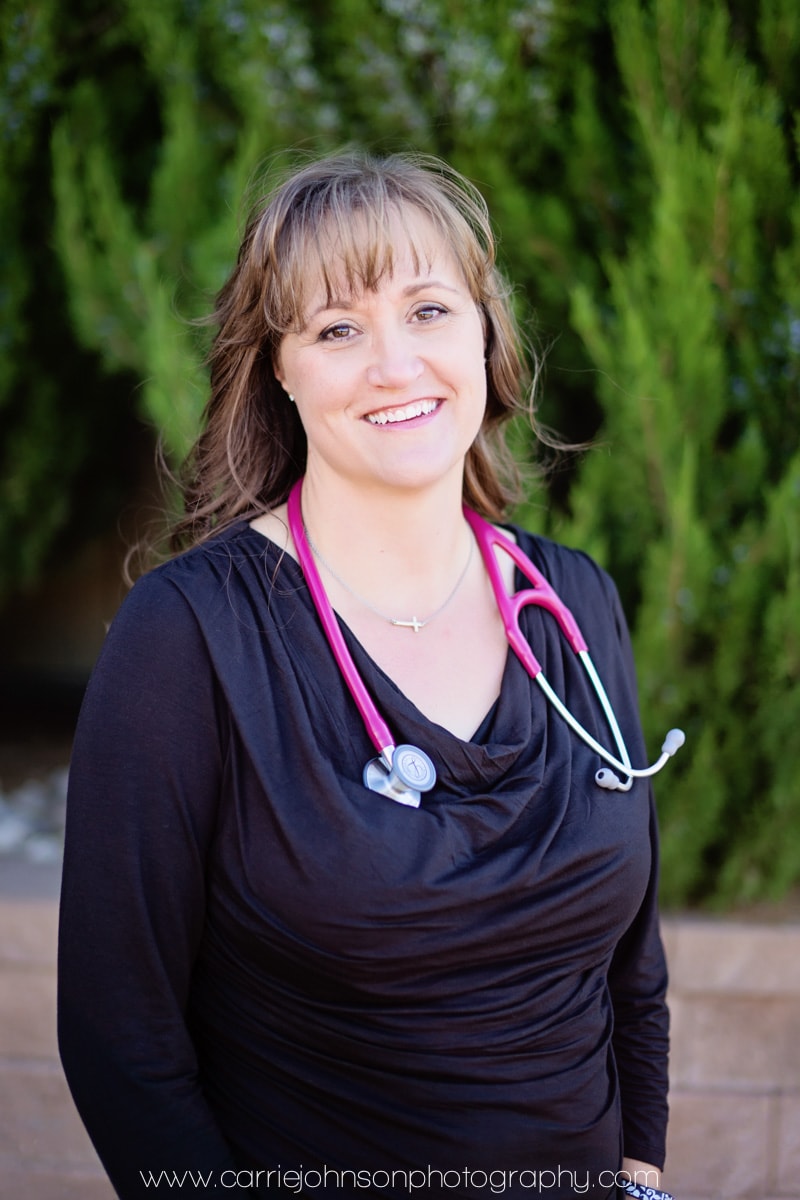 Last week I was given the gift of spending time with my niece Crystal and her family.  After 6 years of classes, while raising three children and still working part of that time, Crystal realized a life-long dream of becoming a registered nurse.  We attended her graduation and then the pinning ceremony later that day.  Soon she will take her NCLEX (National Council Licensing exam) and will officially become a RN-BSN.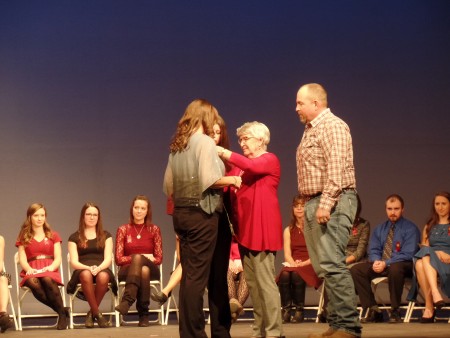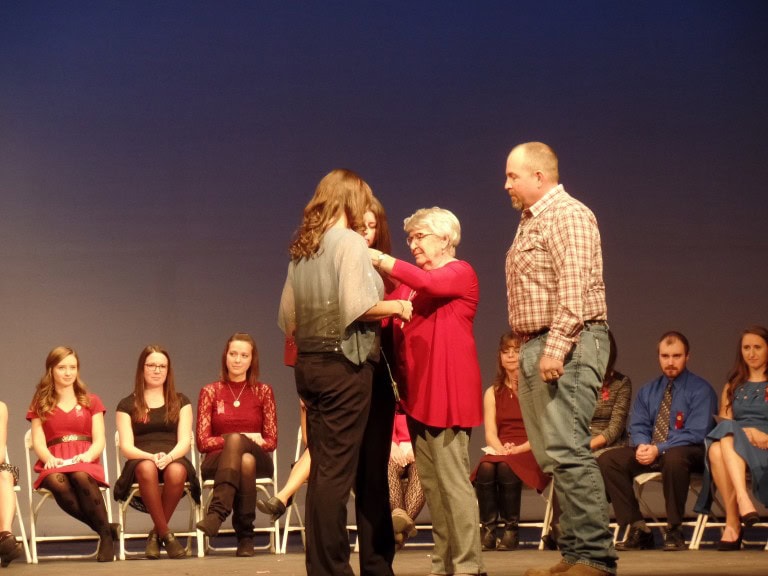 My sous-chef dish-washing mom participated in the pinning of her grand-daughter along with Crystal's husband, Kevin, and her best friend and nurse-mate, Alicia.  This was an especially sweet moment for mom as she reflected on her own pinning, becoming a Registered Nurse some 63 years ago.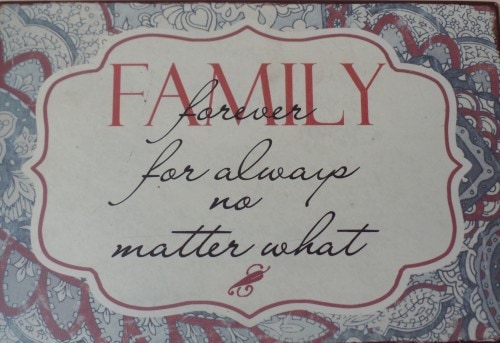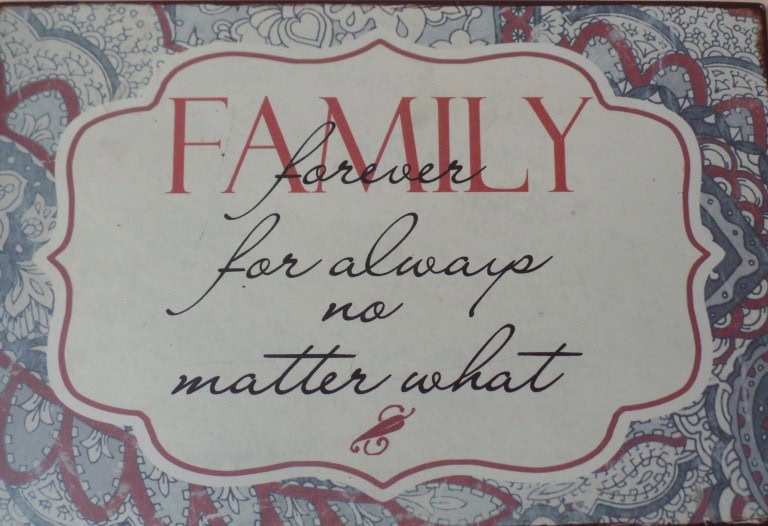 At every turn throughout this weekend, I'm reminded of the importance of family and family history.  Crystal treasures her family heritage and includes that heritage in all aspects of her life. From decorating her home with family memorabilia to the recipes she uses in preparing food and treats for the weekend.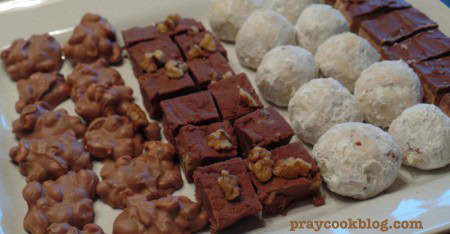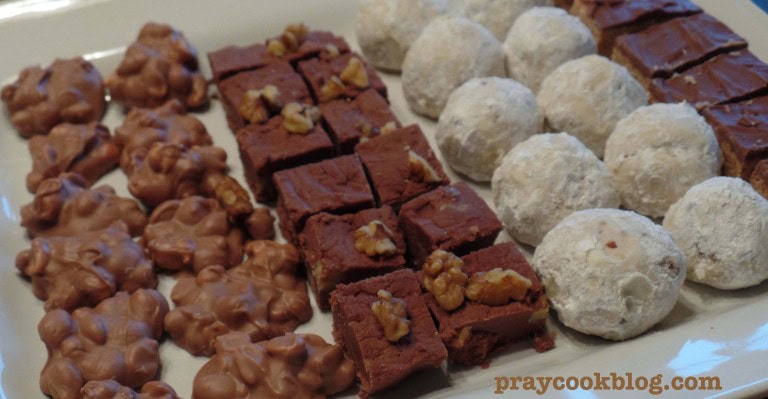 When we arrived her kitchen table was covered with "treats". Crystal explained that she wanted to honor the "grandma's in her life" by using their recipes for the weekend festivities.  I was so touched and intrigued that I want to share those recipes with you.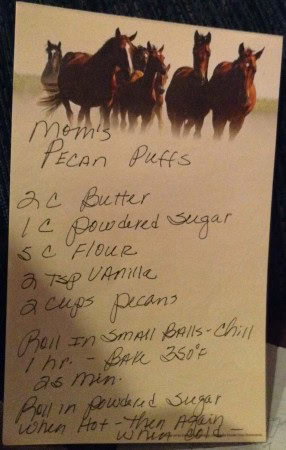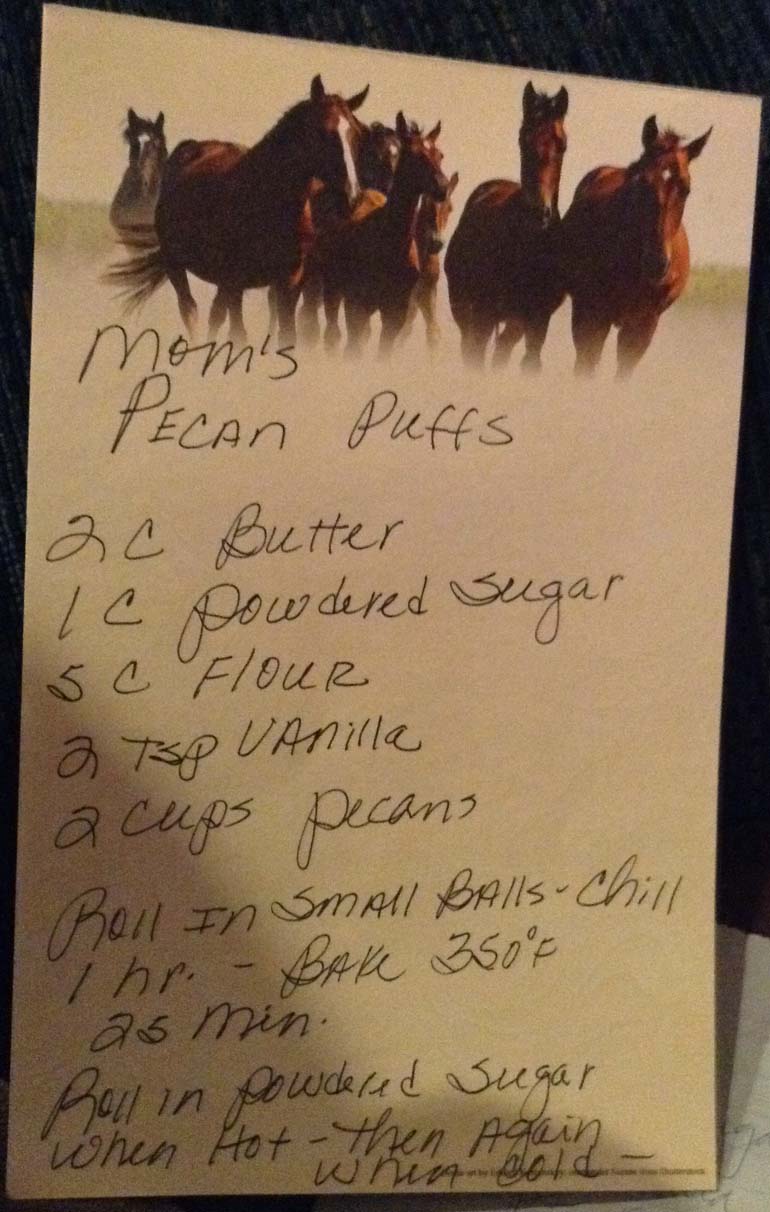 Crystal and her husband Kevin got busy in the kitchen and together created these treats.  From Grandma Wilma (Kevin's grandma) they made Pecan Puffs.  I love this picture of the recipe because it's called "Moms Pecan Puffs."   Typical of the way we "share" these days, Kevin called his mom, she took a picture of the recipe with her phone and Kevin instantly received it via text!  Love it!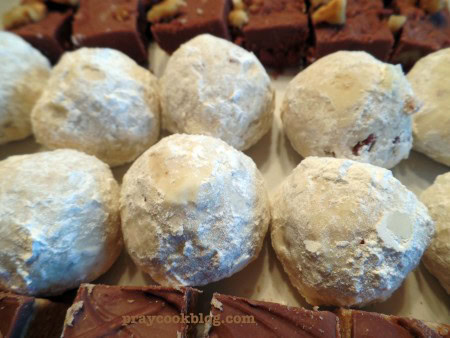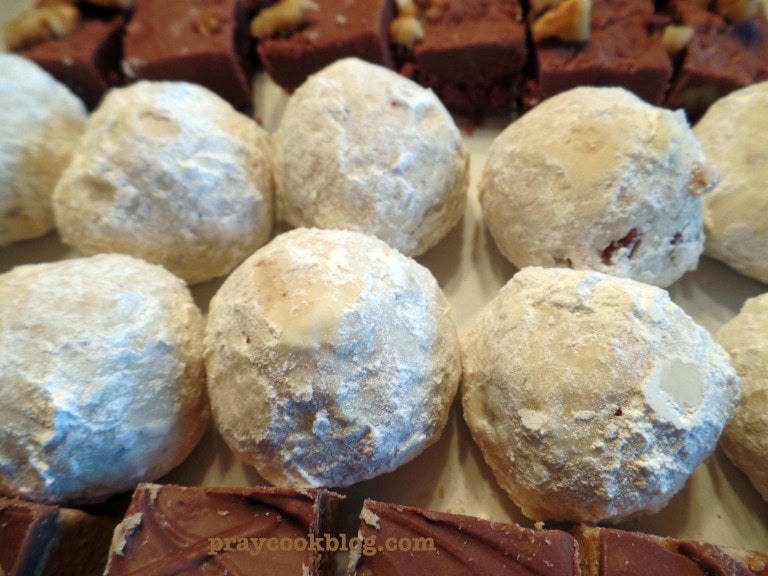 (Btw- Kevin made MASSIVE pecan puffs!  You may want to make them a little smaller.) 🙂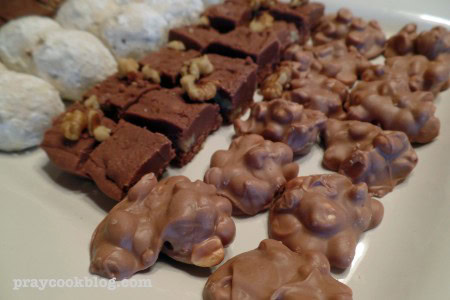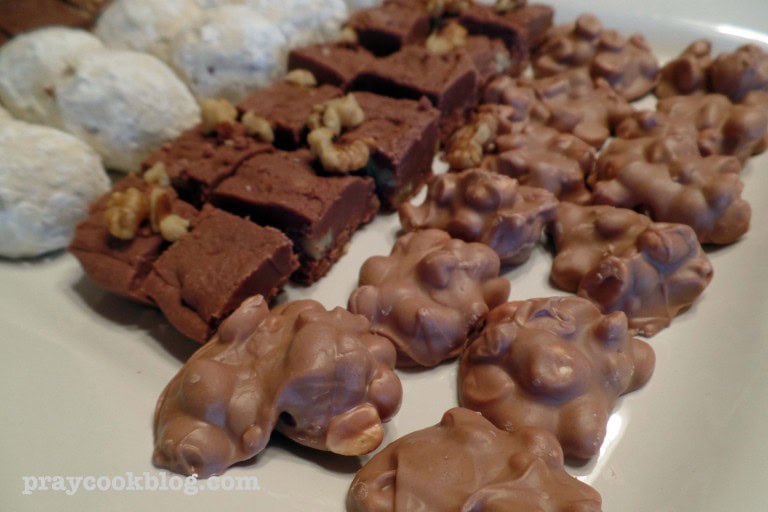 Crystal enjoyed making her Grandma Alice's Peanut Clusters. Betcha can't eat just one …  I blogged the recipe here.  They are so easy to make and every chocolate lover's delight!  Here is a slow cooker recipe that is also easy and so delicious!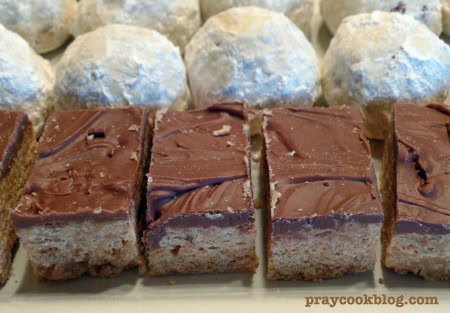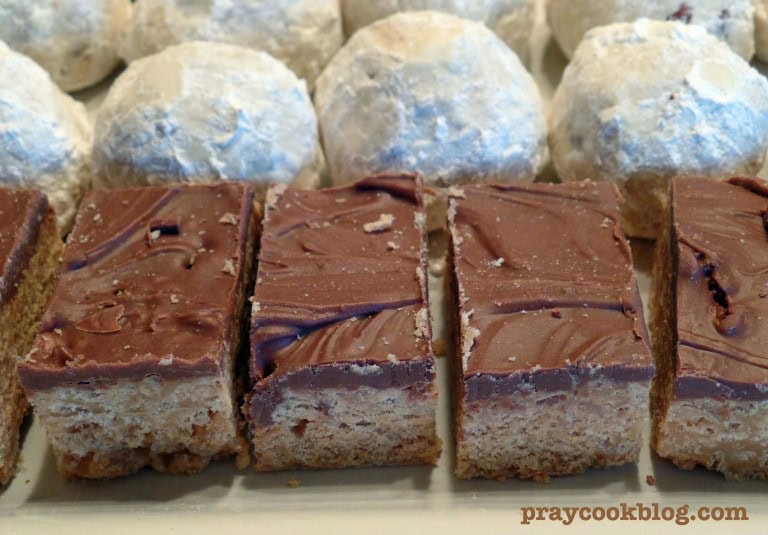 This Scotch-A-Roos recipe comes from Crystal's Grandma June.  Crystal was given her late-Grandma June's recipe box and this recipe card is written by her Grandma.  It is nearly the same as the recipe I posted here.  (I am addicted to these things and cannot leave them alone.)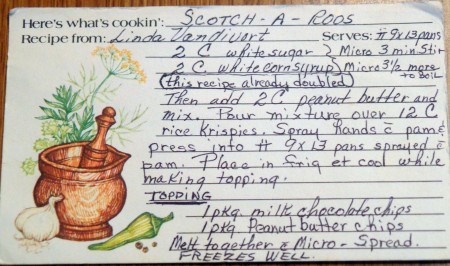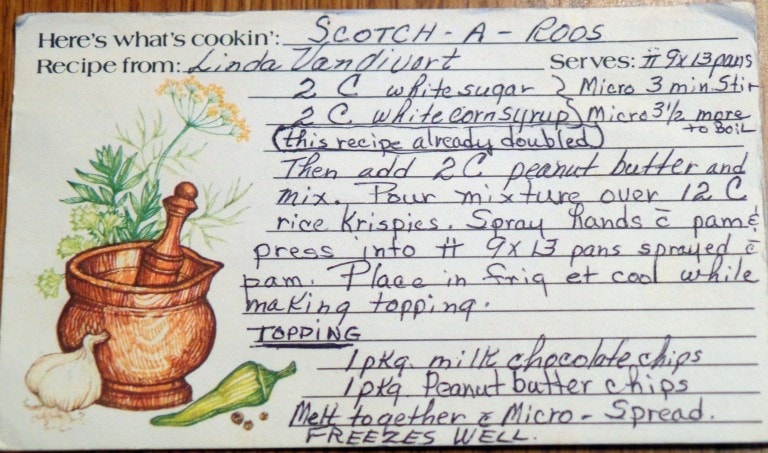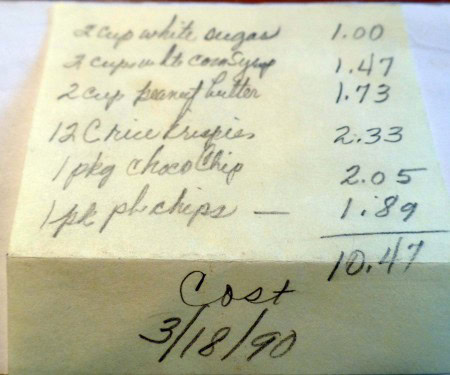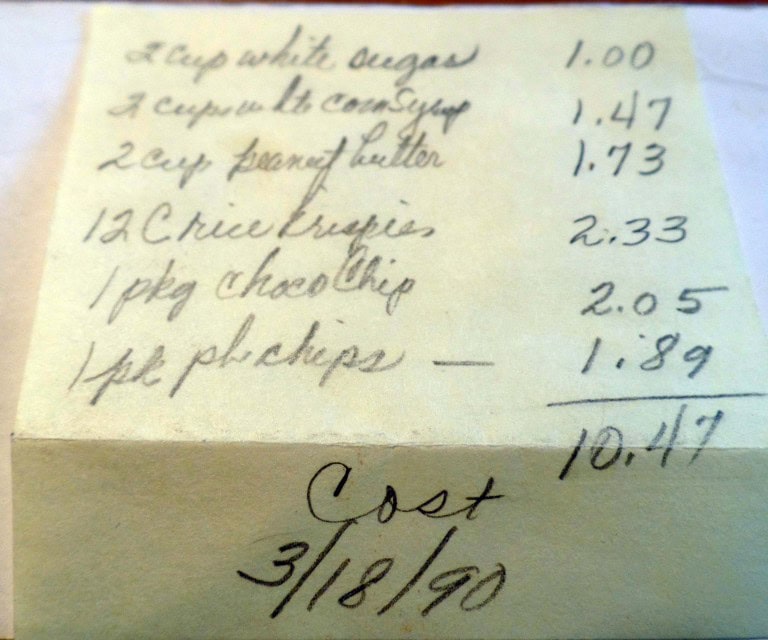 When we flipped over the recipe we discovered it cost $10.47 to make this recipe on 3/18/1990! Priceless!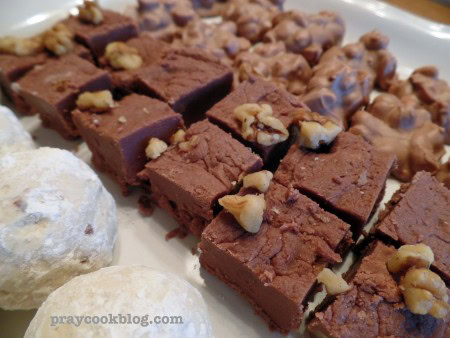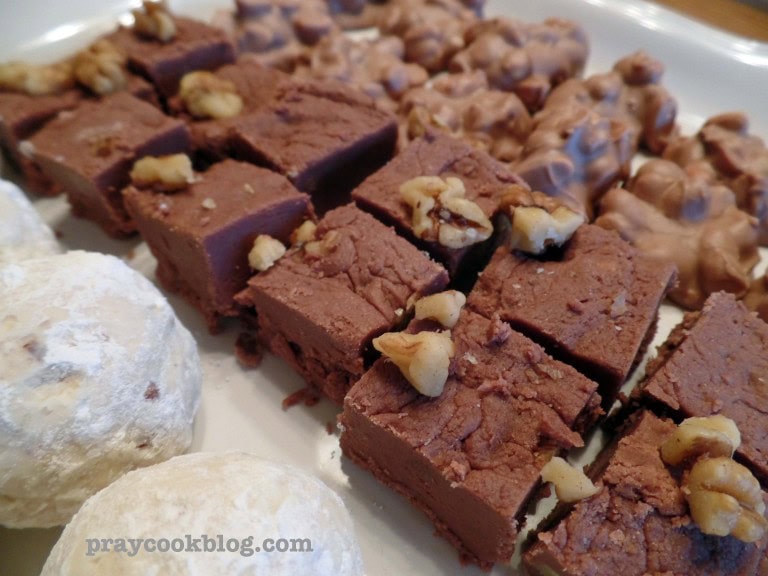 Rounding out the tray of goodies is Grandma Kathryn's fudge. Grandma Kathryn is Kevin's grandmother on his father's side.   She has passed from this world, but many of her candy recipes live on through her children and grandchildren.
I know you can get these recipes or similar ones throughout the internet.  But what you can't get is the history, the love, the stories, and the memories when they come from your family's recipe box.
If you have the opportunity to visit with family this holiday season I encourage you to spend time reminiscing stories, food, and memories.  It is a good time to take a little walk through the recipe box that provides those foodie memories from your childhood.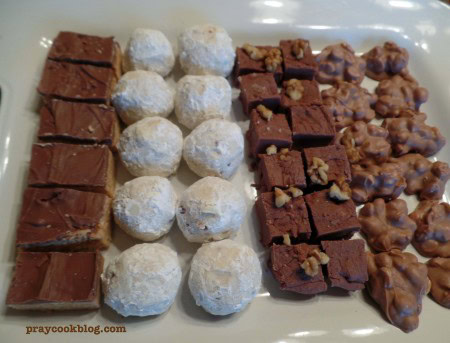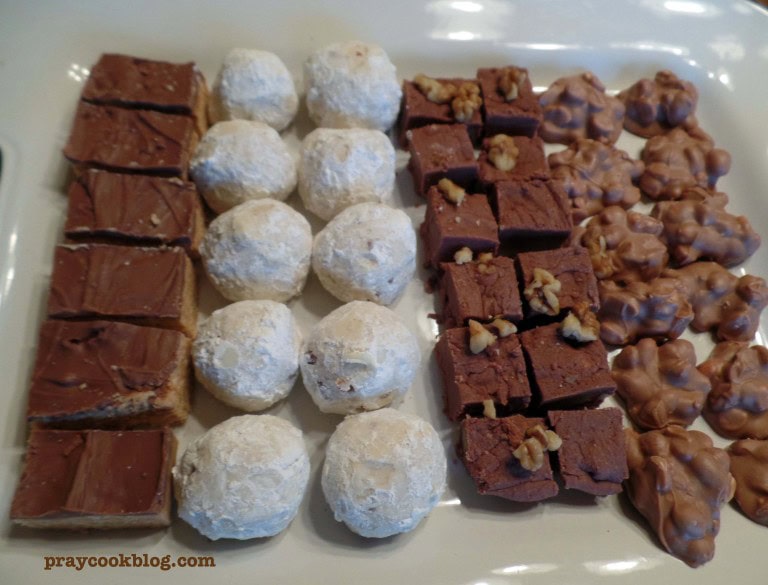 And finally, as we draw near to Christmas I pray you will share the Gospel of Jesus Christ with those you love.  There is no treasure greater than this and no time better spent with loved ones.
Luke 2:19    "But Mary treasured up all these things, pondering them in her heart."
Luke 12:34 "For where your treasure is, there will your heart be also.
Happy Reminiscing!
~Catherine

Pecan Puffs
A familiar American holiday treat featuring our beloved pecans!
Author:
Kevin's Grandma Kathryn
Ingredients
2 cups butter
1 cup powdered sugar
5 cups flour
2 teaspoons pure vanilla extract
2 cups finely chopped pecans
Instructions
Heat oven to 350 degrees F.
Cream butter and sugar; add vanilla.
Stir in flour and nuts.
Roll into small (1 inch) balls.
Chill for 1 hour.
Bake for 25 minutes.
Remove from oven, roll in powdered sugar while hot.
Roll in powdered sugar a second time when cool.
Eat 'em up!
Grandma Kathryn's Fudge
This rich and creamy fudge will hide the secret that it is also quick and easy to make!
Author:
Adapted by Catherine Daugherty
Recipe type:
Dessert, Candy
Ingredients
4½ cups white sugar
1 cup milk
¾ cup butter (1½ cubes)
16 ounces marshmallow creme
3 packages chocolate chips (usually about 11.5 to 12 ounces per package)
Chopped nuts to taste (pecans or walnuts) Optional*
Instructions
Grease with butter a 9" x 13" pan.
In a large saucepan, mix sugar, milk and butter over medium heat. Boil for 6 minutes or until mixture reaches 234 degrees F. on a candy thermometer, stirring often. Remove from heat.
Add 1 pint (16 ounces) marshmallow creme and all 3 packages of chocolate chips (abut 4½ cups) mixing well until all chips are dissolved and marshmallow creme is blended well.
*Stir in chopped nuts if desired.
Transfer fudge to the prepared pan and let cool before cutting into squares.
Notes
*Chopped nut are optional, use about 1 cup
* Original recipe directs sugar mixture to boil until 234 degrees F. This recipe says 6 minutes, this may or may not be enough time depending on your altititude.
** I would also add 1 teaspoon vanilla extract.
The Birth of Jesus Christ from Luke 2
In those days a decree went out from Caesar Augustus that all the world should be registered. 2 This was the first registration when Quirinius was governor of Syria. 3 And all went to be registered, each to his own town. 4 And Joseph also went up from Galilee, from the town of Nazareth to Judea, to the city of David, which is called Bethlehem, because he was of the house and lineage of David, 5 to be registered with Mary, his betrothed,[b]who was with child. 6 And while they were there, the time came for her to give birth. 7 And she gave birth to her firstborn son and wrapped him in swaddling cloths and laid him in a manger because there was no place for them in the inn.
The Shepherds and the Angels
8 And in the same region there were shepherds out in the field, keeping watch over their flock by night. 9 And an angel of the Lord appeared to them, and the glory of the Lord shone around them, and they were filled with great fear. 10 And the angel said to them, "Fear not, for behold, I bring you good news of great joy that will be for all the people.11 For unto you is born this day in the city of David a Savior, who is Christ the Lord. 12 And this will be a sign for you: you will find a baby wrapped in swaddling cloths and lying in a manger." 13 And suddenly there was with the angel a multitude of the heavenly host praising God and saying,
14 "Glory to God in the highest,  and on earth peace among those with whom he is pleased!"
15 When the angels went away from them into heaven, the shepherds said to one another, "Let us go over to Bethlehem and see this thing that has happened, which the Lord has made known to us." 16 And they went with haste and found Mary and Joseph and the baby lying in a manger. 17 And when they saw it, they made known the saying that had been told them concerning this child. 18 And all who heard it wondered at what the shepherds told them. 19 But Mary treasured up all these things, pondering them in her heart. 20 And the shepherds returned, glorifying and praising God for all they had heard and seen, as it had been told them.