Although Valentine's Day is a few days away, I have found that those who celebrate this lovely holiday oftentimes celebrate anytime this week, choosing a day that is most convenient.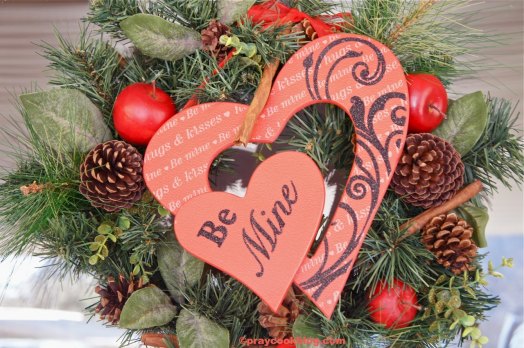 When we ran our bed and breakfast, we celebrated Valentine's the entire month of February! We offered specials every weekend and the week before and the week after – and people came to celebrate when it was most convenient, not just on February 14.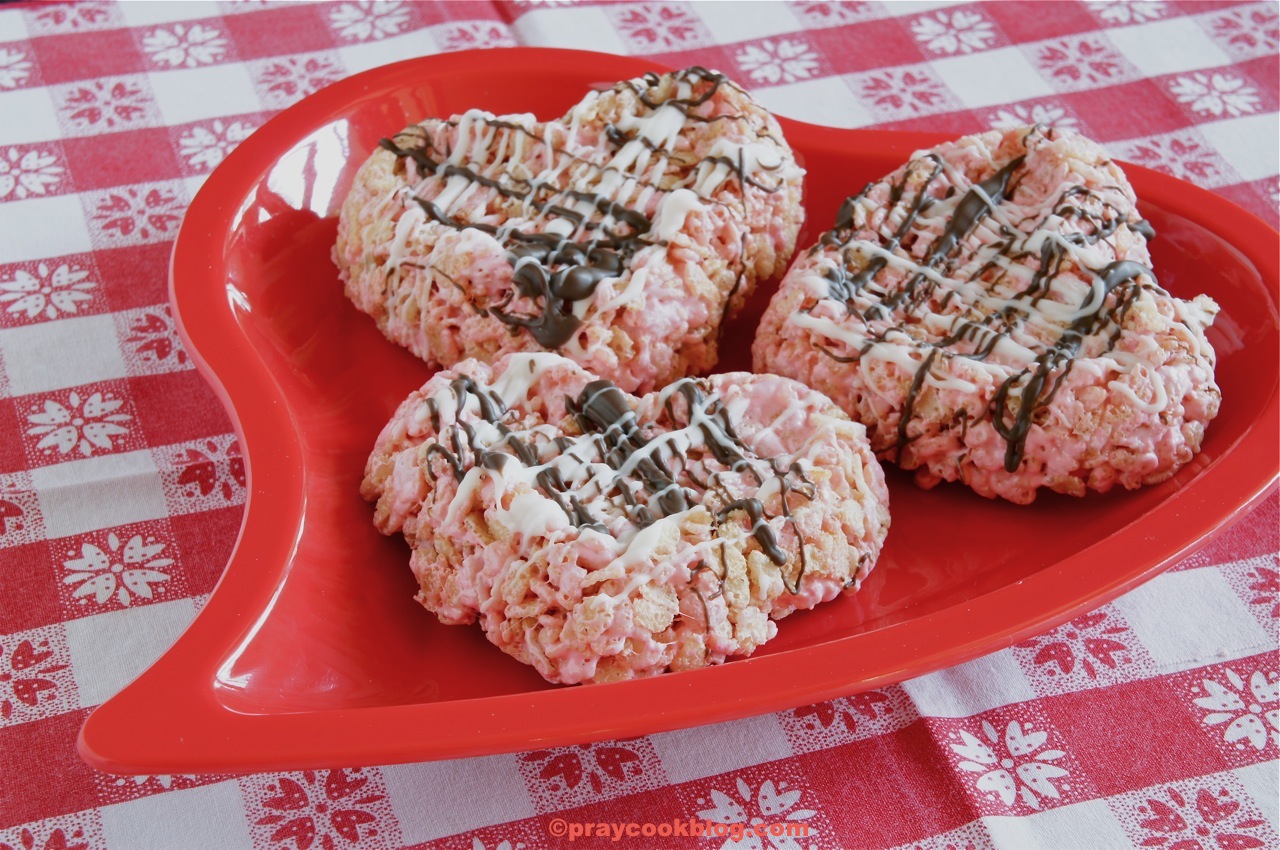 However, when I had kids at home I tried to include something special for the kiddies to let them know how much I love them too and these heart-shaped rice Krispie treats always hit a home run!
This year I started with CupidMallow Strawberry and Vanilla heart-shaped marshmallows that somehow jumped into my grocery cart the last time I was shopping. Aren't they cute?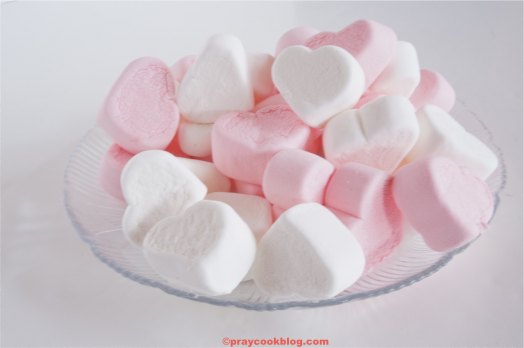 They melt-up nicely into rice Krispie treats that are light and sweetly flavored strawberry with a hint of vanilla. At our house, these were gone almost before I could snap a picture!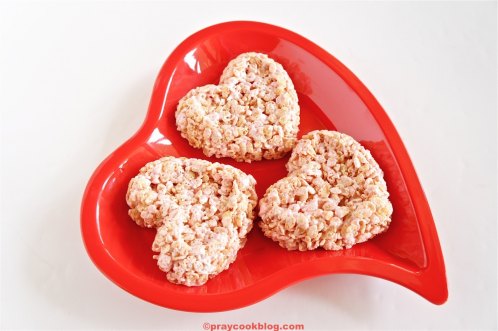 Now for those of you who joined me in going crazy over the Peppermint Marshmallows on the market at Christmas, you just may have done like I did and put a few in the freezer.
At Christmas, we made Marshmallow Peppermint Patties and Peppermint Rice Krispie Treats. The peppermint flavor in these marshmallows is so exceptional I was anxious to enjoy this tasty treat again. So…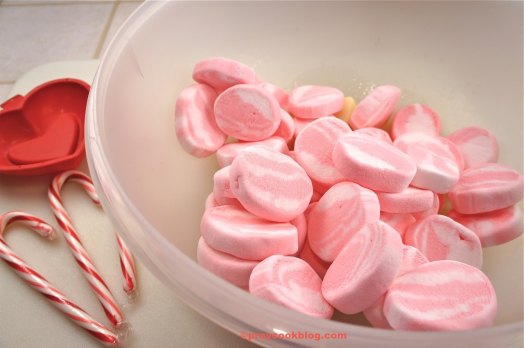 These peppermint marshmallows have been in the freezer since the middle of December. I let them thaw in the bag overnight and they are perfect. They are dry and fluffy and not all stuck together. I melted butter in the microwave in this bowl. Then I added the marshmallows for another 1 1/2 minutes. You can see that the marshmallows kept their shape but they are melted and ready to be stirred up.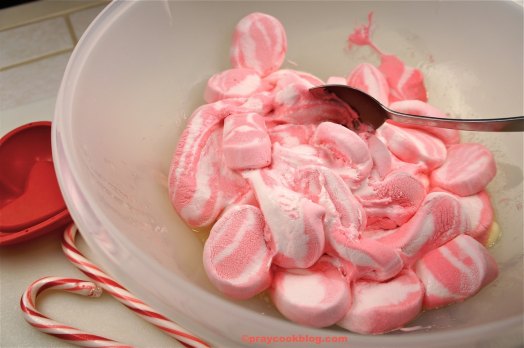 I added rice Krispies and gently packed them in my heart-shaped mold.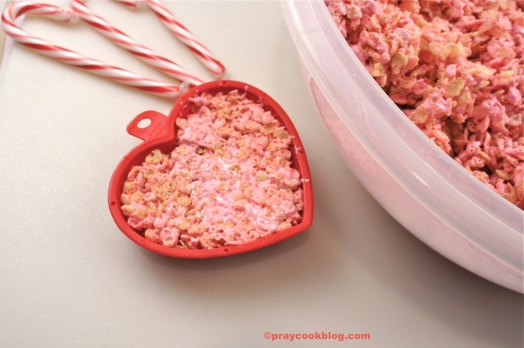 It doesn't take long to fill up a cookie sheet with these yummy Valentines. However, since my two culinary consultants both LOVE chocolate, I couldn't stop without dressing these Valentines up a bit. I melted one square of vanilla almond bark and one square of chocolate almond bark in microwave dishes. Then the fun began dressing these treats up for the big day!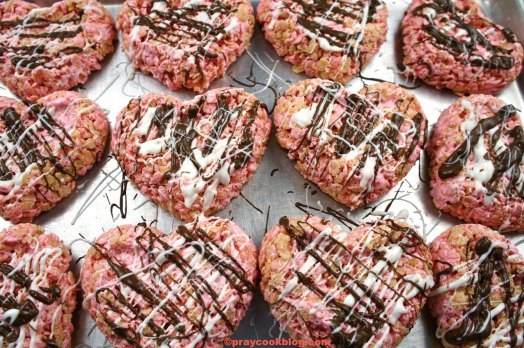 Even though they look a bit like hearts on steroids, it was definitely worth the effort as both of my culinary consultants gave them two thumbs up and a lot of lip-smacking smiles — I know it isn't V-Day yet but there is no way these were going to last until then:) But for me, after my time in the kitchen, I treated myself to a nice cup of tea and of course, a little Peppermint Marshmallow Heart!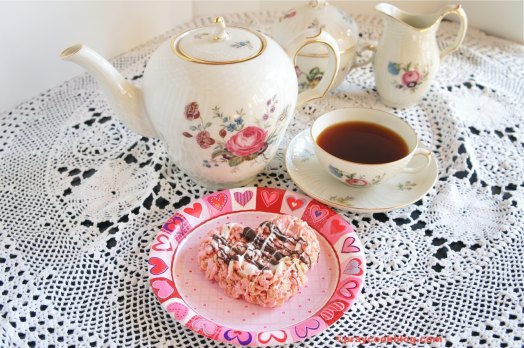 If you have those peppermint marshmallows in the freezer this is a perfect time to thaw them out and make a Valentine or two! If not, the strawberry and vanilla marshmallows are wonderful too! No matter what I hope you have a lovely start to this week.
Many Blessings and Happy Cooking!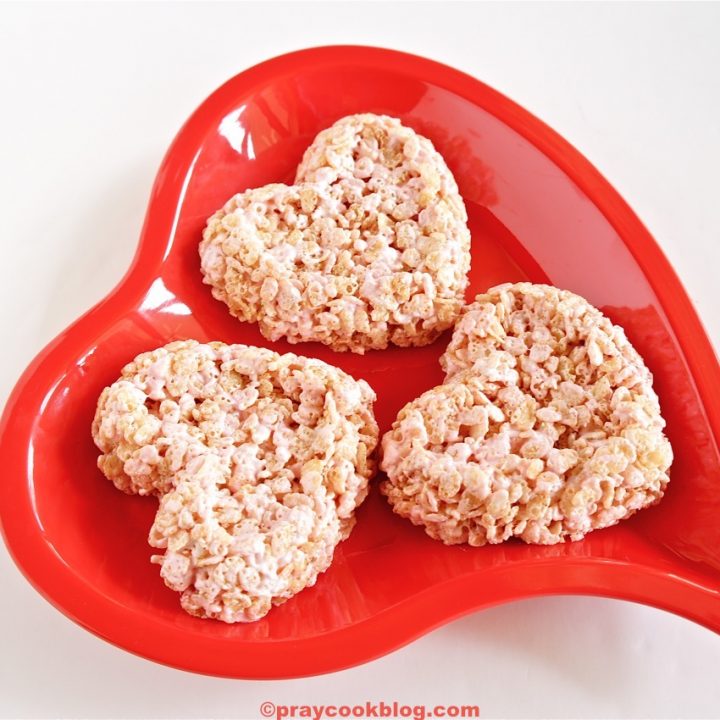 Valentine Rice Krispie Treats
A quick and easy valentine's day inspired Rice Krispie treat
Ingredients
10 oz Marshmallows
1/4 cup Butter, melted
7 cup Rice Krispie Cereal
1 to 2 ounces Vanilla or Chocolate Almond Bark
Instructions
In a large microwaveable bowl, melt butter. Add marshmallows and microwave for 1 to 2 minutes. Stir, mixing well. for Valentine's I used the heart-shaped Strawberry and Vanilla flavor.
Add rice Krispie cereal into the melted butter and marshmallows.
Using a mold of your choosing, press mixture into the mold, lay on a cookie sheet until the Krispies are cooled and formed.
If you want to dress them up a bit, melt a square of Vanilla Flavored Almond Bark or Chocolate Flavored Almond Bark and have some drizzly fun!